15 Cabinet And Countertop Color Combinations That Will Transform Your Kitchen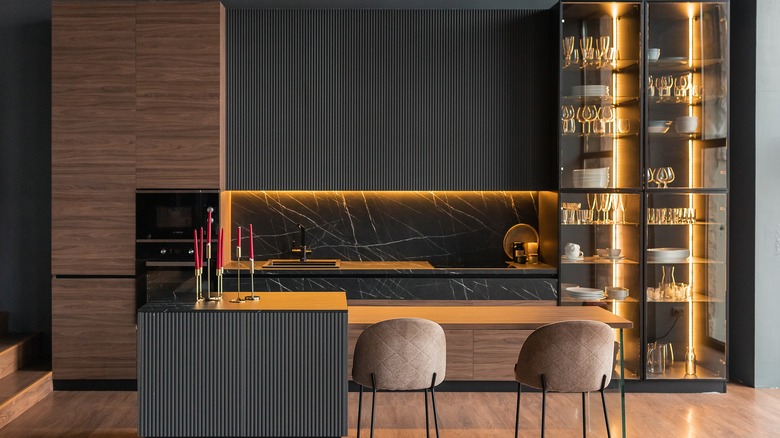 Sakharova Anastasia/Shutterstock
Is it time to reboot your kitchen? You're not alone. Roughly one in three homeowners remodel their kitchen because they either do not enjoy the existing style or functional issues are impeding the quality of living (as noted by Statista). But it's also worth noting that this tremendously popular remodel is entirely dependent on capital. Year over year, from 2020 through 2022, homeowners are increasingly able to achieve the financial comfort they have been looking for to go forward with the remodel.  
Whether it be replacing the countertops, updating the floors, or changing the cabinets and fixtures, the kitchen offers a variety of dynamic vantage points and opportunities for homeowners to express their personalities. But sterile white cabinets with quartz countertops have remained supreme long enough. Color is coming back, and there are so many different and budget-friendly ways to go about this process. Here are 15 inspirational cabinet and countertop combinations that will have you swooning.
1. Green cabinets and white countertops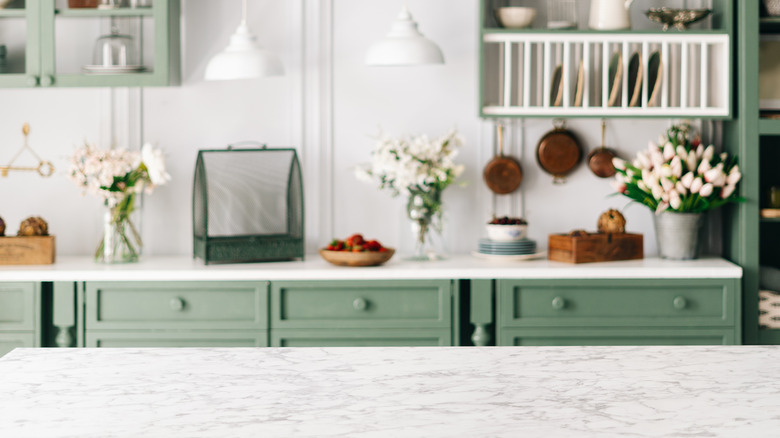 brizmaker/Shutterstock
If nature is your palette and you're on a budget, look no further. With so many new construction homes utilizing white quartz countertops and white cabinets, this is a really easy fix to bring that calming forest green into your kitchen. This is an excellent option if you're always looking for new ways to blend indoor and outdoor spaces.
2. Charcoal cabinets and a butcher block slab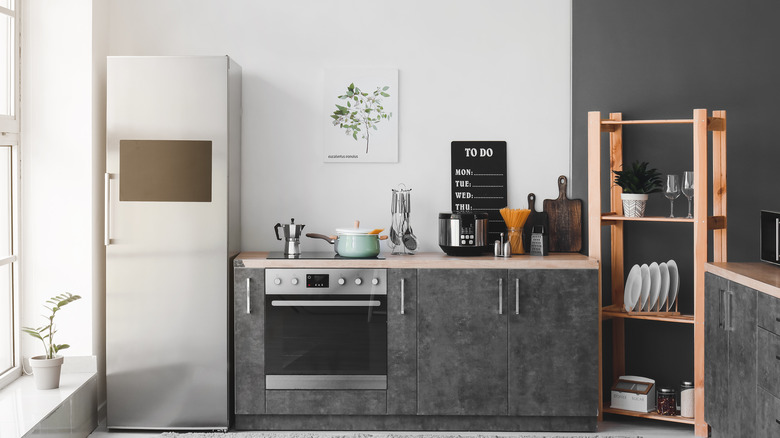 Pixel-Shot/Shutterstock
While the charcoal cabinets are a dramatic, slightly industrial touch, the butcher block countertop is a natural, country contrast. The combination of these two makes for a fun and intriguing aesthetic. Something like a SoHo loft or a chef's kitchen makes a lot of sense for this kind of aesthetic, as it is both masculine and functional.
3. Carolina blue cabinets and white countertops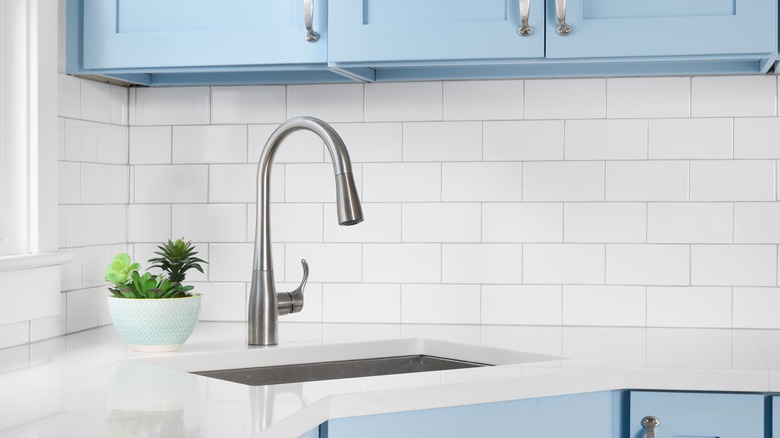 Hendrickson Photography/Shutterstock
Light blue is another easy paint fix to a sterile white kitchen that yields tremendous results on a lower budget. With the white countertop, Carolina blue communicates cleanliness but also a welcoming quality that white lacks. One of many pastels that adds personality to a sterile white kitchen, baby blue goes great with cooler silver finishes.
4. Navy blue cabinets and dual color countertops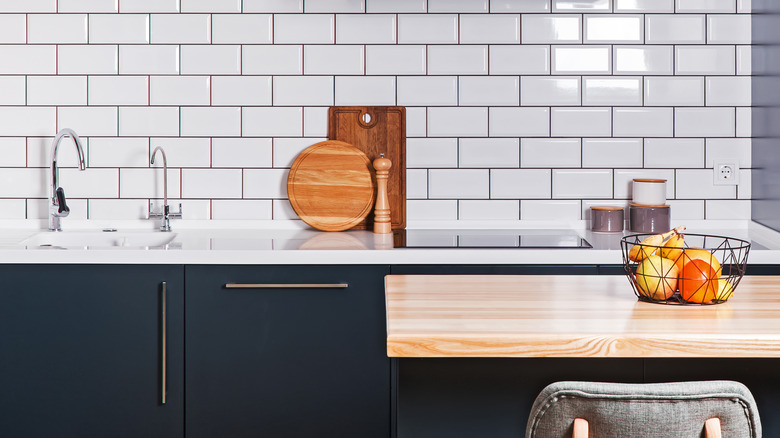 Chiociolla/Getty Images
When paired with the brass finishes, this navy blue cabinetry is sophisticated and chic. It is additionally complemented by the warm hues of the butcher block countertop. Combined with the white sink countertop, these three colors work harmoniously and help create a dynamic space. Although it is a slightly more expensive option to have multiple surfaces, the result is undeniably spectacular.
5. The '70s retro funky kitchen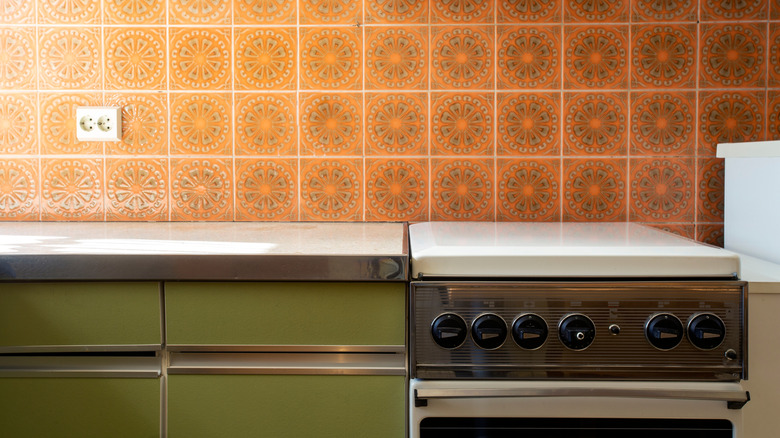 A-photographyy/Shutterstock
The 1970s kitchen aesthetics are making a comeback in a big way. This sage, earthy green will be everywhere, and paired with retro appliances, shiny countertops, and some psychedelic tiling; these are the kind of personable and fun choices that more and more homeowners are starting to gravitate towards. Don't forget about backsplashes, as they can also re-contextualize your cabinetry and countertops in dynamic new ways.
6. Turquoise cabinets and marble countertops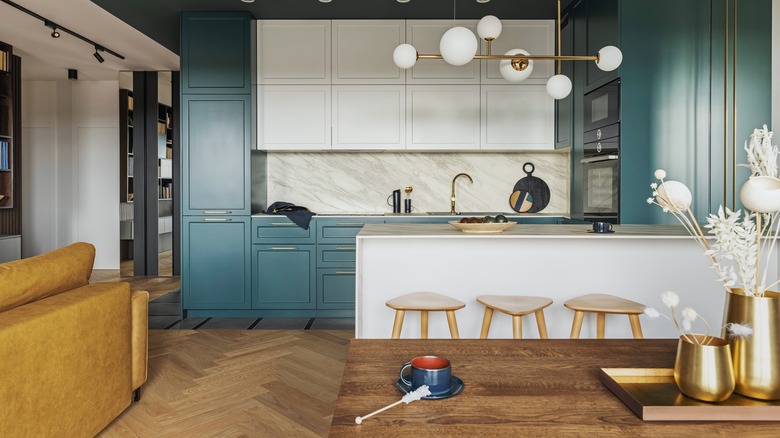 Followtheflow/Shutterstock
Turquoise cabinetry brings in soothing tones of the natural world, something in a soft contemporary space or even a bit rustic. Paired with a veiny, single slab, the movement across the countertop and backsplash is stunning, complementing the cabinets while also adding something dynamic. This particular kitchen also integrates maple tones and other warm hues that really allow the colors to pop.
7. Multicolored lacquer finishes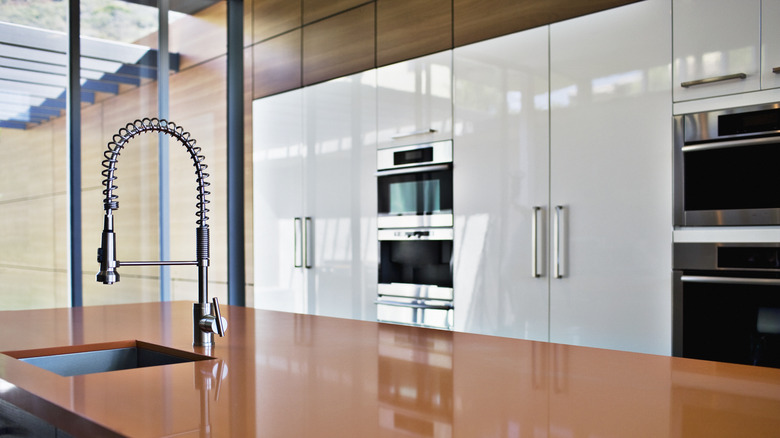 Tom Merton/Getty Images
If glossy and sheen are the objective, there are some cool combinations you can utilize to make your kitchen stand out and give it a different flavor. Lacquer is a material best used in a more industrial or contemporary kitchen, and these white cabinets offer a super strong contrast to the statement orange island. This is something different and stands out from many other materials used.
8. Cool wood slat cabinets and quartz countertops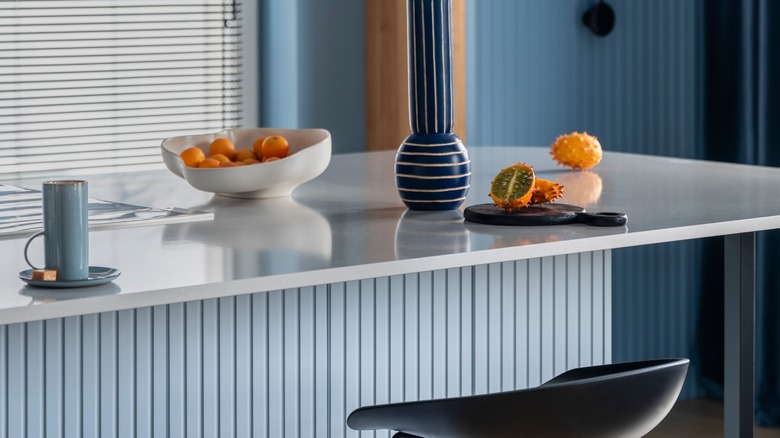 Followtheflow/Shutterstock
The wood slat cabinetry is on the rise, and it is not hard to see why. These designs invoke a sense of geometry and organization within a kitchen in a way that tiling and backsplashes do not. While slat walls can feel a bit busier than some of the other materials discussed here, the crisp white quartz countertop is always a great contrast to balance out everything going on here.
9. Maple wood countertops and earthy, brown cabinets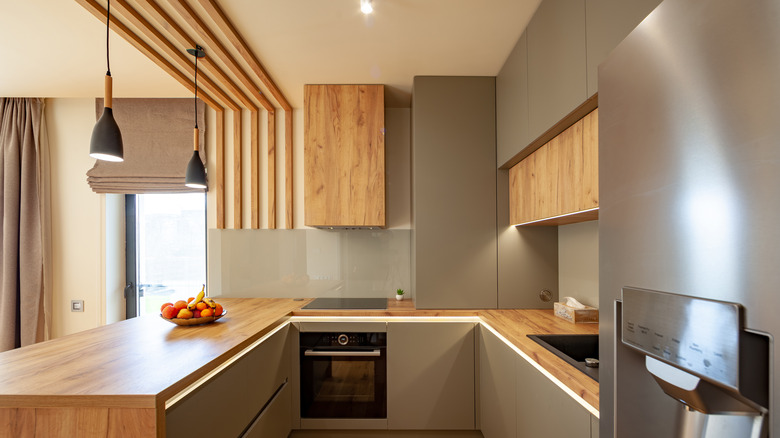 Gabi Moisa/Shutterstock
Maple wood countertops are an even richer finish than white oak wood. It's a bit darker, redder, and harder to match. However, its intensity is wonderfully offset by this soft, muted brown. This is another 1970s tone that is reemerging in kitchen design and another example of bringing those natural world tones into the kitchen.
10. Lilac cabinets and black countertops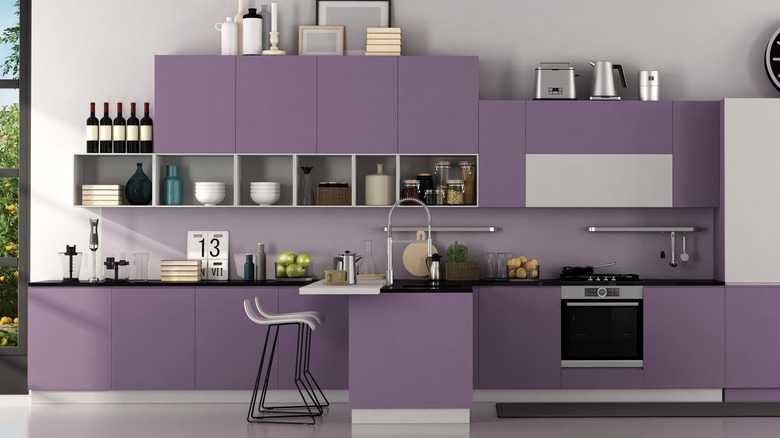 Archideaphoto/Getty Images
Soothing to the eye, feminine, and different from a lot of the other palettes featured, this lilac cabinetry is quite striking. Its soft color is nicely complemented by the black countertops, along with the cooler silver finishes. Whether it be for a 1960's inspired home or just something unique, this is a distinct combination that will get people talking.
11. Fire engine red cabinets and butcher block countertops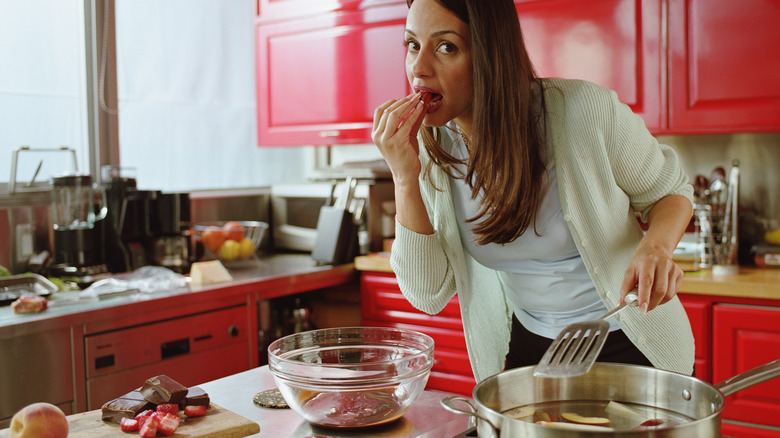 Mike Powell/Getty Images
Red creates a sense of mood, strength, and passion. For those looking to create a striking and unforgettable kitchen, this is a noteworthy collection of elements that work great together. In particular, the red cabinets and butcher block countertops are also included with a stainless steel island. This fits into the SoHo loft, industrial, and statement aesthetic discussed earlier.
12. The navy kitchen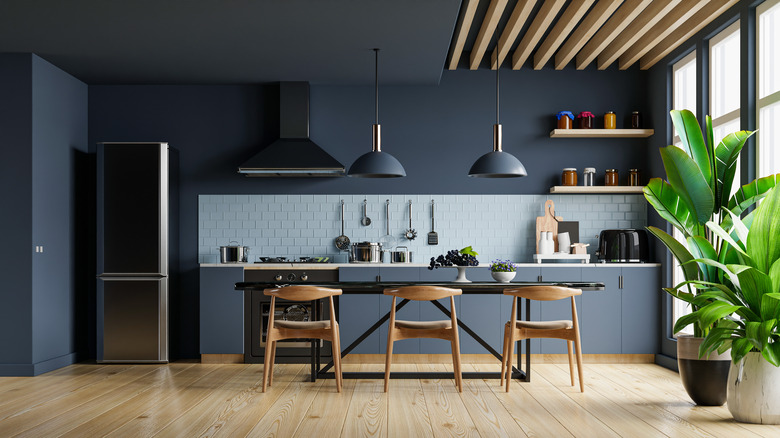 Vanit Janthra/Getty Images
While homeowners often go in the light and bright direction out of fear of creating a claustrophobic space, the navy blue kitchen does a great job of disproving such a myth. The navy cabinetry is super inviting and cozy, with clean white countertops and soft, light blue subway tiling to add some variety. Topped off with warm wood floors and chairs, this is a great kitchen example of dark done right.
13. Black cabinets and granite countertops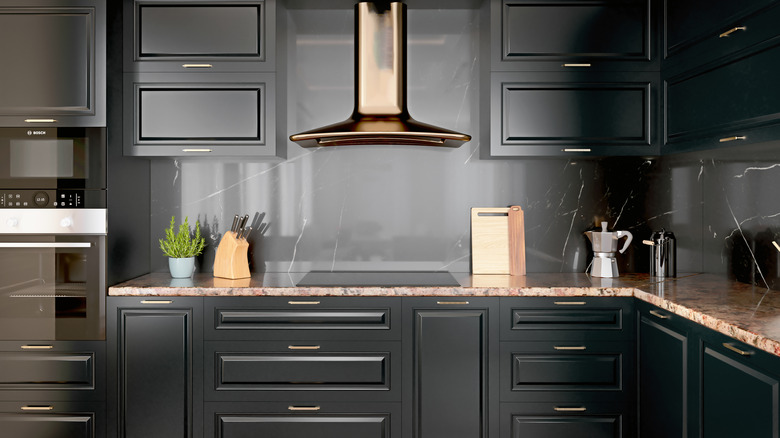 Snorkulencija/Getty Images
This arguably could be the new neutral or sleek white aesthetic for those not looking for either of those things. Black is classic, hides dirt well, and accommodates a variety of warm tones in a kitchen. Granite countertops fit exceptionally with this cabinet. The warm tones found in the finishes make it feel not too dark but still elegant.
14. Warm wood cabinets and white countertops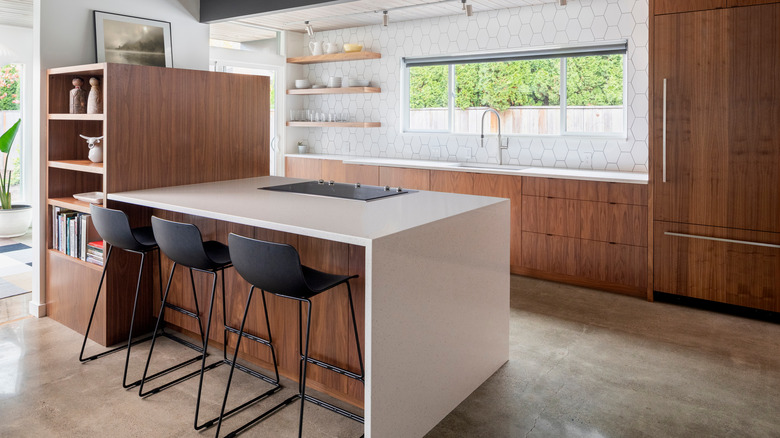 David Papazian/Shutterstock
Warm-toned cabinets are a timeless and inviting choice that looks good pretty much anywhere. They also look great with black finishes, as seen here with the chairs. White quartz countertops pop incredibly well amidst these cabinets. The industrial flooring choice featured here gives it a contemporary edge that still feels personable, and this kitchen will be another super popular aesthetic in the future.
15. Warm wood cabinets and black stone countertops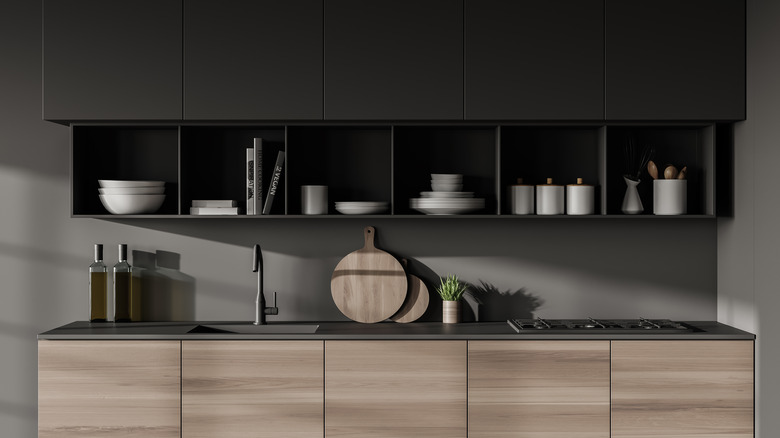 Ismagilov/Getty Images
Warm wood cabinets and black stone countertops go incredibly well. For any bachelor or contemporary home looking for that "Dune" aesthetic, look no further. Some might call it too minimal, while others might view it as visionary. In particular, pairing these finishes with a naturally bright kitchen can create a dazzling effect that still feels open and inviting without resorting to the sterile white kitchen.