Why You Need Smart Window Treatments In Your Home, According To An Expert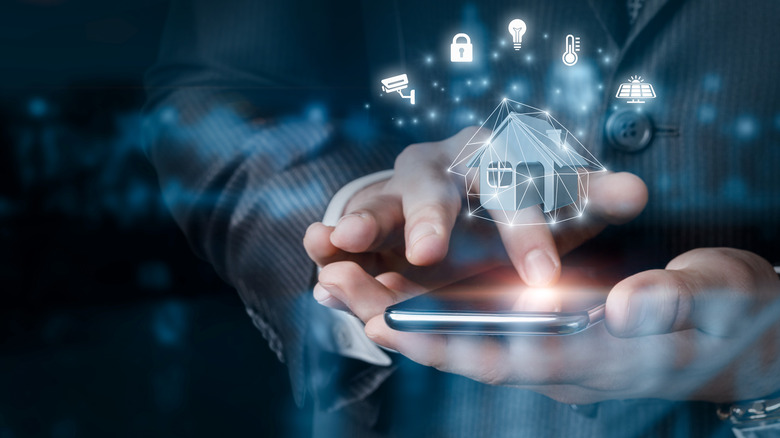 Natali_mis/Getty Images
Everyone's looking for ways to make their day-to-day life easier. Luckily, smart home technology enables you to get quick results at the simple touch of a button. Specialized apps through your device are able to control the climate of your residence, activate home entertainment systems, monitor security features, and automate lighting, appliances, and even the irrigation of your yard. 
Having your security and appliances rolled into your smart technology may seem like a no-brainer, but why not go that extra mile and have your windows join the modern evolution? To understand the benefits of having smart window treatments, we went to an expert. In an exclusive interview with House Digest, Janna Robinson, the Techorator and founder of JannaRobinson.com, shed some light on smart windows. "Window treatments can sometimes be an afterthought," she mentions, "however, they are a decorative accent that is not only useful but also elevates the elegance and beauty in a home." 
Long gone are old-fashioned vinyl blinds and dusty drapes. To modernize your homestead it could be time to update one of your home's most visible features. "Like smart lighting, a hot trend in the world of smart control is motorized window coverings," Robinson says, "Why get off the couch to lower the shades on a sunny day when depending on the type, you can raise, lower, or move the covering with your smart devices?"
Smart window treatments are versatile and save money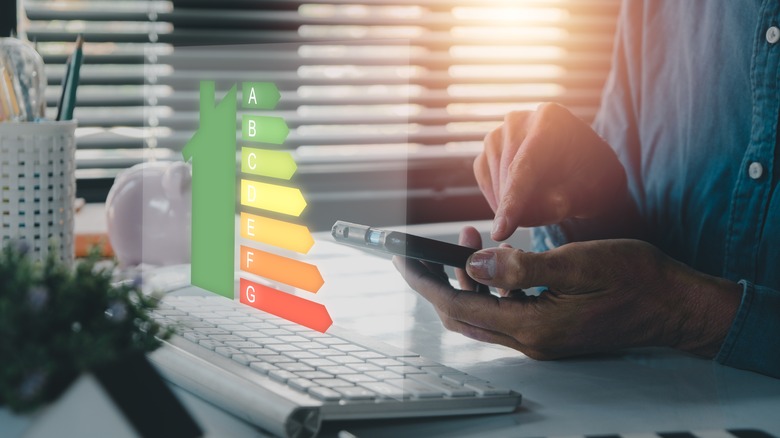 Mongta Studio/Shutterstock
Although the idea of changing your home in order to integrate smart home technology may seem like a lavish addition you just don't need, it could be more within reach than you thought. Like most green or smart tech, the upfront cost may seem a little steep, however, that might pay off in the long run. "Smart window treatments offer convenience, flexibility, and freedom along with an effective way to help save money on your energy bill," Janna Robinson tells us. "A good example is letting sun in on a cool day, so you can turn down the heat, or on a hot summer day, keep everything closed with your air conditioner on low." A substantial amount of heat enters and leaves your home through windows, the right type of treatment can help to utilize this energy in your favor. 
Just because you're opting for more modern conveniences, doesn't mean that you need to totally update or even change your whole home's decor. "Not only can you decide on the type, style, color, light filtering level, mounting style (which will largely be dictated by your windows and the walls around them), and privacy, you also have different power options, from hard-wired, battery, and solar-powered," Robinson tells us.
There are ample sustainable options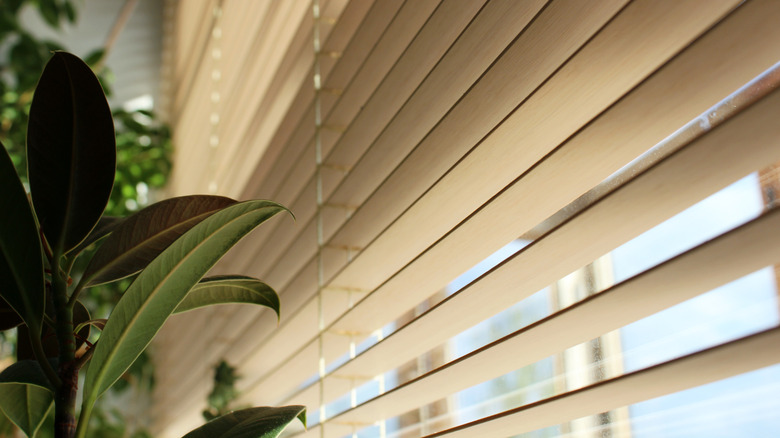 Ana_Sun/Shutterstock
Having a sustainable home and being more eco-conscience can not only help the environment, and increase the value of your property, but it can benefit those living in your household as well. "There is a huge demand for state-of-the-art treated upholstery fabrics that are non-toxic, have an eye towards sustainability, and are water, and stain-resistant," Janna Robinson says, "They are also resistant to germicides and have antimicrobial properties — all offered in gorgeous options." Especially when you are dealing with window treatments that are constantly in contact with the sun as well as breezes from open windows, it gives you peace of mind to have more environmentally friendly options available. "It's a mainstay in my repertoire, and my clients love and are grateful for it," she says.
Keeping your home free of window treatments made of plastics, vinyl, and PVC materials can also ensure that if you need to replace the items, your used ones don't take up years sitting in an overcrowded landfill. Materials such as bamboo, jute, and even polyester-based window coverings can be highly durable, visually appealing, and more importantly recyclable when it reaches the end of their lifespan.
Don't hesitate to call a professional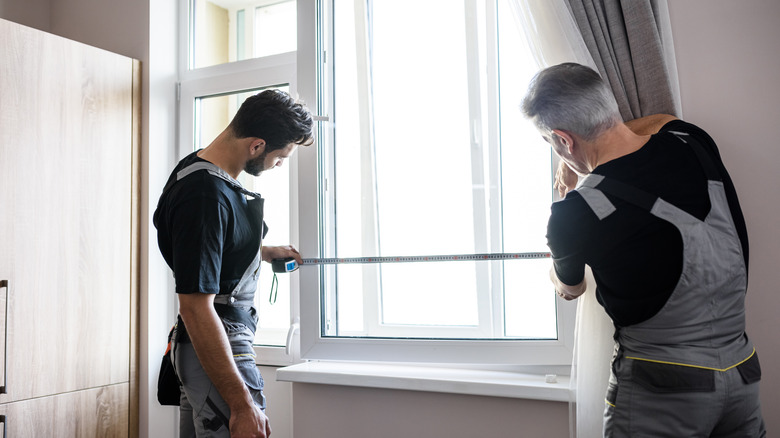 BAZA Production/Shutterstock
If you have decided that installing smart window treatments in your home is the right choice for you, then there can be great benefits to having the pros step in. "Between the energy savings, setting schedules, creating custom scenes, and the absence of pull cords that kids and pets can tangled up in, smart window treatments are a design element worth investing in," Janna Robinson explains, "I would recommend bringing in a professional to help you." 
Having your smart hub work in sync with all of the other elements of your modernized home might prove trickier than you think. A trained professional will ideally be able to look over your system and have your new smart window working smoothly with the rest of your home. "But if you wish to do the measuring yourself — especially for inside-mount blinds — there are websites to help you get precise measurements," Robinson advises. Although many projects can be achieved using the do-it-yourself mentality, make certain that you do your research so that the installation runs without a hitch.
Pair smart window treatments with smart glass
Smart window treatments are just the tip of the iceberg when it comes to window technology for your home. "Smart glass or what most refer to as smart privacy glass offers the flexibility to switch from clear to opaque in less than .01 seconds," Janna Robinson explains, "It is ideal for windows, doors, bathrooms, and art installations including works with curved glass and any other transparent surfaces." Smart glass uses sophisticated controls which can adjust the tint of the actual pane itself.
Also called electrochromic glass, smart glass uses non-charged ions to keep the glass see-through, and when these ions are charged they become shaded to stave off bright sun rays. These types of windows can be automated while you are away, or switched on personally by you. "There are multiple control options, from a wall or dimmer switch, remote, and through smart plugs, you can use with your smart hub system or with your mobile devices or voice command," Robinson tells us. The tech is so advanced that it can be set to your own specifications to control the amount of light and heat you want in the room, thus saving your furniture, art, or decor from becoming faded or damaged from the sun.