Here's How To Decorate Your Home With Woven Baskets The Correct Way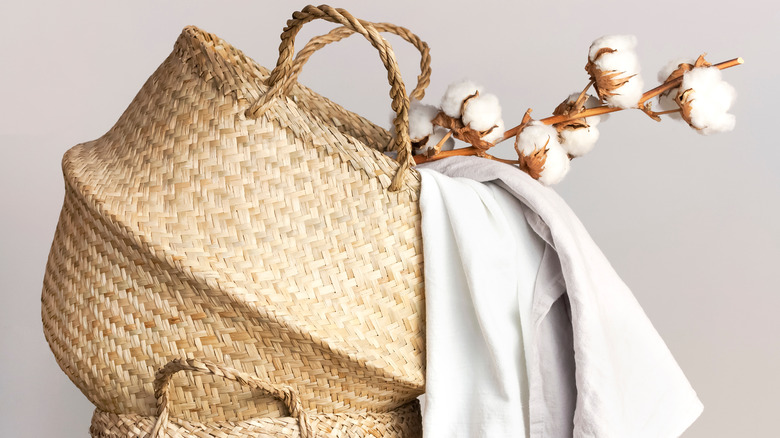 Arkhipenko Olga/Shutterstock
For many, a woven basket is the best solution to every storage and design problem. Not sure how to corral loose items near your home's entryway? Utilize these containers to keep everything organized. Want to keep your blankets in an easily accessible container? Place a large, open basket in the corner. Is your living room's design looking a bit flat or too cool-toned? This element could be just what you need to add warmth and texture.
There are many reasons why woven baskets are so widely used in people's homes. For starters, no matter what style you enjoy, one will most likely fit into your aesthetic, from traditional to modern and everything in between. Second, the material is often durable, so they will last a long time and can be used repeatedly. Finally, they come in many different tan tones, sizes, and shapes, so finding one that works in your space is typically an easy task. 
However, while woven containers are popular, this doesn't mean they should be placed everywhere in the home. Instead, when decorating with these baskets, be realistic about if you'll use them. Also, think about how they may add to or take away from your interior's design. 
Consider if they'll get used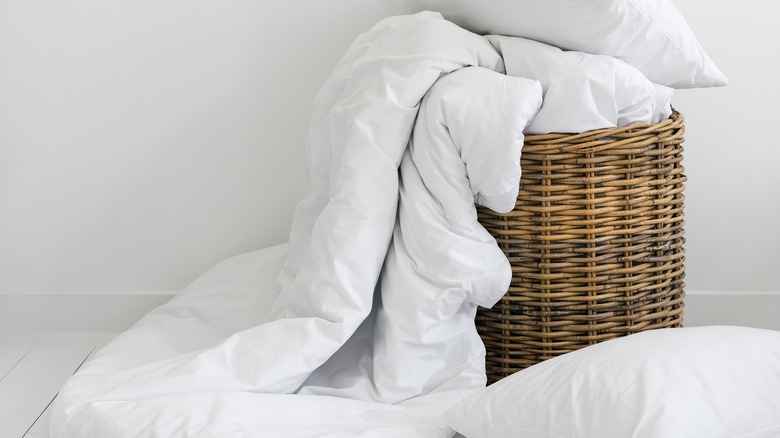 brizmaker/Shutterstock
When deciding where to use woven baskets, consider if you'll actually use them to keep organized. Your lifestyle and personality will largely determine this. For instance, it's common for homeowners to store throw blankets in large woven baskets. However, while you may enjoy how this looks, unless you're highly organized, it may not be realistic to think that you'll always roll the blankets and place them neatly back in the container each night. Instead, maybe you're used to simply throwing them over the back of your couch. In this case, a basket probably won't serve your needs. Instead, it would remind you of the tidy home you wish you had but don't have the time to maintain.
However, these vessels could help even the busiest individuals stay more orderly in other instances. For example, some use woven baskets to organize their pantry. This system is ideal for many because it allows them to simply throw their bags or boxes of snacks into the baskets without having to decant anything.
Think about your style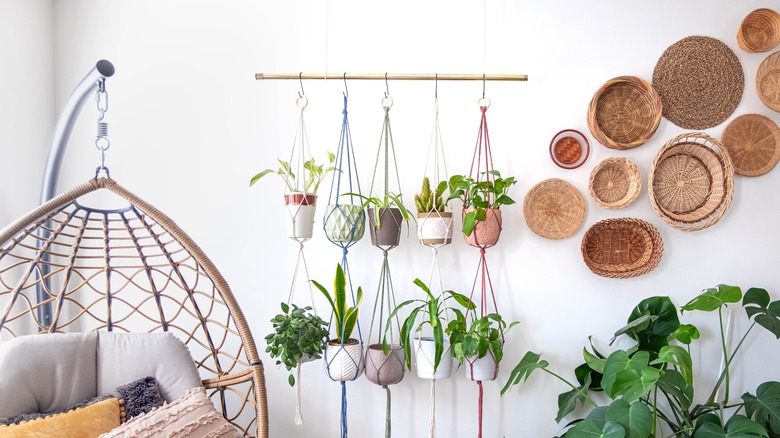 TippyTortue/Shutterstock
Another factor you should consider is your personal style, which will help you determine where to place your woven baskets and how many you should use. For example, rustic, cottage, farmhouse, country, and bohemian spaces can all benefit from this element more than other design styles because of their embrace of warm neutrals and textured elements. In fact, many homeowners use these pieces simply as decorations, such as when they hang them on walls for a boho vibe. 
However, if you prefer a modern, industrial, or mostly cool-toned space, you should limit the use of these containers. This is because, since there probably aren't many other warm elements that match the basket in your home, it's bound to stand out, and adding too many could take away from the rest of the design. However, this doesn't mean those who love these styles should eliminate woven baskets; instead, they should be more critical about where they're used. They can be especially beneficial for adding dimension and a contrasting element to rooms that only feature cool-toned colors. "One of the best uses of natural baskets is to warm up a room that doesn't have much wood, like the kitchen," real estate broker Shanda Richardson told Realtor.