Brighten Your Red Brick Exterior With This Tip From HGTV's Fixer To Fabulous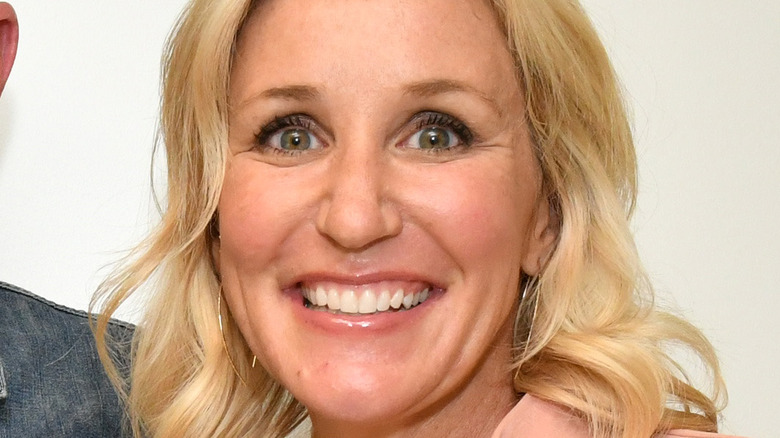 Craig Barritt/Getty Images
When you pass a home covered in dark red brick, what do you imagine the interior to look like? Perhaps you picture heavy curtains on the windows and small floral print wallpaper patterns on the walls. Some associate brick with traditional elements like these because homes made out of this material started becoming popular in America around the 19th century. Further, modern designs often use neutral colors on both the interior and exterior of the home, and red isn't exactly neutral. Some also believe that this material makes a home appear dull and dark instead of bright and welcoming.
At the same time, when it comes to durability, brick is one of the best materials to use, as it will last a long time without needing much maintenance. This explains why these homes are still built today, even though some may not prefer how they look. The question is, how can you make an old-fashioned brick exterior appear much more modern? Fortunately, Dave and Jenny Marrs, hosts of the HGTV show "Fixer to Fabulous," know just what to do.
Paint it white for a modern look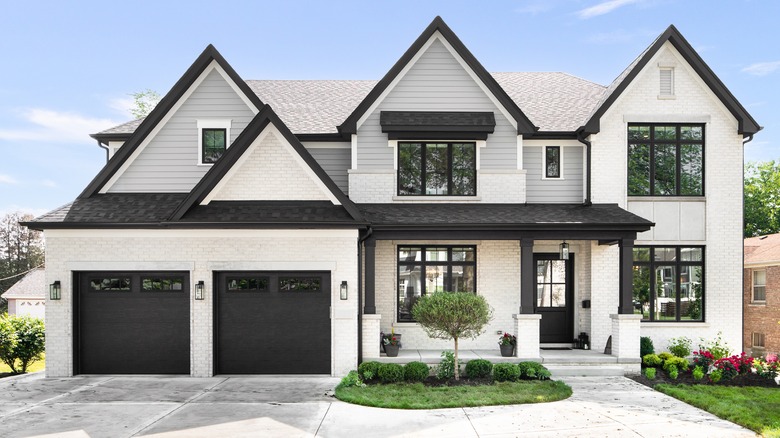 Hendrickson Photography/Shutterstock
Dave and Jenny Marrs often come across red brick houses that need quite the revamp. In order to brighten the material, they almost always do one thing: paint it white. For example, when updating a home in the episode "California Couple's Dream Home," they paint the bricks pure white and add contrast with black trim. You could also paint the front door, garage doors, or shutters black for the same effect. The result? "We made it a really timeless, classic house. We brightened it up with paint," Jenny says. Dave agrees, saying, "Changing the color made it look updated and modern" (via Realtor.com).
If you wanted to paint your exterior, it would cost about $1.40 to $4.20 per square foot, and the whole project would add up to an average of $7,000, depending upon how large your home is. Since just a simple coat of paint can completely change the style of your entire home, this expense is often well worth it.
White doesn't have to look modern
However, while white can easily create a modern look, one of the many benefits of using this color is that it can also complement many different styles. To create something other than just a modern design, choose an off-white shade or one with a slightly yellow undertone and decorate with elements that make the style obvious. 
For example, when painting another brick home white, the stars of "Fixer to Fabulous" wanted to create a farmhouse look that feels both cozy and fresh. To do this, they chose a creamy shade and decorated with wooden and metal elements, as seen on their website. When renovating another home, the owners are hoping for some Spanish influences, which Dave and Jenny include by painting it white, placing homemade tiles on the front steps, adding a red roof, and installing a wooden front door. Really, no matter what your preferred style is, a white exterior will look stunning.