The Elegant Coffee Table Hack That Adds Interest To Your Living Space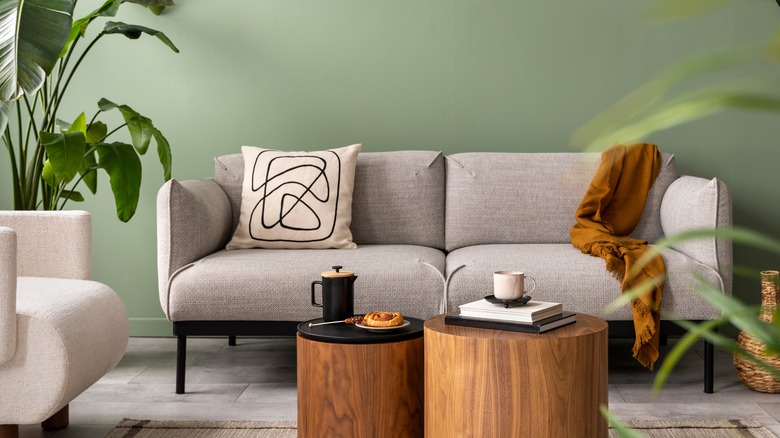 Followtheflow/Shutterstock
While we frequently default to the tried-and-true, home decorating often benefits from a fresh perspective. For example, instead of pairing a sofa with the expected, coordinating loveseat, two occasional chairs are more compelling and a smarter use of space. Likewise, although a single, amply-sized coffee table centered between the upholstery has been the tradition of living room design for decades, it isn't always the best or most attractive idea. 
In a big room, one coffee table might be too distant from the majority of the seating. And in spaces used for hosting, there should be plenty of surfaces to rest food and drinks upon while the conversation continues uninterrupted. Or perhaps a small room feels cramped already. For that particular challenge, designer Heather Hilliard suggests a transparent material in place of the usual wood. "A glass coffee table will add lightness and airiness to the space," she notes in Homes and Gardens, "but it isn't suitable for bearing a lot of weight, resting feet, or being bumped into by little ones." In a home with young children, an oversized hard object in the middle of the room is inconvenient, to say the least. 
Customary décor options offer comfort, style, and function; quite often, they're classic and work fine. But sometimes there's a better solution. Below, we explore a new spin on coffee table designs that are in tune with how we live, entertain, and perceive style today.
Nesting tables
Followtheflow/Shutterstock
Nesting tables have a certain charm — the name itself is rife with domestic connotations — but they're primarily all about function. Typically, two to five tables form a complete puzzle that can be separated as required by activities and the available floor space in the room. From two circular tables with varied heights, as shown above, to a large rectangle that conceals four benches underneath to mixed shapes akin to a modern sculpture, the options are endless. Further, they can be found in a wide array of styles and materials, such as wood, glass, metal, stone, or a combination of them. 
Nesting tables allow a high degree of ease, comfort, and utility in their different dimensions. For example, the tallest piece is sized to be reachable while lounging on a sofa or chair, while shorter tables are perfectly suited for those times when it's preferable to sit on the floor. In this way, they're very accommodating to kids. Small tables can be spread around the room as needed, and sometimes they're made durable enough that they're intended to double as extra seating. When no longer called for, they all tuck nicely away for an uncluttered aesthetic. However, home furnishings brand Sweetpea and Willow suggest taking advantage of the inherent interest in the multiple stacked furniture pieces. "Whichever nesting table you own, we always recommend displaying them partially extended to add luxurious layers and dimension to your décor," suggests the team (via House Beautiful).
Poufs and ottomans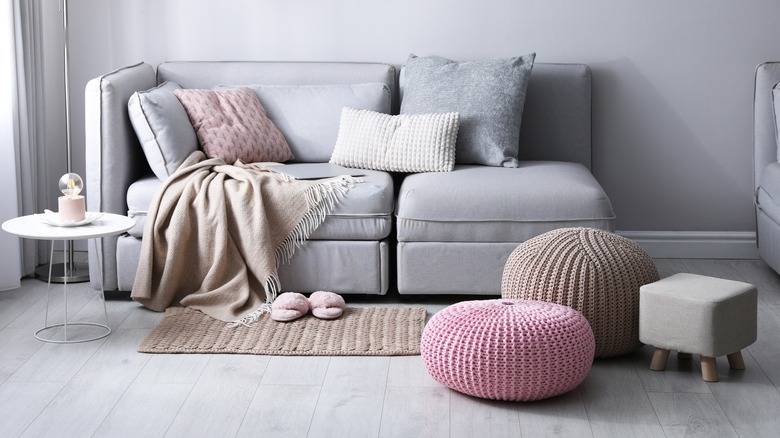 New Africa/Shutterstock
Poufs and ottomans contribute softness, texture, pattern, or color to the design of a living room — attributes that coffee tables in hard materials, such as wood and metal, cannot. Imagine the cool neutral room above without the warmth of the bulky knit texture or pink hue. Yet, similar to nesting tables, the novelty pieces still offer abundant practicality. Designer Patricia Gibbons sums up their appeal, "Poufs and ottomans make for great alternatives to the traditional coffee table, and are often more functional," she explains in Homes & Gardens. "Providing a place to rest books and trinkets, and an extra spot to sit if need be, many come with multifunctional storage options, so they can also be used to tidy away clutter. They are easy to move around and are versatile without compromising on style." 
Ottomans can often be custom ordered from a furniture retailer, a helpful option for selecting a fabric to coordinate with an existing décor scheme; consider a hard-wearing and stain-resistant textile. Alternately, decorative trays make an ideal flat surface for ottoman and pouf tops while serving to protect the fabric from spills. Plus another substance via ceramic, wood, or mirror, for instance, contributes to a layered feeling and the opportunity to repeat design elements that appear elsewhere in the home. For maximum usefulness and flexibility, look for ottomans with hidden storage and combine them with a side table; but don't overdo it unless you're into a maximalist aesthetic, too.