Remove Bathroom Ceiling Mold And Prevent It From Coming Back With These Steps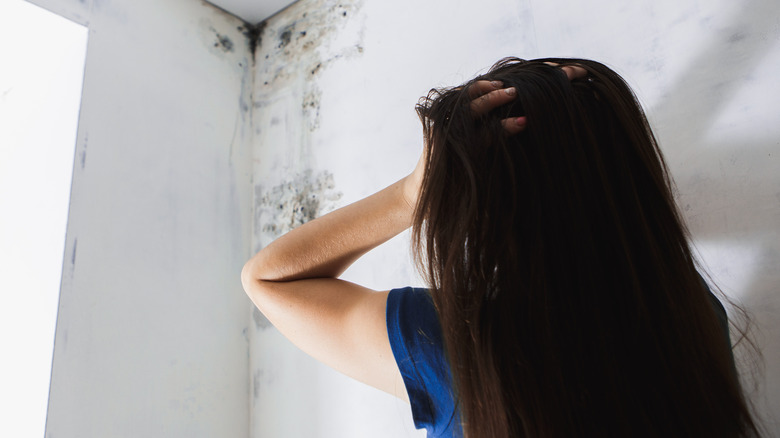 Burdun Iliya/Shutterstock
No one wants to hear that they have a mold problem. However, it's an issue you should take seriously and act on quickly. This is especially true for those who have noticed mold begin to grow on their bathroom ceiling. This space has the potential to become a fungal safe haven if sufficient ventilation isn't available to remove the abundant amount of moisture a bathroom creates. And if mold is left on the ceiling for too long, it will begin to eat away at the material and cause damage.
However, the goal isn't to just remove the mold but to also make sure it doesn't come back. Other than the structural issues it causes, mold can also be a health hazard with side effects that include wheezing, itchy eyes, and a stuffed nose. And those with allergies could experience heightened symptoms. We'll break down the steps you need to take to eliminate the mold on your bathroom ceiling for good.
Cleaning technique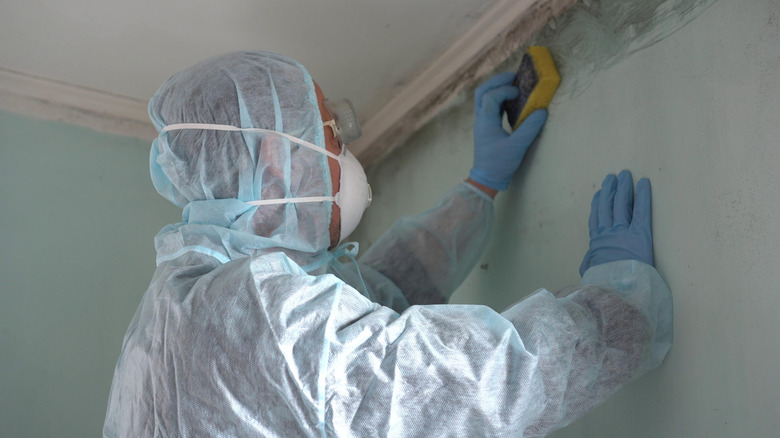 Fevziie/Shutterstock
First things first, you'll want to wear a face mask, gloves, and safety goggles to avoid infection. Then, ensure the area you're working with is properly ventilated to avoid breathing in mold spores. You'll be pleased to know that creating a mold cleaning solution is fairly simple and cost-effective — all you'll need is white vinegar and warm water, Diana Rodriguez-Zaba, founder of IICRC-certified mold remediation company Service Master Chicago told Homes and Garden.
She explains that you must first use a sponge to remove as much mold as you can. Then, mix white vinegar and warm water into a spray bottle and use it to thoroughly cover the remaining mold on your ceiling. "Let the cleaner sit for at least 15-20 minutes and then scrub the ceiling to remove any remaining mold," she said, explaining that you may need to use a toothbrush to spread the cleaning solution to areas the spray bottle cannot reach. Once you're done, wash away the mixture with fresh water and dry it off with a towel. 
Keep the mold away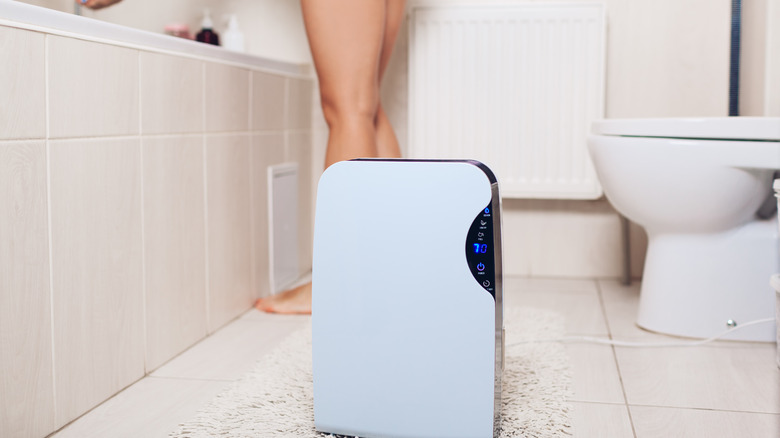 Mariia Boiko/Shutterstock
After doing all of that work, the last thing you'll want to see is mold growing back just a few months later. Luckily, there are a few precautionary steps you can take to keep the mold away! One thing you may not have thought of is to use a towel to wipe off the extra moisture on your walls after every shower. Alternatively, a simpler method would be to keep any doors or windows open to allow the moisture to flow out. It may also be wise to invest in a dehumidifier that can actively work to prevent water from clinging to the walls.
You could also take it a step further by applying an anti-mold paint or primer onto your walls and ceiling. This works best in spaces with mild mold issues. Alternatively, bleach has persistently been a reliable household cleaning item, and it can be used to clean off areas on your ceiling when you notice mold returning.