5 Fun Alternatives To Overhead Lighting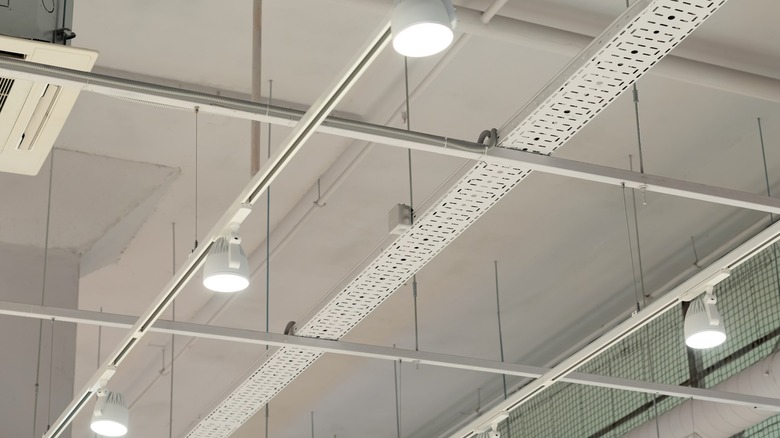 LariBat/Shutterstock
Do you typically have unexpected headaches, or are you often in an irrationally bad mood? Feel like you never enjoy the reflection in your room? Check your lighting! Yes, overhead lighting is often the default option for any new construction. But it is not always the best choice. There is real science backing up these negative claims. Verywell Health argues that migraines are more likely to occur in the presence of overhead lighting.
Additionally, overhead light highlights some of our worst features, like skin imperfections, and casts shadows under prominent focal points like our eyes. And lastly, overhead lighting can drain the personality out of a room and leave it looking a bit clinical. Considering how closely we associate overhead and fluorescent lighting with office spaces, homes should create something different — areas that are intimate, moody, and welcoming. So, let's look at five alternatives that will completely transform your home.
Sconces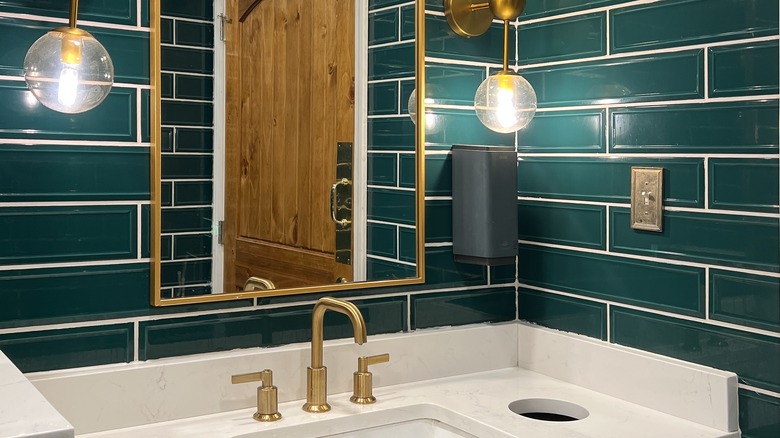 Hendrickson Photography/Shutterstock
Sconces are wall-mounted fixtures that can add flow and symmetry to a room. They have an artistic quality that goes spectacularly with artwork and other creative pieces. Installing one on each side of a bathroom can create a sense of balance, and the front-facing light can be soft and moody or strong and flattering. Additionally, sconces have varying levels of commitment in terms of the work involved. We should point out that sconces can be professionally connected to a home's main electrical system or battery-powered. Thus, these lighting options are for all levels of homeowners.
Nearly any style exists for a sconce, fitting anywhere from an ornate Victorian estate to a chic Miami penthouse. They are also the rare type of lighting that is exceptionally good at creating direction and warmth in tight, narrow spaces. Areas such as hallways and staircases can benefit tremendously from the assistance of sconces.
Mushroom lamps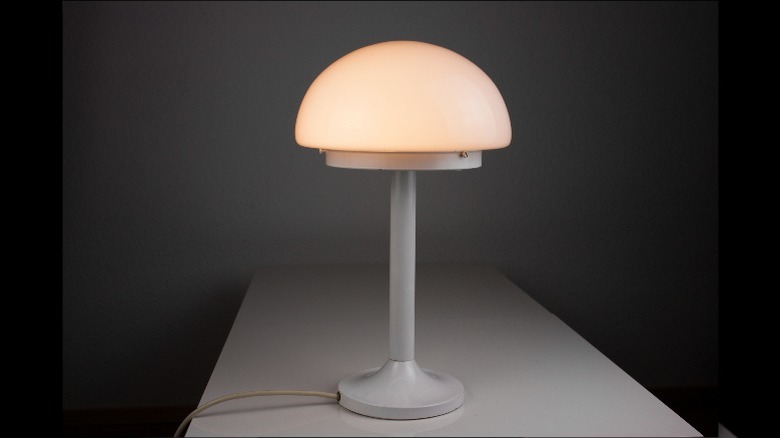 Dreamprint/Shutterstock
The décors of the 1970s are returning in full force, and the mushroom lamp is just another example of the technological innovation of the decade and its funky resurgence. Mushroom lamps are floor lamps with a mound-shaped shade that can create ambiance and mood wherever they go. However, in their recent iterations, mushroom lamps are starting to stray a bit from their more geometric roots. Some of the newer mushroom lamps embrace the organic forms of real-life fungi for something more playful and fantastical.
Smaller than more dramatic statement lighting found elsewhere, mushroom lamps create a gentle and inviting atmosphere. They are excellent for living rooms, offices, cocktail lounges, and even bedrooms. Trends show that their revived popularity has also sparked a lot of creative interpretations. Materials such as wood, paper, glass, and bright colors are all possibilities when choosing the best mushroom lamp for your home's aesthetic.
Floor lamps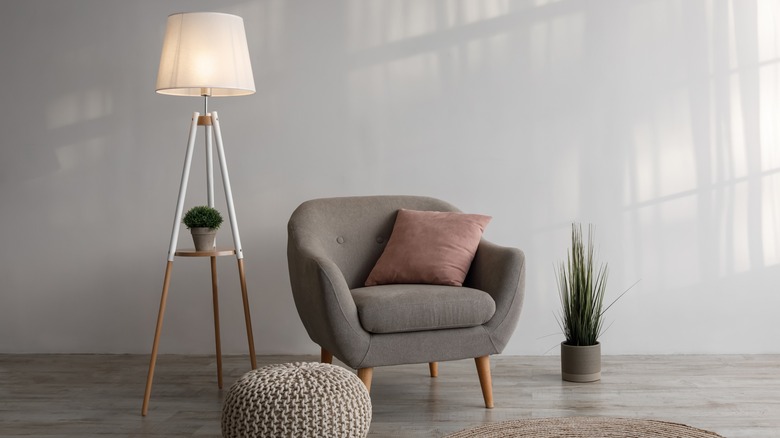 Prostock-studio/Shutterstock
The power of the floor lamp is not to be underestimated. Like the sconce, a floor lamp comes in almost every aesthetic variation with even less hassle. A floor lamp is an excellent investment for a young homeowner or someone renting their first apartment. They are portable, add dynamic range within any room, and can do much of the heavy lifting in a smaller bedroom or living room if budget options are limited.
Floor lamps can also add a lot of variation in their design to enhance their practicality. From dimming features to multi-directional bulbs, a floor lamp can serve a number of purposes in a given space. But as previously mentioned, this is a strong choice for someone looking for an immediate, low-maintenance replacement for overhead lighting in a bedroom. A newer floor lamp placed in a bedroom corner will deliver immediate results for primary lighting, and your room will instantly feel more like a sanctuary than a cubicle.
String lights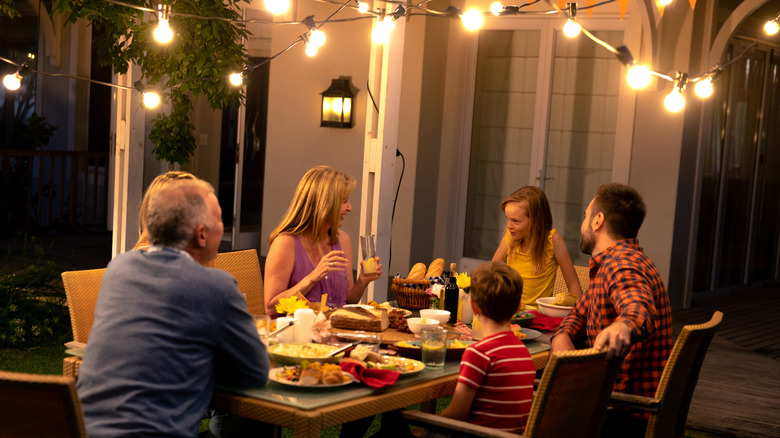 wavebreakmedia/Shutterstock
If bohemian and casual are the flavors of your home, then string lights are that whimsical design touch your space has been missing. Best utilized for creating magical and romantic moments, string lights are an excellent option for any area where you are looking to highlight a feature or make up for the lack of natural light in a given room. Whether under-the-counter kitchen lighting, over a bed headboard, or a foyer moment, string lights particularly excel at adding a secondary lighting option and highlighting a house feature.
Like floor lamps, these are portable and can be reconfigured in real-time to accommodate any aesthetic changes made to a residence. From an energy perspective, string lights are also quite impressive. Given they are typically made with energy-strong LED lights, string lights use nearly 70% less energy and last several times longer than traditional bulbs, as noted by Luminous Terrace.
Table lamps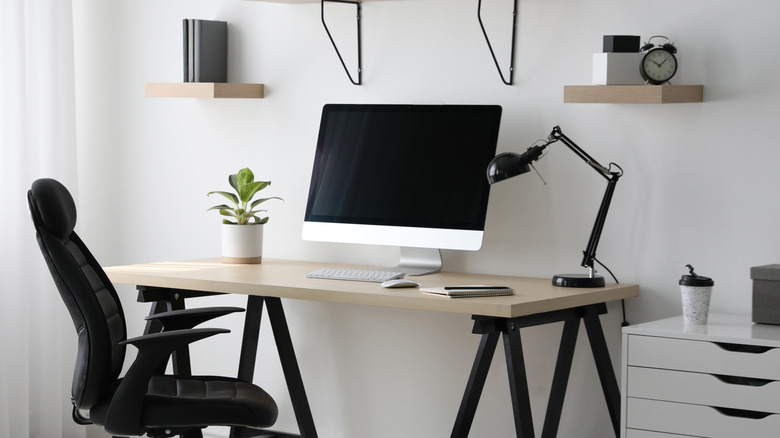 New Africa/Shutterstock
Living rooms, offices, nightstands — where don't table lamps fit? They are a great aesthetic secondary lighting choice and are equally functional. Like sconces, table lamps can help create symmetry within a space, whether that be one on each side of a couch or each side of a dresser. They dress up a room effectively and act as your spotlight for any furniture or areas of the space you want to emphasize.
What makes a good candidate for a table lamp? Posh Lamps argues that the best table lamps are at least 2 feet tall but no higher than 3 feet. It is also important that the lamps complement your existing furniture pieces or offer an exciting contrast. Make sure they are not the same tones as the surrounding décor. And lastly, it is also essential to research and select bulbs that go well with that space and are not too dark or bright. This can create an uneven effect that makes the arrangement less pleasing to the eye.