Replacing Your Dryer Timer Is Quick And Easy. Here's The DIY Guide To Getting It Done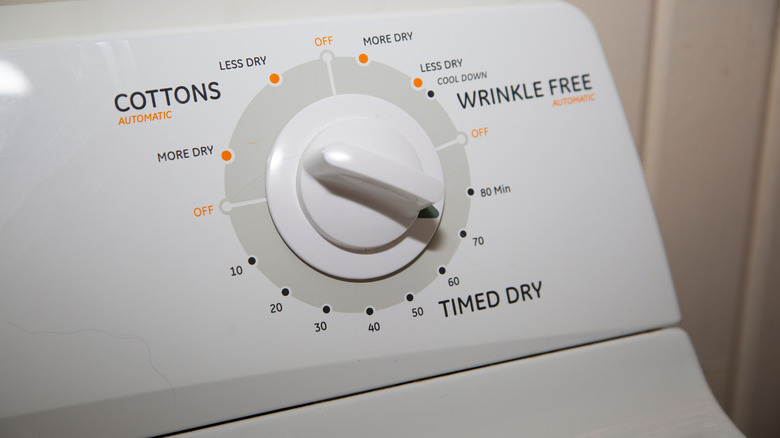 Brandy McKnight/Shutterstock
We may receive a commission on purchases made from links.
What would you do if your dryer malfunctioned? Would you run to the garage for your tools, or would you pick up the phone and call an appliance technician? It can be tempting to quickly call an expert and pay them for their services — and in some cases, this is the most brilliant move. However, if you're experiencing a common issue with your dryer timer, you may be able to fix the problem for less than $80.
Two main scenarios indicate that your dryer timer needs to be replaced. The first is if the timer never ticks forward, and the second is if the timer fails to shut off your appliance when the time is up, which could cause either the motor or the heating element to stay on for too long. If either of these scenarios is the case for you, you'll most likely be able to replace your dryer timer in under 15 minutes. However, remember that this only applies to mechanical appliances with a physical dial that turns and not ones with a keypad. Further, this method should work for most Kenmore, Whirlpool, KitchenAid, Maytag, Frigidaire, Amana, and GE dryers.
How to replace your dryer timer
The first step to replacing your dryer timer is buying the right replacement. You'll need to consult the manufacturer or the appliance manual to ensure you get the right one. To give you an idea of how much a replacement would cost, most dryer timers on Amazon can be purchased for around $60 to $75.
Once you have the right part, wear protective work gloves and unplug your dryer from its power source. If it's a gas model, make sure you also shut off the gas. Next, remove the control knob on the front of the appliance, which should quickly come off just by pulling on it. Scoot the dryer away from the wall and remove the back panel, to give yourself access to the dryer timer. After locating this part, take a picture of it with your phone or label the wires, as you'll need to know where each connects to rewire it correctly. Once you know how it's wired, remove them and unscrew the dryer timer. Screw in the new part and reattach the wires correctly. Finally, reattach the back panel, place it on the control knob, plug in the appliance, and turn on the gas.