Here's Why You Should Rethink Using Exterior Paint Indoors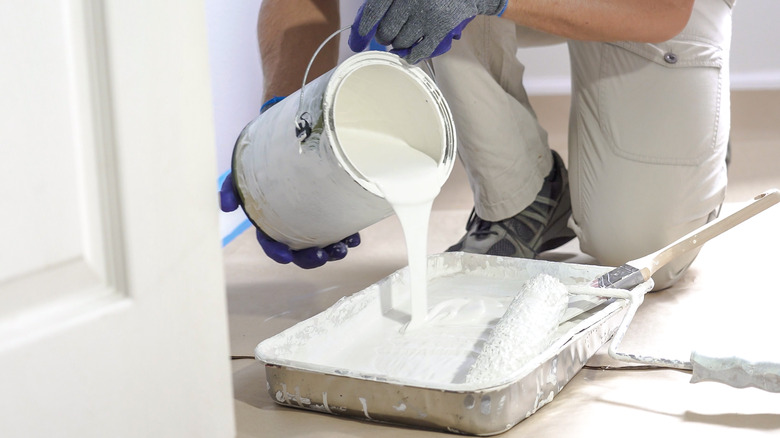 RightFramePhotoVideo/Shutterstock
Let's say you've somehow ended up with a few extra cans of exterior house paint. The color is soothing, and you'd love to repaint your bathroom in the same shade. Even better, exterior paint is robust and typically contains anti-mildew compounds called mildewcides, so this should work great, right? In theory, sure. In reality, absolutely not.
Using exterior paint indoors can have a range of negative consequences, starting with severely reduced air quality. All interior and exterior paints give off fumes of varying potencies, but it's the after-effects that you should be worried about. The smell may linger and dissipate after several hours or days, but exterior paint continues to emit hazardous chemicals for months. That's just one reason why it's meant to be used to beautify the outside of your home, not the inside. In addition to lingering toxic chemicals, using exterior paint to upgrade the inside of your dwelling is more hassle than it's worth. You know the phrase, "it's like watching paint dry?" Don't put yourself in that position.
It's bad for your health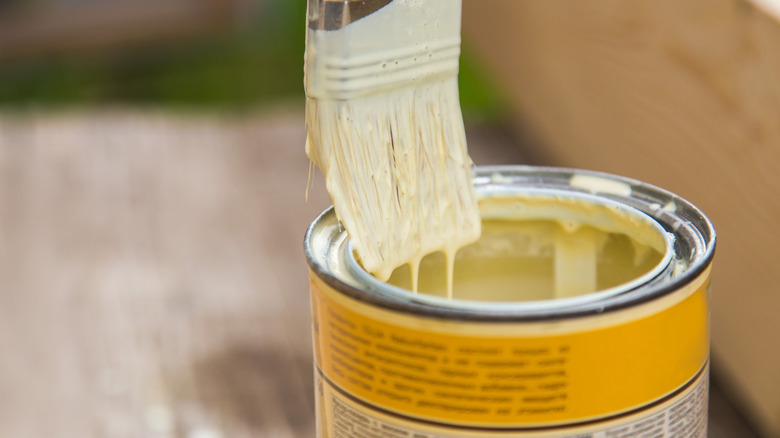 xalien/Shutterstock
Most paint is somewhat odoriferous because it contains volatile organic compounds, or VOCs. This class of chemicals makes paint easy to apply and helps it adhere to surfaces. Some VOCs also help bind paint particles together, which creates a nice, smooth surface that can hold up to a lot of wear and tear. VOCs are found in both water and oil-based paints. The issue with these stinky additives is that they not only contribute to forming ground-level ozone but are unsuitable for your health.
One of the reasons it's always recommended to paint in a well-ventilated area and wear a mask is because VOCs release toxic fumes into the air. Exterior paints tend to have a higher concentration of these chemicals, which are meant to help protect the outside of your house from the elements ... not the inside of your house from an accidental scrape or ding. Exposure to high levels of VOCs can cause damage to your liver, kidneys, or central nervous system. It can also lead to vision and memory issues.
Its more pain(t) than its worth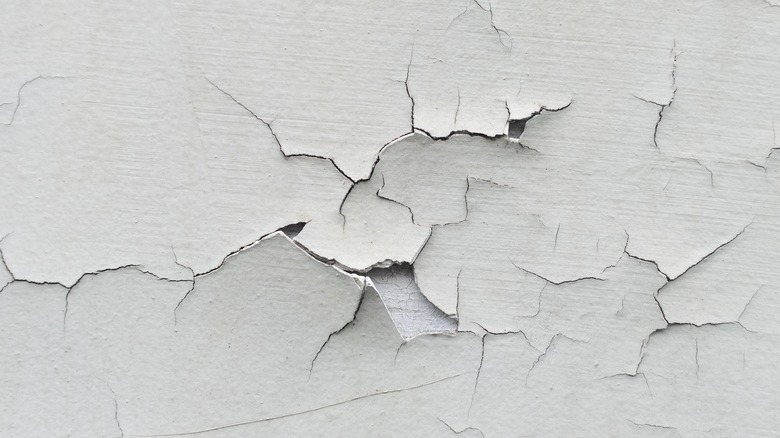 malinar/Shutterstock
Exterior paint is created to withstand the sun's blistering heat, a frigid ice storm, and most other weather-related extremes. Because of this, it's thicker than interior paint and can give your home's insides a more glossy, plastic-like appearance. If you're seeking a plastic doll house vibe, buy some high-gloss interior paint. It'll look just as shiny, but it'll be far easier to clean and adhere to your walls properly. However, a plasticky presentation also means that any natural light will reflect off your walls, which is visually blinding and accentuates any structural imperfections that interior paint might otherwise have covered up. On the other hand, paint with an eggshell finish will obscure minor blemishes and imperfections.
If you're ever looking to paint over your walls after applying exterior paint, expect to spend more time and money to complete the job. That's because interior paint is typically mixed to be easily painted over, whereas exterior paint requires one or two coats of primer prior to the application of color. On top of that, exterior paints need sunlight to cure. (This can take up to 30 days or more.) So unless your house is made of glass, you're better off finding an interior paint that suits your space.