The Elegant Way Joanna Gaines Dresses Up Her Bathroom Storage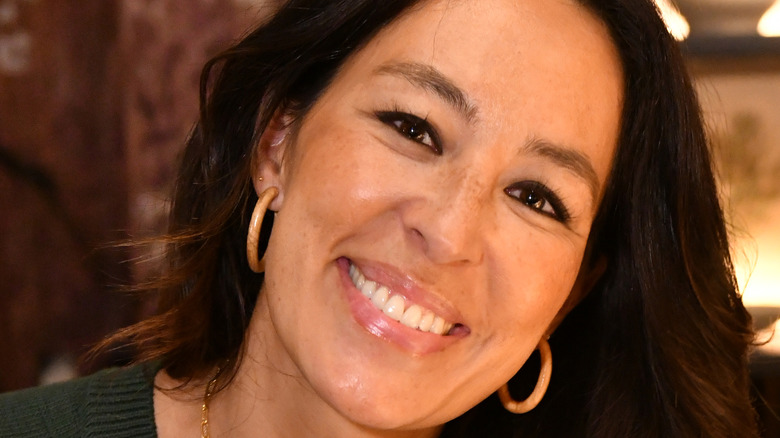 Craig Barritt/Getty Images
When deciding where to store all your toiletries and other items in the bathroom, two problems may arise. The first is that you may have a lack of space; maybe you only have a small amount of room underneath the sink, or perhaps you only have access to a few cabinets. The second issue you may come across is that you want to keep all your items out in the open, but this can create a cluttered look. 
If either of these scenarios is the case for you, Joanna Gaines has the perfect solution. This tip is so easy to execute and, depending upon how much storage you need, will most likely cost you anywhere from $10 to $50, making it an extra affordable option. There are also plenty of ways for you to put your personal spin on her hack and make it your own. On the other hand, if you love the farmhouse style, you can really lean into how Gaines uses this tip in the spaces she designs.
Use storage as décor with natural materials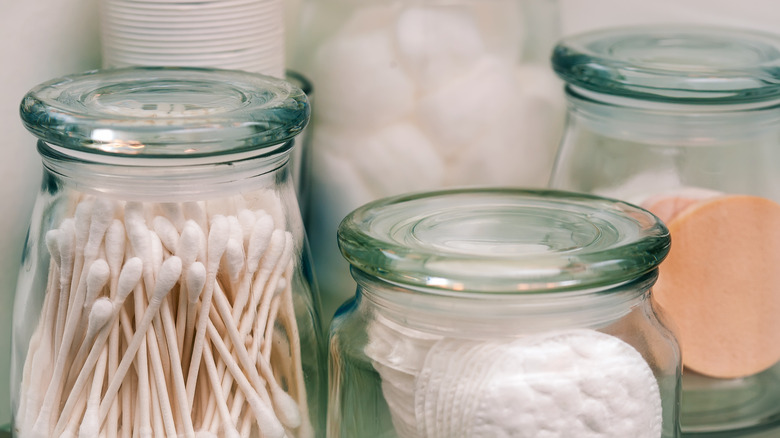 Mmg1design/Getty Images
Joanna Gaines is all about mixing functionality with aesthetics, which is the main benefit of her bathroom storage hack. "The fun thing about being creative with the way you contain things is that things that typically wouldn't be cute, like cotton balls and Q-Tips — you can make it cute by getting cute little glass jars and putting them in a basket," she says, according to Homes & Gardens. This hack is so versatile because you can choose whatever canisters and baskets you desire, which come in all different styles, colors, materials, shapes, and sizes.
Additionally, while this is a great tip for storing things like cotton balls, there are also plenty of other items you could place inside your storage containers. Toiletries, toilet paper, cleaning supplies, shower or bath items, and skincare products can also be stored inside jars or baskets to reduce the amount of visible clutter in your space. There are two main places these containers are displayed, either on shelving or countertops. However, you could get creative with where you place them, as they could also be styled on the edge of the bathtub, a small bench, or the back of the toilet.
Making your design Gaines-approved
If you want your bathroom design to be Joanna Gaines-approved, you'd be wise to choose pieces that she would use in her designs, which you can find at Target as part of the Hearth & Hand with Magnolia collection. There are plenty of jars, baskets, and other containers that will streamline your storage and add a farmhouse aesthetic to your bathroom.
The first option is a round, woven basket, which will add texture to your design. Further, because it has a lid, it will effectively hide all your items inside, reducing clutter. Another option with a lid is a ceramic beige canister that features an interesting and textured pattern. If you'd rather be able to see what's inside, she also offers a glass jar with a brass lid, which adds a modern touch. This option is great when displayed in a group of three and is best for holding neutral pieces like cotton balls. To hold larger items like bath bombs, try out her stoneware canister in black and white, which also has a lid. Finally, this collection features a few trays, including a woven piece with leather straps and three compartments.