Dave And Jenny Marrs Prove Wall-To-Wall Carpeting Isn't Always A Home Design Mistake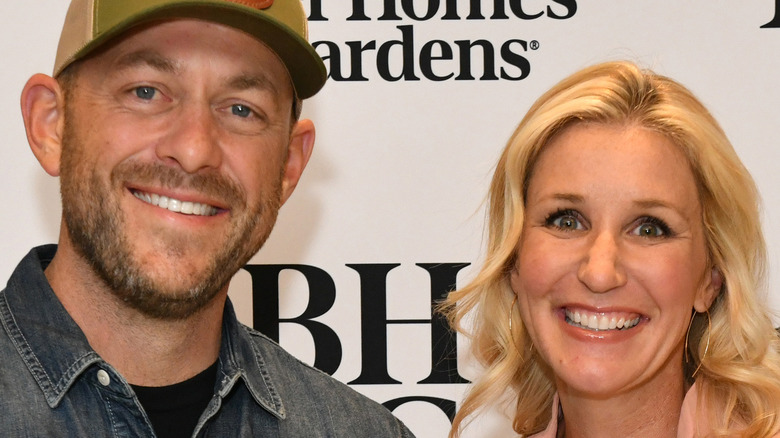 Craig Barritt/Getty Images
When homeowners tackle renovations, one of the most agreed-upon features is removing old carpeting in favor of hardwood floors or tile. These hard surfaces are touted as easy to clean and maintain, especially for busy homeowners and those with kids. Many people don't believe carpets can truly get clean because dirt and dust can remain stuck in the fibers even with regular vacuuming. And aesthetically speaking, many people prefer the sleeker look of hardwood floors and tiles over carpet.
Though it may have fallen out of favor, there are plenty of benefits to using carpet in your home. Carpet can be softer and more insulating, making a room comfortable and cozy. The insulating factor can also reduce noise and heavy footfalls that hardwood or tile can't mask. As for trapping dust, that can have some benefits as it helps improve indoor air quality. Dave and Jenny Marrs from HGTV's "Fixer to Fabulous" agree that carpet shouldn't be shunned when considering flooring options for the home. While hardwood may be the most popular option, there are some areas in the house where carpet it likely the better choice.
Spaces for the family
In an episode of "Fixer to Fabulous," Dave and Jenny Marrs opt to use carpet in the family's TV room. This is a space for the whole family to gather, and the television area features comfortable furniture alongside cushy details. It makes sense that wall-to-wall carpeting is the flooring of choice for this room. Soft and plushy underfoot, the carpeting allows the family to fully relax while they're using the room.
The TV room also doubles as a play space for the children. Carpet is beneficial for kids as it adds a cushioned landing for any accidental falls or trips. In this way, wall-to-wall carpeting can give parents that little bit of assurance that their kids are protected while playing. Still, many homeowners may fear that carpeting will prevent their homes from looking updated. Jenny Marrs disagrees; she opts for a white carpet which creates a modern light and airy look. Paired with the white walls, furnishings, and brown leather sofa, the room looks as contemporary as it is cozy.
Coziness in the bedroom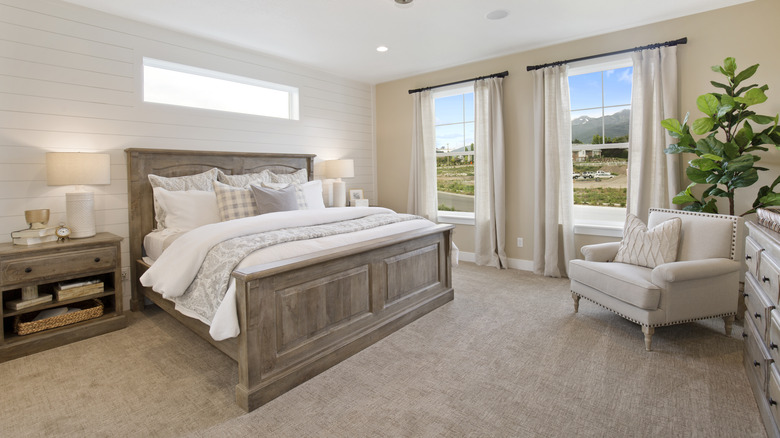 Pc Photography/Getty Images
Outside of family rooms, dens, and playrooms, the bedroom is another ideal room for wall-to-wall carpeting. Carpeting adds some thermal insulation, so you won't have to worry about stepping out of bed and landing on cold hardwood or tile floors, especially in the colder months. The insulation can help conserve energy, too, so your room will remain at a comfortable temperature that aids in sleeping. Beyond the physical warmth carpet can provide, carpeting adds visual warmth making your home seem snug and cozy, and creating a more relaxed and inviting vibe.
The insulation you get from wall-to-wall carpet helps reduce noise, not only from footsteps but also from electronics like TVs and speakers. This is especially true when there's a carpet pad between the carpet and the subfloor. A barrier between a bedroom and the rooms below can be a benefit to both spaces. You won't have to hear loud footsteps or movement when you're downstairs. And while you're upstairs or in a bedroom, it will stop sounds from downstairs from permeating, allowing you to relax and even sleep better.