Beadboard Paneling Is The Classy Wall Option For Clean Lines In Your Home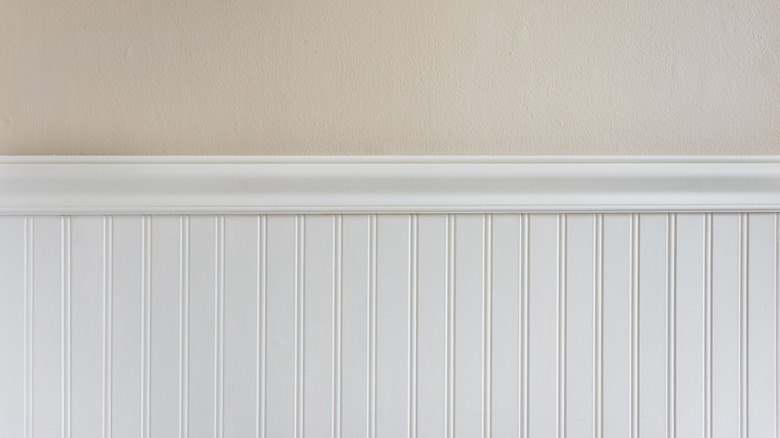 Brett Taylor Photography/Shutterstock
If you want to add a classical feature to your space, beadboard paneling is a great option. Commonly used in traditional homes, these tongue and groove panels with decorative beading have quite a few benefits. To start, they're durable and humid-resistant, so they can be used in any room. Further, they're extremely versatile, as there is a wide variety of looks you can create, from covering an entire wall to just a portion and painting them any color you desire.
Another huge benefit is that the materials are relatively inexpensive. Panels made out of real wood will cost around $1 per square foot, while MDF boards can often be found for half that price. If you install them yourself, you'll save quite a bit of money as well, since contractors typically charge $4 to $6 per square foot for installation. To make the DIY process extra simple, you can even purchase prefinished boards that don't need to be painted.
Beadboard is a traditional design element
Beadboard paneling was popular from the 1880s to the 1930s, when it was mainly used in high-traffic areas such as hallways and kitchens, or humid rooms like bathrooms and laundry rooms. Further, during this time, it was typically installed vertically instead of horizontally. 
Because of this, many people today associate beadboard paneling with traditional, older-style homes. For instance, it's commonly seen in farmhouse, rustic, and country home designs. If you want to lean into this element's history, paint the paneling with warm tones like beige and tan, or keep the wood exposed. Alternatively, neutral white is a popular choice in country-style kitchens. Additionally, make sure you focus on practicality over aesthetics, as one of the main reasons for installing beadboard is to protect the wall from scuff marks or other damage. If you want to use this design element in a humid area then make sure you use a paint that is mold and mildew resistant.
How to use beadboard in a modern space
However, just because beadboard is often used in traditional spaces doesn't mean it can't also be used in modern homes. Because the paneling has clean, straight lines, it's easy to make this element feel contemporary. To make this design feature obviously modern, install the paneling horizontally instead of vertically, as this will give the wood a completely different look. 
The place you include this feature can also give it a modern sensibility, as it was only traditionally used in high-traffic or humid areas, so try adding it somewhere else, like on a ceiling or in a bedroom or dining room. Further, the color can also be a big indicator of the style of the space. Choose cool-toned shades like gray, black, or blue to bring your design from old-school to modern. Warm tones could also be used, and work well with glamorous elements and other straight-lined pieces of furniture that really solidify the style.