15 Ways To Create An Accent Wall Without Painting It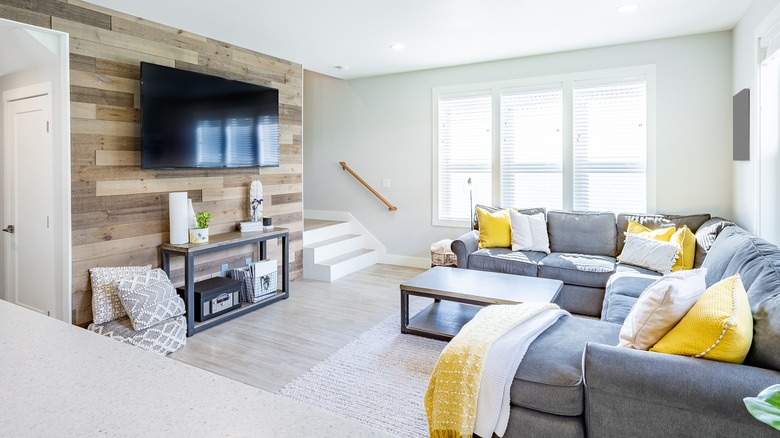 Sheila Say/Shutterstock
While paint is often used to create an accent wall, this doesn't have to be the case. Perhaps you're living in a rental and want to add a focal point with something that's easier to remove. Or, maybe you desire a subtler appearance than you'd get with paint. Similarly, you may want to feature something with texture instead of simply changing the color of the wall.
If so, we've listed 15 unique ideas on how to create an accent wall without using paint. While some of these options cover the entire surface, others isolate the accent above something like a couch or a bed. Whatever design you choose, you're guaranteed to make that wall the main subject of the space, where all eyes will be drawn upon entering the room. Further, keep in mind that focal points can be added to any area in the home, even unconventional spots like bathrooms and hallways, so get creative with where you include this interior design element. 
1. Wallpaper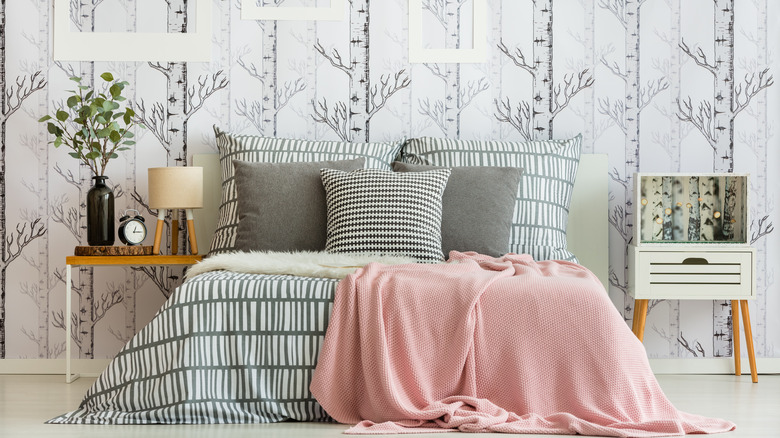 Katarzynabialasiewicz/Getty Images
The first thing to consider is wallpaper, which comes in peel-and-stick options that are great for rental spaces. What gives this material an edge over paint is that it can provide a pattern or extra element that makes the design more dynamic. 
2. Artwork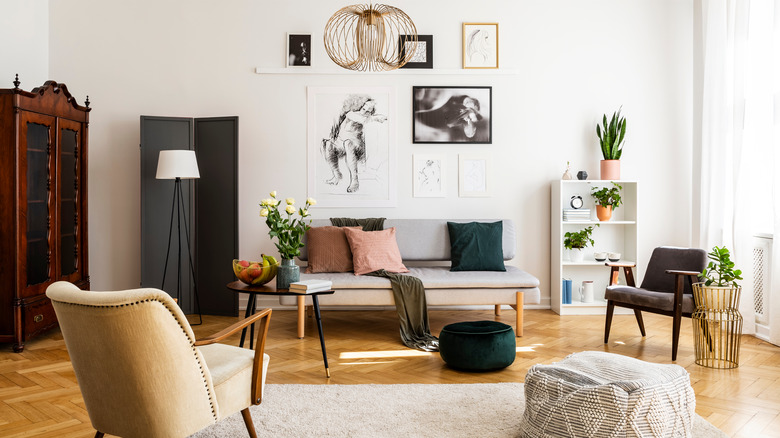 Ground Picture/Shutterstock
Instead of covering your entire wall, you could organize artwork above a couch or a bed to create the perfect gallery wall. To make sure the design is just right before hanging the pieces, cut out paper that's the same size as each of the frames and tape them up in the arrangement you desire.
3. Lamella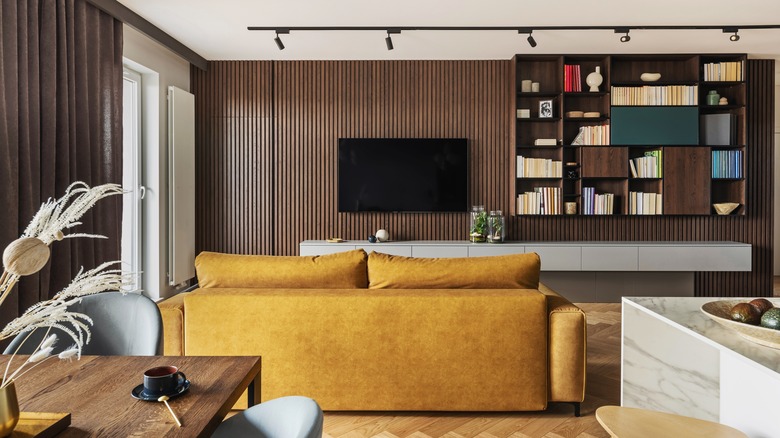 Followtheflow/Shutterstock
Those who desire a textured appearance could create a lamella accent wall. This design is made up of small, thin boards of wood arranged to create a 3D appearance that adds dimension. 
4. Fabric
Instead of using traditional wallpaper, you could create your own with strips of fabric, which you can adhere with liquid starch. This will make your room feel extra cozy and personalized. 
5. Baskets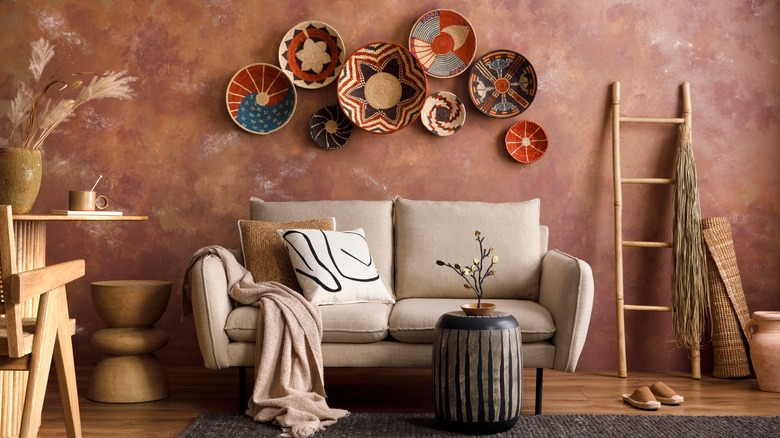 Followtheflow/Shutterstock
While gallery walls filled with artwork are beautiful, an arrangement of baskets, often featured in bohemian spaces, will add more texture and depth.
6. Shiplap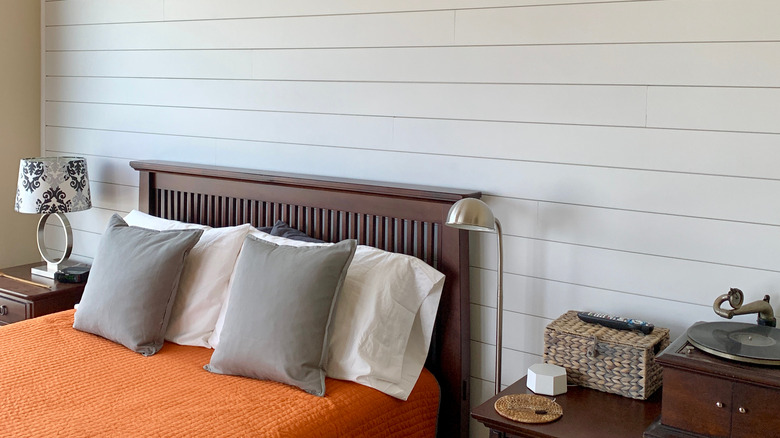 Michael Via Images/Shutterstock
A quintessential element of the farmhouse style, shiplap is the perfect material for creating subtle interest. To avoid having to paint the planks, you'll need to buy them pre-painted.
7. Wooden planks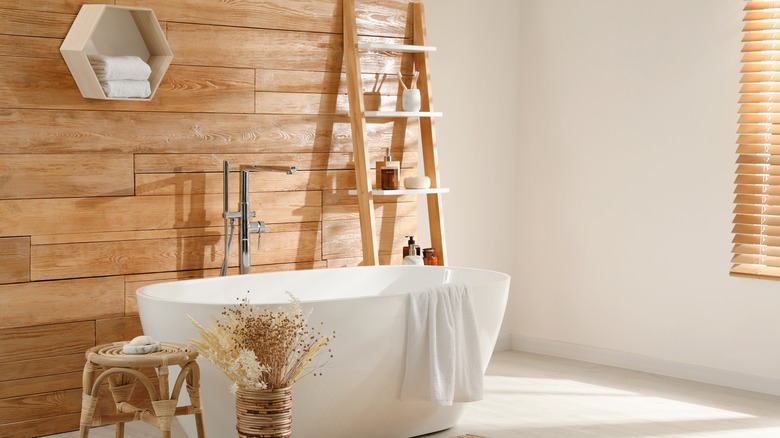 New Africa/Shutterstock
If you prefer a warmer appearance, create an accent wall with wooden planks in any tone you desire. This would be gorgeous in a bohemian, modern, country, or rustic styled home. 
8. Electrical tape
To DIY a wall decal, arrange electrical tape in the pattern of your choosing. While you could focus on a geometric look like the one above, you could also create mountains, trees, or any other design you desire. 
9. Curtains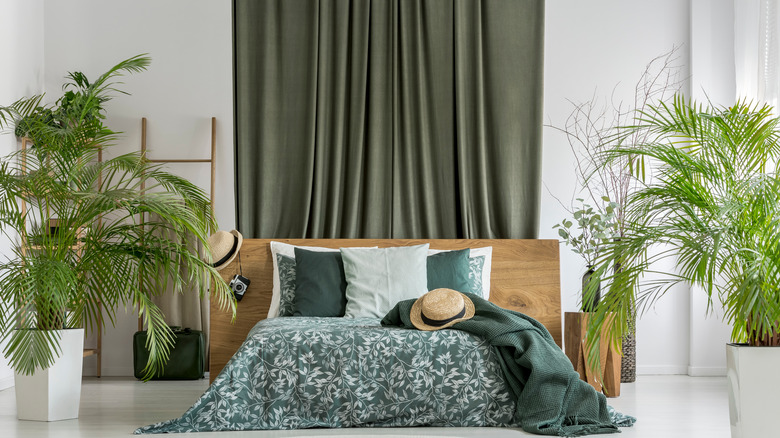 Ground Picture/Shutterstock
If adding softness and comfort is your main goal, hang curtains along the surface of a wall. Bunching up the curtains will add texture and make the space feel cozier. 
10. Plants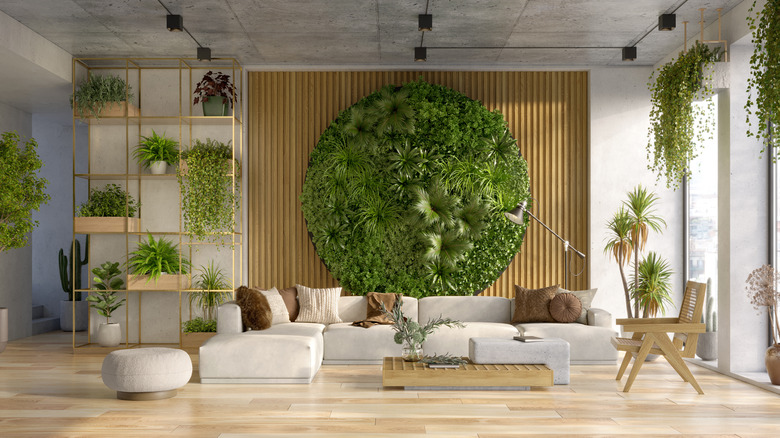 Vasyl Cheipesh/Getty Images
Living walls can have one of two looks: Either the plants can appear as though they're growing straight out of the wall, or potted plants can be arranged on tall shelves. Either way, this will add a wash of greenery and make your space feel lively. 
11. Tapestries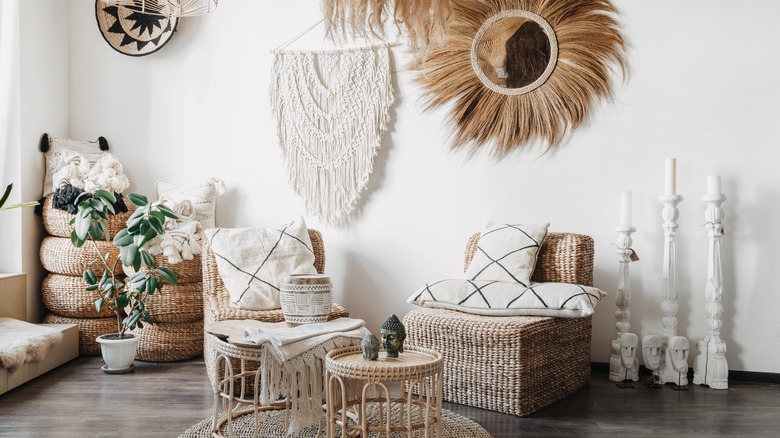 brizmaker/Shutterstock
For a boho feel, arrange tapestries to add lots of texture. While one tapestry always looks great, adding or even layering multiple designs will make the whole room appear more dynamic. 
12. Shelving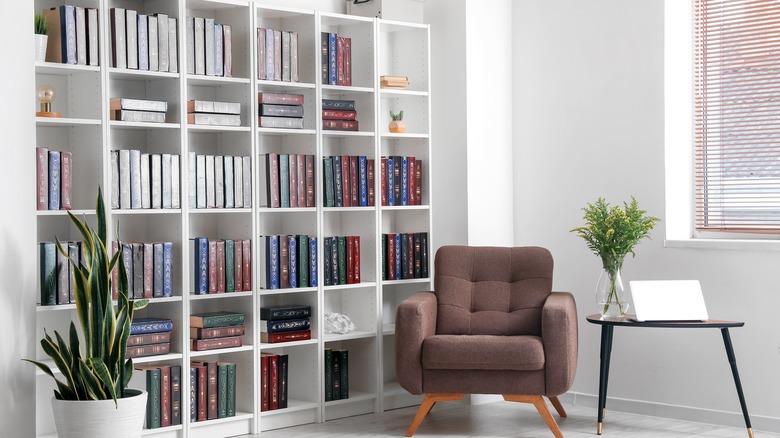 Pixel-Shot/Shutterstock
Shelving is not only aesthetically pleasing but also functional, as it can be the ideal place to store and display books, decorative knick-knacks, and other items. You could either cover an entire wall with shelves or surround a focal point like a fireplace.
13. Decals
If you'd rather not cover an entire wall with wallpaper, choose decals, which are only placed on small areas of the surface. 
14. Mirrors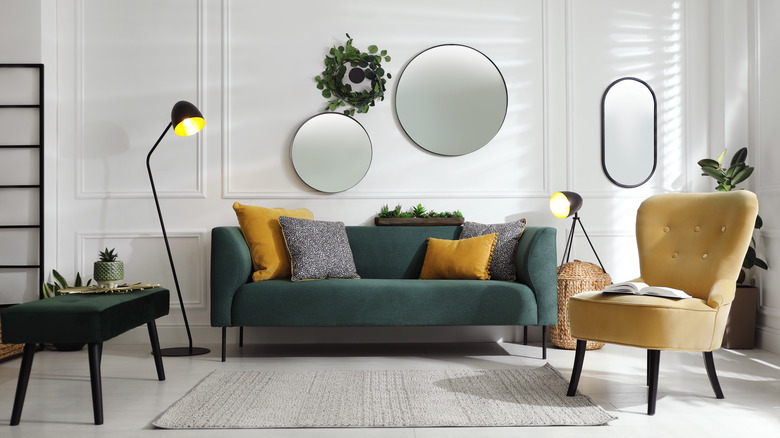 New Africa/Shutterstock
Multiple mirrors will create an interesting gallery wall that could make your room feel larger and brighter, as any available light will be reflected back into the space.
15. Oversized artwork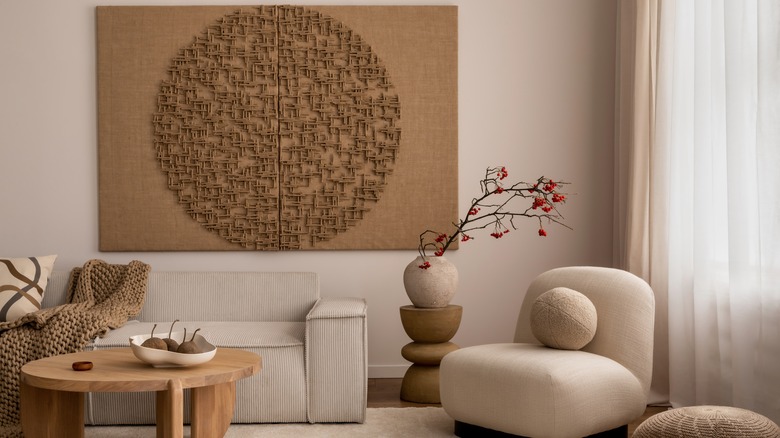 Followtheflow/Shutterstock
To draw the eye towards one wall in the room, hang an oversized piece of artwork above the largest piece of furniture, which will most likely be the couch or bed.