The Timeless Kitchen Cabinet Color Interior Designers Swear By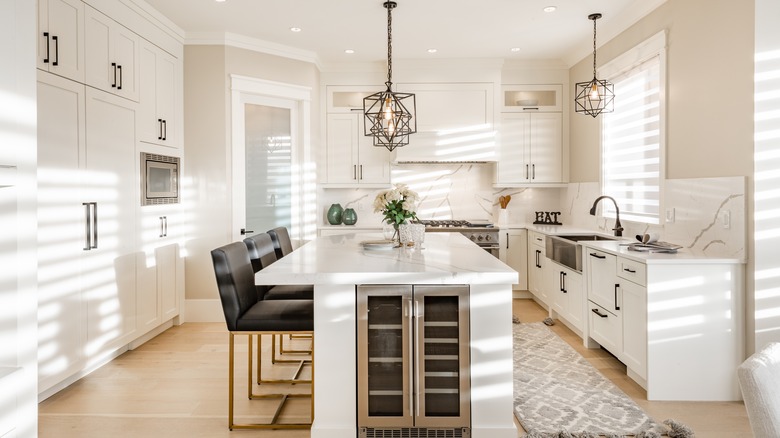 Sheila Say/Shutterstock
The kitchen is the workhorse of the home. With tons of traffic and constant use, it's important for this space to be as functional as it is beautiful if you're going to spend a lot of time in the room. And when it comes to renovations, kitchens are also one of the more expensive rooms to take on. That makes it all the more important to get the design right. Cabinets are a central part of the design, often taking on much of the focus in the room.
Choosing a timeless cabinet color is beneficial whether you're planning to sell your house in the future or stay in it for years to come. A timeless color will add value to your home and potential buyers may be more likely to want to purchase the home because they won't feel like they need to replace pricey kitchen cabinets. Even if you're planning on staying in your home, an enduring kitchen cabinet color will still add value, but you'll also have some flexibility in your overall design.
Greige reigns supreme
Greige mixes beige and gray into a versatile and timeless color. It has the neutrality of gray with a little bit of warmth from the beige. With this color in place, your kitchen won't feel stark, yet it will still look modern and clean. Alexandra Peck of Alexandra Peck Design explains to Martha Stewart, "This cabinetry color also complements any metal finishes, so hardware, appliances, and fixtures can be changed as the homeowner desires." The versatile cabinet color lends itself to a variety of interior styles and changing trends.
If you're someone who easily gets bored and wants to change up the room regularly, greige is the ideal base color. You'll be able to swap out hardware, paint walls, or change backsplash tile with ease. Changing the smaller details is a much easier way to refresh a space than having to repaint all of your cabinets. The color is warm and cozy, which is ideal for family kitchens. Some popular greige paints include Accessible Beige, Agreeable Gray, and Repose Gray by Sherwin Williams as well as Classic Gray, Revere Pewter, and Pale Oak by Benjamin Moore.
Navy isn't going anywhere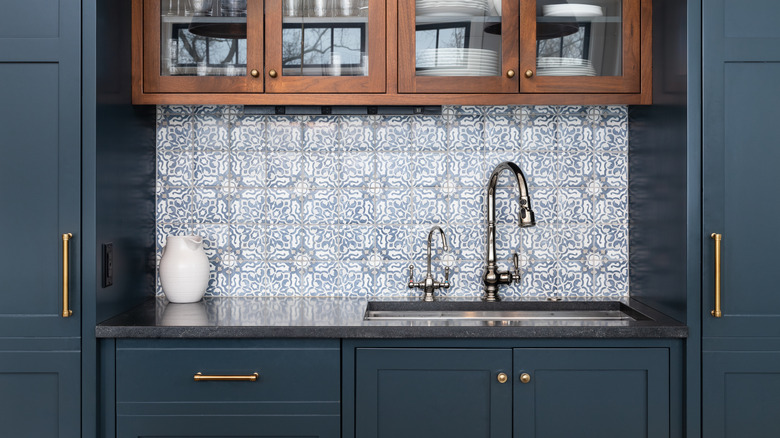 Joe Hendrickson/Getty Images
It's no surprise that neutral colors like black, white, and gray will always be considered timeless options. But if neutral isn't exactly your style, there are a few colors you can paint your cabinets that won't date your kitchen. Navy is a great option if you prefer a darker look but don't want to go all the way to black. It's a classic color that's been around for centuries, so it isn't going anywhere anytime soon. "While [navy] skews more traditional, it also looks elegant in a transitional or modern design aesthetic," Peck explains to Martha Stewart. It can look quite sleek and modern when paired with the right details.
Another color option is sage green. This may be a newer color, however, it's quickly becoming an ageless option for a kitchen cabinet. Shades inspired by nature never go out of style, so sage green is an ideal way to infuse color while maintaining a classic look. Sage will also pair well with other warm neutrals like beige and white for a calm and relaxing, nature-inspired interior.