Use Something You May Have In Your Kitchen For Streak-Free Glass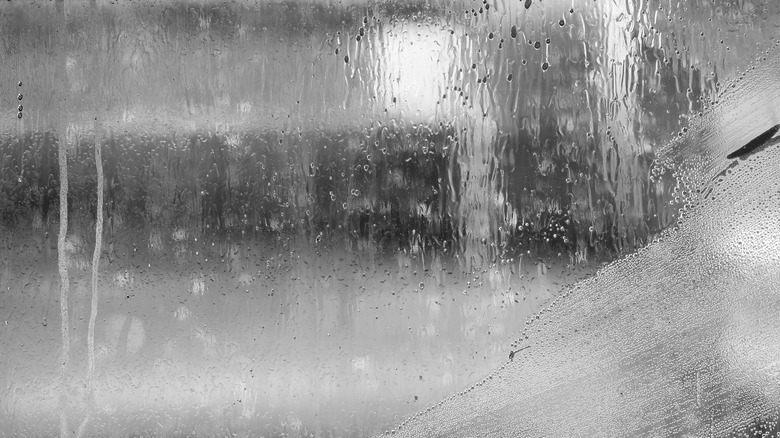 komkrit Preechachanwate/Shutterstock
We may receive a commission on purchases made from links.
When it comes to cleaning your windows or anything made of glass, most people turn to microfiber cloths, paper towels, or even old newspapers. But there's another common household item that works just as well, if not better. Enter the paper coffee filter. Typically found in several different shapes and sizes, it's also an economically smart option for getting streak-free glass. You can purchase a pack of 600 paper coffee filters for less than $12. In addition to being inexpensive, paper coffee filters are super absorbent, relatively durable, and lint-free.
On top of being the perfect catalyst for wiping down windows, glass tables, and anything transparent, paper filters also work for other household cleaning duties. You can use them to dust, shine and buff appliances, and even use them when doing laundry. They're a pretty versatile product that can ultimately save you money, time, and unnecessary effort regarding chore time. We know you have more important things to do than spending an hour or more wiping down your windows.
It'll be your new favorite cleaning cloth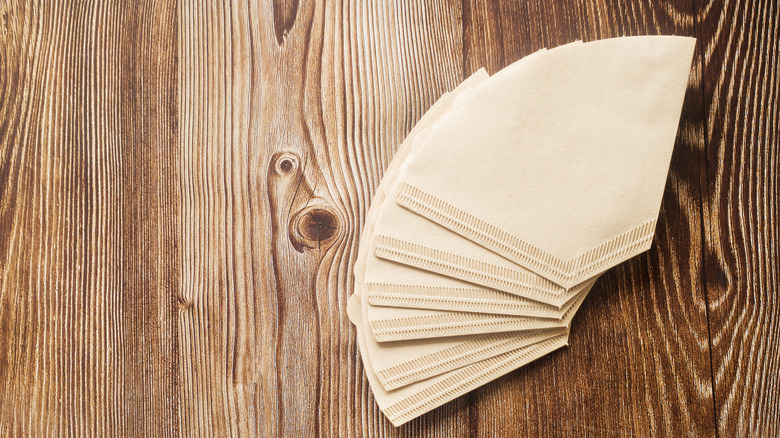 Dina Morozova/Getty Images
When compared to paper towels, paper coffee filters won't leave any fibers or debris, as paper towels do. You also don't have to worry about washing them, as you would if you use microfiber cloths. By design, paper coffee filters are made to be absorbent and can put up with a bit of roughhousing. When using paper coffee filters for cleaning glass, it's not rocket science. All you need is your glass cleaner of choice and paper coffee filters. Just spray the glass cleaner and wipe it with the filter. 
While you can purchase glass cleaner pretty much anywhere, including quickie marts, why not just make your own? You know, in the spirit of frugality. It's also a more eco-conscious way to keep your home sparkling clean. If you blow through filters like a coffee shop during morning peak hours, you might need to increase the size of your filters. Remember, they're available in different sizes, from single-serve to coffee makers that brew more than 10 cups.
They're great for more than just windows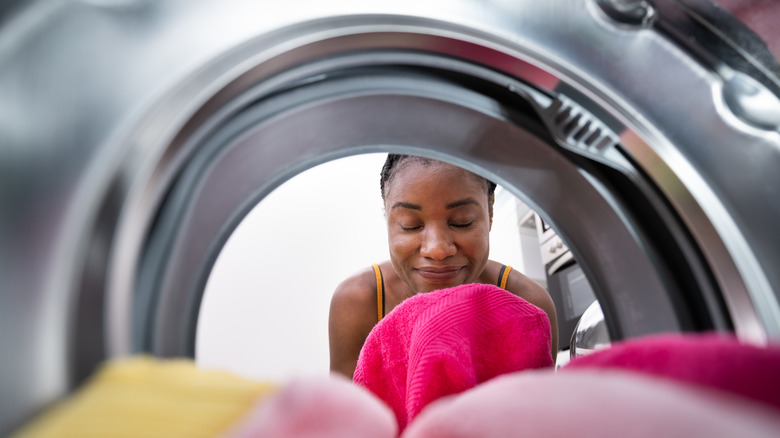 Andreypopov/Getty Images
Paper coffee filters can be used for more than window cleaning and their original purpose. Any glass surface can benefit from a nice coffee filter buffing. For example, your shower door and bathroom mirror can reap the streak-free benefits of a coffee filter experience. If you wear glasses, coffee filters can lend a helping hand with those, but don't forget about your computer monitors and television screens, too. Coffee filters aren't just great for glass; they can also buff and polish your stainless steel appliances. 
Besides giving glass surfaces an excellent, crystal-clear view, coffee filters also work well for dusting around your home, office, and wherever else needs a good cleaning. This is because they're made from tightly woven paper fibers, which can be likened to the universally efficient microfiber cloth. This particular type of fabric is known for creating a static charge, which helps trap dust particles. Coffee filters do the same thing. Because they can hold a charge, they can also be used to make impromptu dryer sheets.