Hang Baskets As The Perfect Finishing Touch To Your Gallery Wall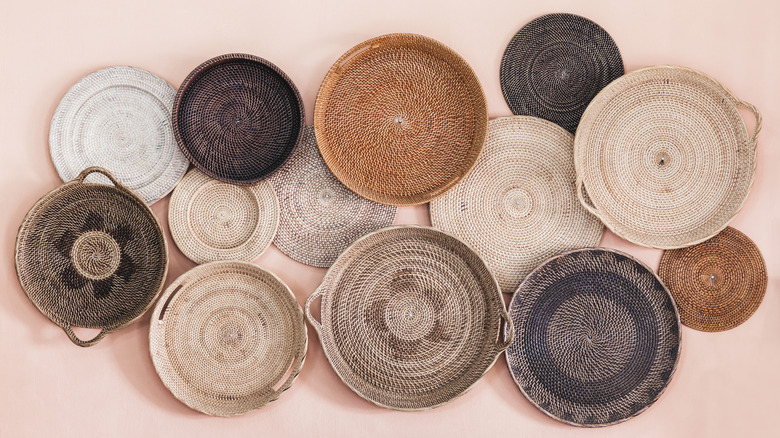 Olegbreslavtsev/Getty Images
We may receive a commission on purchases made from links.
Gallery walls are typically made out of many different flat frames or prints arranged to create a cohesive look. However, did you know you can use more than just artwork or photographs on your gallery wall? If you want to add some much-needed dimension, there's another item you can hang: baskets.
Woven baskets are typically hung on the wall in bohemian and farmhouse-style homes to add a natural element. Because authentic ones are crafted out of materials like straw and wicker, they always add additional texture to the design of a room. Further, since they are most often rounded, they add an unexpected element that wows. Most group them into odd numbers, making the arrangement most pleasing to the eye. Additionally, while you can create an entire gallery wall with just baskets, you may also mix them in with other elements, like frames and prints, for a more varied and exciting look. 
Benefits of decorating with baskets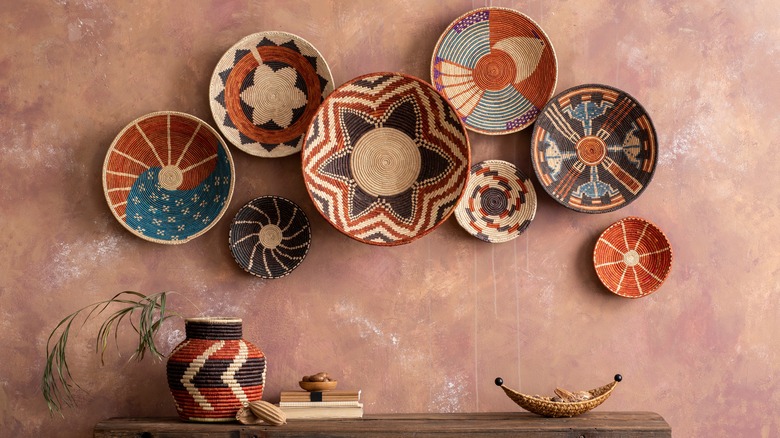 Followtheflow/Shutterstock
One of the largest benefits of using baskets as wall art is that these items aren't likely to break the bank. Those who shop at their local thrift store have probably noticed woven baskets being sold for anywhere from $5 to $10. And, because they could replace wall art, which can often be expensive, they're a very cost-effective way to decorate a room.
These pieces are also great decorations because they come in so many different shapes, sizes, and appearances. Many are patterned, and mixing in these varieties will draw the eye in, making your gallery wall the focal point of the room. If you're looking to add earthiness to your design, choose baskets that utilize colors like tan, brown, and beige. On the other hand, those who want to make a bolder statement can employ baskets in any color they desire. Mixing different types, like those with handles and those without, will also create a dynamic look.
How to hang baskets on the wall
Once you've gathered suitable baskets for your design, it's time to hang them on the wall. If you don't care about damaging the piece, you could nail right through the woven material. However, others may want to preserve their baskets, in which case they can utilize fishing line to protect the weave. Feed the clear fishing line through the weaves in the back of each of your baskets and tie it in a double knot, being careful not to damage the piece.
To create a mixed gallery wall, place all your items on the floor in the desired arrangement. Similarly, you could trace your pieces on paper, cut them out, and hang them on the wall to understand how they'll look together before creating any holes. Once you have an arrangement you like, take a picture to use as a reference. Next, pound the nails into the wall, then hang everything up. If you don't want to create holes, use damage-free hanging hooks, which you can purchase on Amazon.