Tile In The Bedroom? Here's Why HGTV's Emily Henderson Is A Big Fan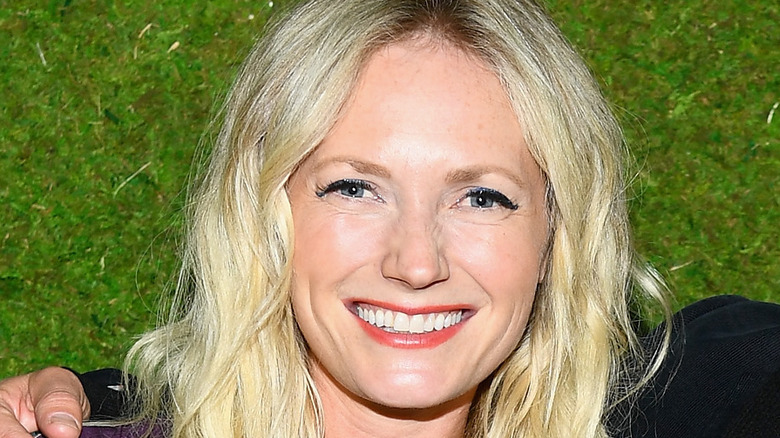 Dave Kotinsky/Getty Images
Tile is typically used in the kitchen, bathroom, laundry room, and mudroom, making these high-traffic areas easy to clean while allowing the walls or floors to get wet without being damaged. However, tile doesn't have to be limited to just these rooms. In her book "The New Design Rules," HGTV star Emily Henderson recommends also adding this material to the bedroom, specifically on the floor.
Often, the bedroom floor is covered in either carpet, wood, or vinyl, as these materials add a cozy feel to the space — but Henderson wants to teach homeowners to break this 'design rule.' When referring to her new book, she writes, "Once you know the rules ... you HAVE to break at least a few of them to have an interesting home that reflects your creativity and personality," per Style by Emily Henderson. While tile won't make the floor more comfortable, it will add another element that may just make it worth it — a 'wow' factor. Because it's unexpected, this choice is sure to draw the eye in and make the room's design unique.
Tile can become a statement piece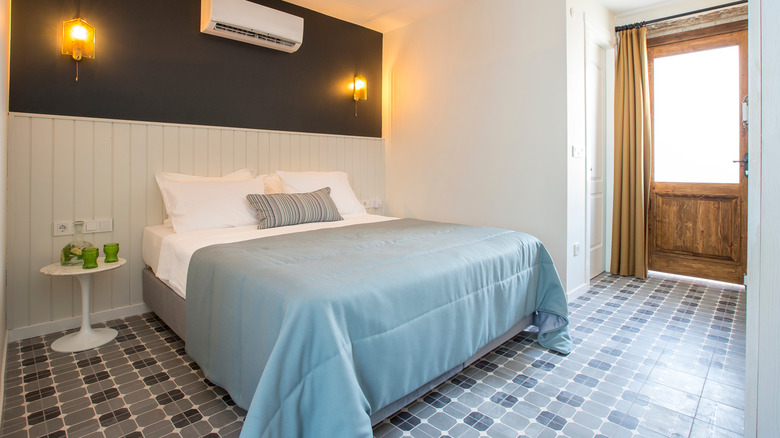 Nadir Keklik/Shutterstock
According to Emily Henderson, there are two main ways to add a statement piece to a room. "When looking back at projects, I find that 70% of my favorite rooms that we've ever designed have one thing in common — a high impact wallpaper or tile... And when I say 'high impact' I don't even necessarily mean bold or bright — just super special," Henderson writes on Style by Emily Henderson.
Therefore, while wallpaper could become the focal point in a bedroom, a tile floor would make even more of an impact since it's unexpected. Frequently, the floors in bedrooms look like an afterthought, but installing a patterned material would add interest to this often-forgotten area. When talking about choosing the right tile, Henderson writes, "I want quiet but not expected. Fresh but not trendy. Full of life, but not busy. High quality but not ostentatious or 'fancy.' Most importantly not boring. Interesting," per Style by Emily Henderson. She loves a striped pattern, moody color, or vintage look. 
How to cozy up a tile floor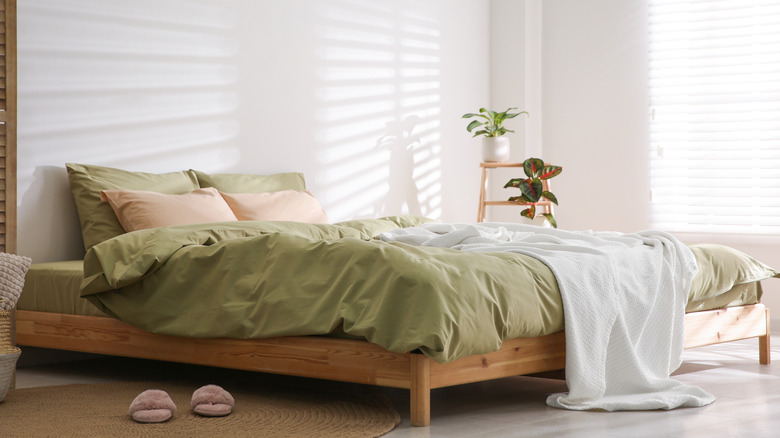 New Africa/Shutterstock
If you decide to break the 'design rules' and add tile to your bedroom's floor, you can't ignore that it may feel cold or unwelcoming, and this may cause some to want another option. However, while this material isn't typically comfortable underfoot, there are a few ways to make it cozier.
The first is obvious: Add an area rug to your space, either underneath the two feet at the foot of your bed or next to the bed. Whatever you choose should make the floor feel warmer while still showcasing the tile you've decided upon. Another option is to make your floor heated, which would definitely add to the cozy atmosphere. However, this would be quite pricey, as it could cost anywhere from $6 to $20 per square foot to install and $1 to $5 a day to use. Finally, you could simply keep your slippers right by your bedside to slip into every morning, which would be the least expensive choice.