Pergolas Are An Affordable & Stylish Backyard Upgrade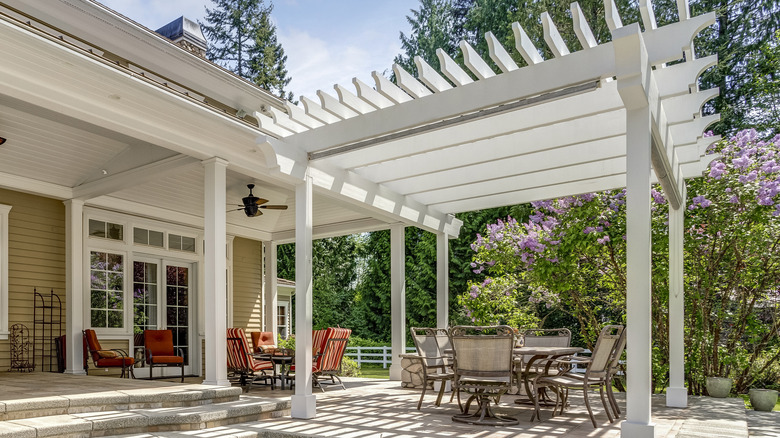 Alabn/Getty Images
Built on vertical columns with open walls and a latticed roof, a pergola is a beautiful outdoor seating area that allows the sun to shine in and a breeze to circulate throughout its relaxing atmosphere, while still providing an element of shade. During the Great Italian Renaissance, Romans often built pergolas alongside their villas as a sign of great wealth and luxury, then used them to assist with winemaking by planting grape vines that would grow and stretch around the columns.
Nowadays, pergolas still add a touch of stylish luxury to any backyard. They can be designed a number of different ways, either as a standalone structure or one that is attached to the home as an extension over the patio. The roof can remain slatted for sunlight to filter through, or a canopy or awning can be attached for protection from the elements. Much like in the days of the Renaissance, climbing plants and vines can be planted around the pergola base for beauty and even additional privacy once they flush out. Today's pergola offers the same sophistication and comfort as in ancient Roman times, and you may just feel like an aristocrat as you relax under yours; yet they need not be expensive. How can you customize a pergola for your backyard within a reasonable budget? Here are some suggestions.
A distinctive design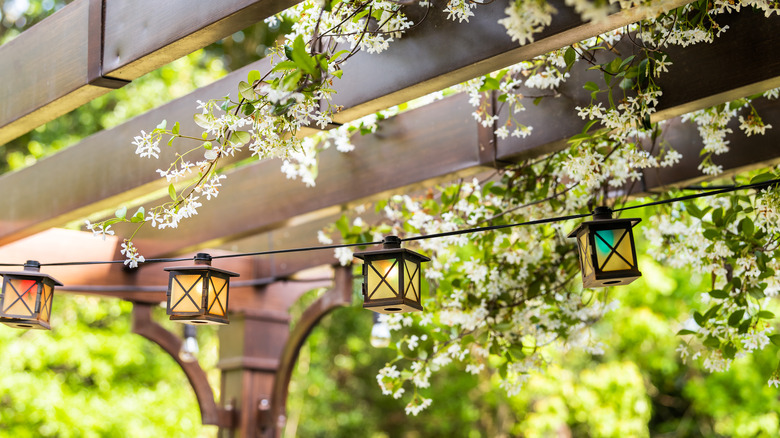 Andriy Blokhin/Shutterstock
Before considering how to add a pergola to your outdoor space, it's helpful to distinguish it from other outdoor structures, such as an arbor or a gazebo. While a pergola is usually a square shape that is often adjacent to the house, an arbor is a smaller archway that stands alone as an entrance to a garden or separate part of the yard. A gazebo has an octagonal shape with a solid rooftop that includes a cupola at its peak. A gazebo also includes a railing around the perimeter, and benches are sometimes set against the railing to provide seating. Furthermore, it is always a standalone structure and is never attached to a house. A pergola, on the other hand, may be positioned against the house or it may be set apart to designate a separate seating area.
There are various ways to customize a pergola to create the atmosphere you want. Hang a set of string lights to brighten up your outdoor space and create a relaxing and beautiful ambience during evening gatherings. Attach a ceiling fan to circulate fresh breezes throughout the space. Set up a beverage cart nearby, and plan for plenty of seating so that family and friends can enjoy being together. Placing an outdoor rug with a colorful design under the seating area will add another personal touch and keep the ground cool beneath your feet.
Planning and budgeting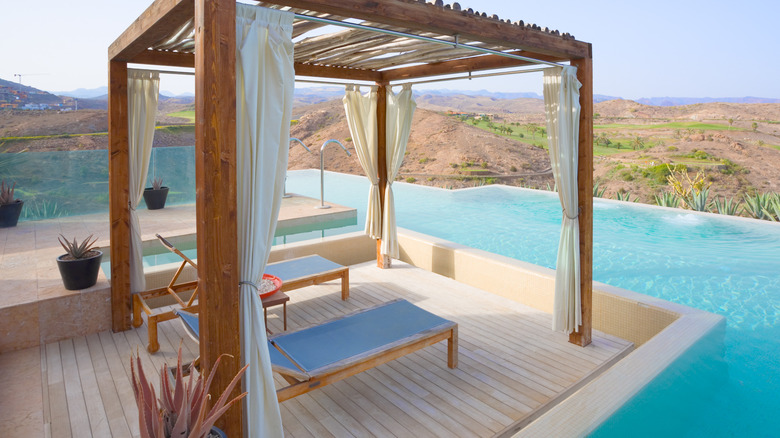 David H.Seymour/Shutterstock
A pergola offers a perfect way to create a relaxing outdoor living space, but there are a few things to keep in mind as you make plans to add one to your home. While it's possible to tackle this job yourself, there are many advantages to hiring a qualified contractor who will take into account the seasonal weather changes and local building codes. These considerations will ensure that the proper structure is installed to withstand heavy wind and precipitation. Because it will be necessary to dig underground to make the pergola secure, a professional can also determine how to do this without accidentally disrupting plumbing or electrical lines.
There are several ways to design your new pergola within a reasonable budget. The size of the structure will determine much of its cost, as it can provide shade across a large section of your yard or maybe a smaller portion if preferred. The materials used will also have an effect on the cost of construction. While the Romans built their pergolas with solid columns made of stone, these days there are more affordable options available such as wood, aluminum, or fiberglass. Attaching the pergola to the home can also save money by reducing the number of columns necessary to provide support. Following these tips will help you create a beautiful pergola that is sturdy and within your budget, providing the perfect backyard spot to enjoy the breeze and the company of loved ones.