Why You Should Reorganize Your Entryway First To Inspire Your Full Home Declutter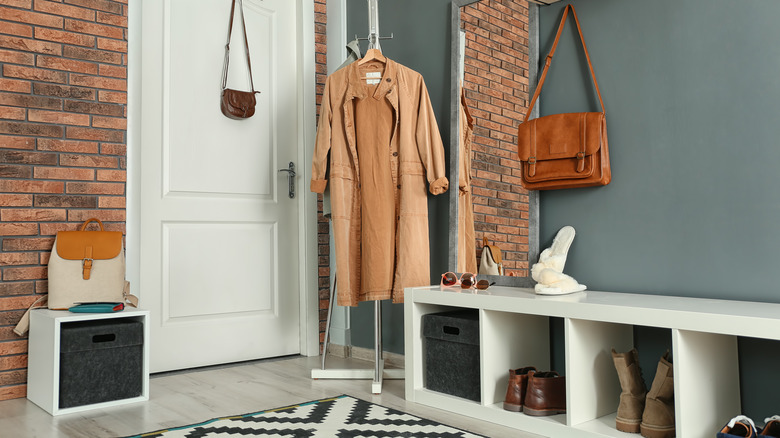 New Africa/Shutterstock
Decluttering your whole home can be a daunting task, to say the least. If you try to tackle it all at one time, you may never find the motivation to get started, as overwhelming feelings could leave you paralyzed. On the other hand, if you don't have a plan, you may begin but soon lose interest and end up actually making more of a mess. 
Therefore, it's important to consider the best course of action before you declutter your home, and the first thing you should think about is which room should be addressed first. There are mixed opinions about this, as some believe that starting with the messiest room may be the most beneficial. However, others say that the entryway is a better starting point — it's the first thing you or your guests see when walking inside. Beginning here also creates an easy path to guide you through the rest of your home.
Additional reasons to start at the entryway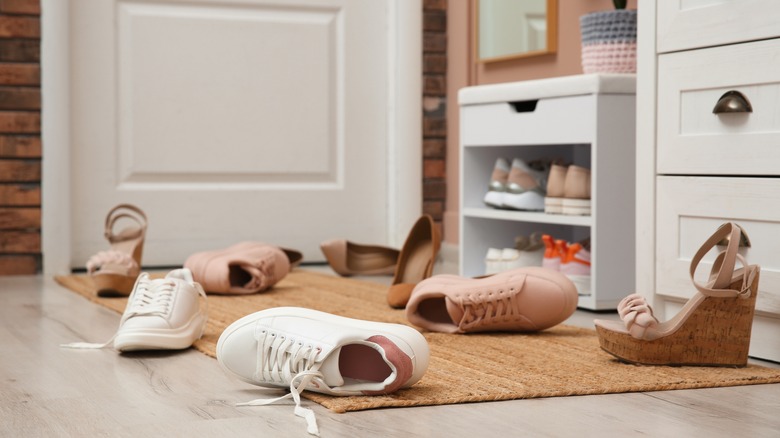 New Africa/Shutterstock
Many homeowners store things they need on an everyday basis in the entryway, such as keys, coats, and wallets, making this an essential place to keep organized. Further, this space almost always has a limited amount of square footage, as it's usually either a small foyer or a narrow hallway. Combine these two factors, and it could easily be the most disorganized area in your home. Those who believe in starting with the biggest mess may agree that the entryway is the ideal starting place. 
Though a small space can mean more clutter, it also has the benefit of making your task very focused. The compact nature of your entryway means it probably won't take you much time to organize, no matter how messy it is. Once you're done with this project, you may feel a sense of accomplishment that could help you continue being productive throughout the rest of your home.
The two steps to an organized entryway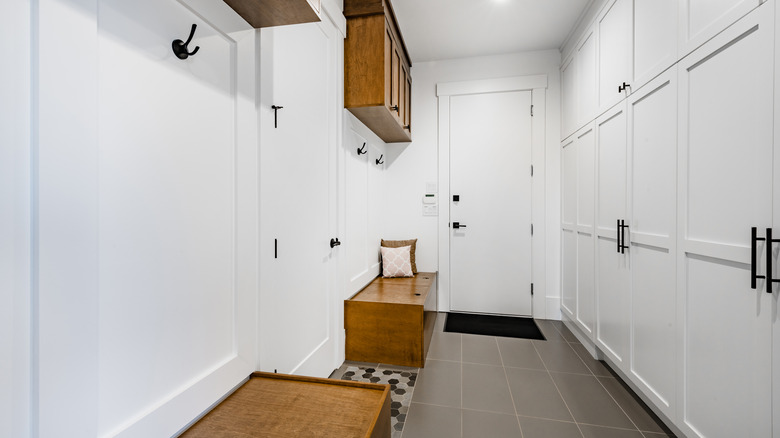 Sheila Say/Shutterstock
To begin decluttering your entryway, you should first remove anything that doesn't belong. This means throwing away items you don't need, like useless mail, but also considering if something should be kept in this area or if it would be better stored somewhere else. For instance, maybe you keep all your shoes on a rack near the front door, but after reflecting on your lifestyle you'd rather have them in your closet, so you can see how different pairs look with an outfit.
Once you've removed everything you don't need, the second step is to create an organizational system that works for you. This could mean adding hooks on which to hang your keys or installing a mail organizer on the wall. Every item you store in this area should have a place, whether in a labeled bin or on a certain hook. To make it appear less cluttered, use bins with lids or closed cabinets, as both will hide your items from sight.