Gray And Mike Benko Talk Designing Historical Homes On New Magnolia Network Show - Exclusive Interview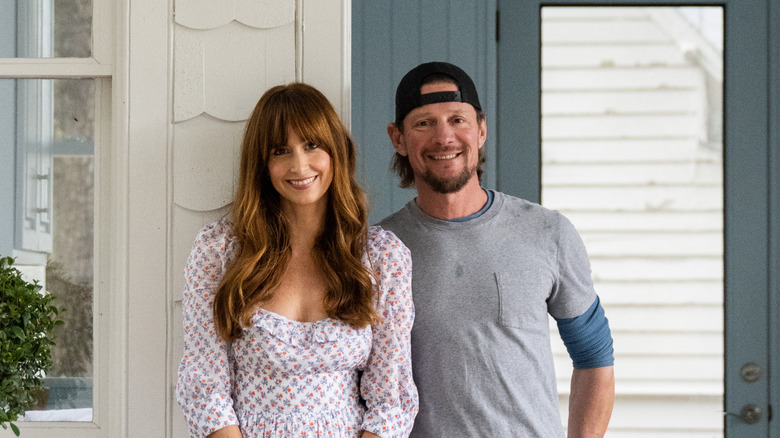 Magnolia Network
In a time when whitewashed everything and open-concept floor plans are the trend, designer Gray Benko is fighting back. Armed with a love of color, and a uniquely fun design perspective, she seeks to combat the notion that a home's color scheme has to be limited to matchy neutral colors.
The photographer-turned-designer began documenting her life in photos on Instagram from inside the historical house she was living in at the time. As a lover of old homes and all things unique, Gray sought to amplify her home's charm and make it her own, transforming it into a whimsical, beautiful, one-of-a-kind space through the use of color. Her gorgeously curated, colorful Instagram feed has since garnered a large following and offers a glimpse at the full potential of what a living space can be when you allow yourself to design with fun and happiness in mind.
"Happy to Be Home With the Benkos" follows Gray as she introduces color and happiness to historical homes like hers in her home state of South Carolina, with the help of her expert-builder husband and her contractor father, Grumpy.
In an exclusive interview with House Digest, Gray and Mike Benko discuss their upcoming show on Magnolia Network, designing with color, and advice for homeowners like themselves who live in historical homes.
Magnolia Network's newest dream team
Discovery
Congratulations on the upcoming show! What are you guys most excited for viewers to see?
Mike Benko: I'm excited for them to see what Gray does in these spaces because it truly is awesome. I'm not excited for them to see me. I'm going to be pretty embarrassed. But the actual projects that are being done are ... I don't know how they're going to look on television, but I know in real life, it was really impressive stuff. I'm excited for people to see her talent.
Gray Benko: We pulled my dad into this. My dad was a very unassuming victim of this whole thing, and now we've roped him into being a part of all the chaos and on television. He's so funny, and I feel like seeing my dad be a part of this whole thing is going to be really entertaining for myself and everyone else. 
Also, the team of people who have worked on this show are so amazing. I feel like the final product is going to be so good, and I can't wait to see it myself because I still really haven't gotten to see it. I can't wait for everybody else to see it as well because I know that they did such an amazing job, and I'm excited about all of it.
Gray's background in photography helped hone her eye for design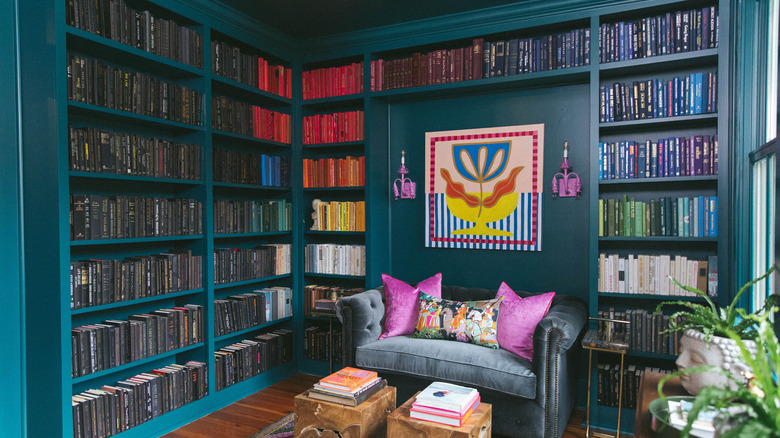 Magnolia Network
You're a very talented photographer. When did you realize your passion and talent for interior design? Was it something that you were always interested in, and how has your career in photography influenced your career in design?
Gray: My career in photography probably influenced me doing what I do with design. I wasn't trying to be an interior designer. I started taking a lot of pictures of my kids and my family, and I wanted my backdrop to be a fun and beautiful one. My eye for photography influences my eye for design as well. I did my own house, and because of Instagram and the way that it gives so many people access to our house, people started asking me to help them with their house as well. I was like, "Oh, okay. I guess." It happened very organically. I never sought to be an interior designer. It just happened.
Mike: I could disagree with that because Gray and I have been married for 15 years, and as soon as we got married and she moved into my home, which I already lived in and owned, she immediately said, "Nope, nope, nope, nope," and started tearing down wallpaper, started painting, and started to change everything. From that moment, I knew that this was going to be how it was.
Gray: He had a white leather sofa that looked like an armadillo.
Mike: It was sweet.
Gray: That was just me trying to survive.
Mike: This whole thing started to flourish probably about 2014, when we bought our very first historic home. We bought a house prior to the one we're living in now, and it was built in 1890. Gray went nuts in this house and did her thing the way she wanted to do it.
Gray: I'm also inspired by historic homes because we lived in a cookie-cutter cul-de-sac house before that. Towards the end of living in it, I started to care and try to make it our own. But buying a historic house — because they come with so much character, I feel like that really inspired me to start to get more creative with how I design my spaces.
Mike: It was that house that started to garner a whole lot of attention via her photography with Instagram. Now we're in 2023. In 2019, we bought this house, and it was built in 1815. As we do a space, or as she changes something, she'll photograph it or use it as a backdrop, and people would see it on Instagram and be like, "Whoa, I would've never thought of that." That's how this thing propelled us to where we are right now.
Color can completely transform a space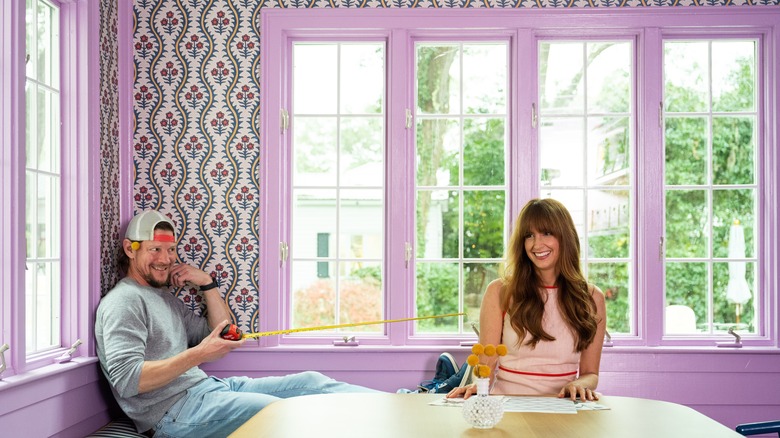 Magnolia Network
Your Instagram feed is beautiful, and you design with a lot of color. What do you think color helps provide and bring to a space, and why do you encourage people to not shy away from it in design?
Gray: I feel like color really affects your mood. It affects how you feel. In our first old house, I painted the whole thing white, but then I brought in the color with art and fabric and things like that. But when we first moved into this house, the previous owners told us right before we closed that it was haunted. I was like, "Oh, great. That's great." So when I moved in, I was so scared in my house, and I was like, "How do I change this feeling?" So I started to paint all the walls with these bright, happy colors, and it made everything feel so peaceful and happy. I haven't been scared a day since. I feel like, how can I be sad [or scared] with all these beautiful colors all around me? 
Paint is such an easy way to change a space. I tell people, it's only paint. If you hate it, you can paint over it. It's an easy way to transform your house or whatever room you're trying to redo.
Besides paint, what are some of your favorite ways to incorporate color into a space?
Gray: I love wallpaper and I love fabric. Those aren't necessarily the easiest changes to make, but they have a huge impact. I'm a big wallpaper fan right now, but even art is a very easy way to add color — art, blankets, pillows, rugs. There's so many ways. You don't have to wallpaper. You don't have to spend a fortune and hire a wallpaper installer. If you're scared of color, you can start with white walls, really colorful art, and rugs. There's so many different ways to do it.
Mike: Another thing that I've always been pretty fascinated [by] is her choice of lighting. Even if you've got a relatively boring room — we've had a few in our last home — she would get a chandelier that I ultimately would have to spend an hour and a half hanging and taking down the old one. [You can go] bold with even something as simple as a chandelier — not something you would buy at your cookie-cutter box store, but look for something interesting. It really changes the room.
Gray: I also love antiquing and finding unique, weird things. I love a good tchotchke, and I feel like they add to a space as well. The weirder, the better. Antique malls are usually my first stop, and then online, Facebook Marketplace. I love unique pieces that not everyone else has, which is why I try to look for antique and vintage pieces first.
Mike: The other thing you do in spaces is flowers. It's temporary, but it lights up a space.
Gray: I do love flowers. That's a good way of bringing color very inexpensively.
Gray and Mike Benko's advice for owners of historical homes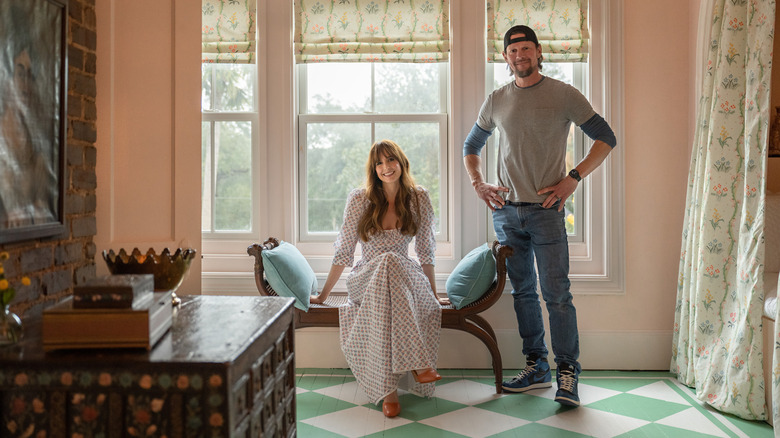 Magnolia Network
Do you have any advice for somebody who is buying, renovating, and putting the work into an older, historical home? Are there any major differences they should be aware of when it comes to working on an older home versus one that was built more recently?
Gray: Be aware that your work is never going to be finished. With old homes like this, there's always a project. There's always something to be done. I look at ourselves as the stewards of these houses because they have such a long history and they're going to live so much farther beyond us. It's our job to do them right, keep them up, and care for them. It's an important job, I think. If you're going to buy a house like this, you have to be up for the challenge of taking care of it. It can be a lot of work, but it's so rewarding because these houses, they're so special, and they have so much history and soul.
Mike: And they're not making them anymore. Once they're gone, they're gone for good. You can't build a brand-new 200-year-old home. It takes a high level of respect to protect it so it's here for another 200.
Gray: I hope and pray that people buying historic homes don't take away the character of the homes. That's something that's so important to me. I hate to see people who buy these houses, gut them, and take away all of the character and make them open concept.
Do you have any original design features that you always recommend people leave untouched?
Gray: The windows, for sure, because the wavy glass, you don't get that anymore. Protect the windows, protect the hardwood floors, the antique heart pine — that's so special, and you can't get that anymore. Save anything that you can. I feel like the windows and the hardwoods are really important, and the fireplaces.
Mike: The floor plans in a historic home aren't a typical floor plan that you would get in a home built in the last 20 years. Not being rude, but if somebody wants an open-concept floor plan where everything is wide open, they should buy a new home.
Gray: Right, because once you take that stuff away, you can never put it back. That's one of the nice things about these old homes — they were built so that each room is truly its own space, and that's the way that it was intended. When you start knocking down the walls, it takes away from the integrity and the history of a house.
This interview has been edited for clarity.
"Happy to Be Home With the Benkos" premieres on April 9 at 8 p.m. ET on Magnolia Network. New episodes will air every Sunday and stream the same day on HBO Max, discovery+, and the Magnolia app.