Here's What HGTV Star Erin Napier's Ice Cream-Kissed Bathroom Really Looks Like Inside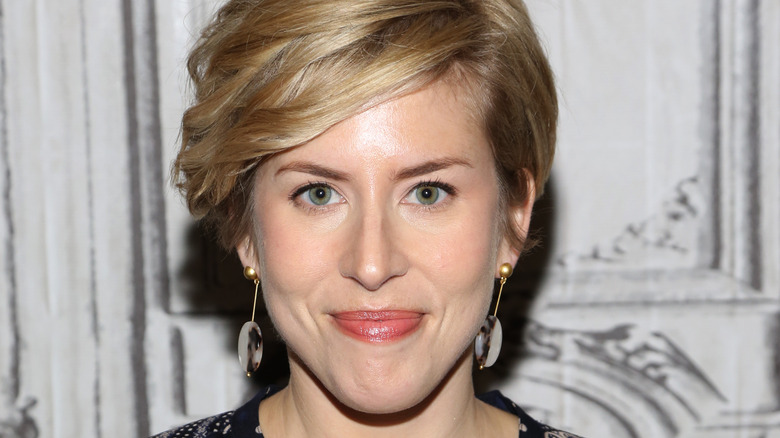 Manny Carabel/Getty Images
If you're inspired by a particular HGTV star, the best way to replicate their style is by studying how they've designed their own abode. Erin Napier and her husband Ben, hosts of the show "Home Town," currently own a Tudor-style home just outside Laurel, Mississippi. Those who love Erin's style undoubtedly adore a traditional aesthetic with warm wood features, earthy paint colors, and an eclectic look, all of which can be seen inside their home. 
While most of the home was already professionally photographed and shared with the world, Napier recently revealed one specific room in an Instagram post: the bathroom. Interestingly, this space's design was heavily influenced by an ice cream bar, located at the Wakulla Springs Lodge in Laurel, which has a white marble countertop and pink and white checkered flooring. Because both the lodge and home were built in the '30s, using some of the same features in her bathroom helps her stay true to her country home's history.
Traditional touches
While the tiles and the flooring are heavily inspired by the ice cream bar in the Wakulla Springs Lodge, some of the smaller details are used to complement those elements and match the time period. For instance, the walls above the tub and the doorway are covered in beadboard paneling that's been painted a warm white color. She also installed wainscoting on the walls below the tub and outside the shower — minuscule details that make a large impact. 
For privacy, Napier hung a short curtain with a floral pattern in the window above the bathtub, which adds a Southern sensibility to the space. The luxurious gold hardware on both the shower and the tub also matches the time period and provides a vintage feel. At the same time, Napier manages to keep the design from looking outdated by including glass walls around the walk-in shower and white bath mats, for a clean appearance. 
Beautiful marble and a bistro-inspired floor
In the caption of the Instagram post, Erin Napier writes, "We got to use slabs of calacatta gold marble...I couldn't decide what would be the most appropriate surfaces for our 1930 Tudor, and I kept returning to the design of the Wakulla Springs Lodge and its marble slab ice cream bar and baths from that same era." Used around the bathtub and shower walls, the slab she chose is similar to the marble used in the lodge (pictured above), just with a slightly warmer appearance that fits the rest of the home's style perfectly.
The floors are also reminiscent of the era; most of the bathroom is covered in warm wood with white diamond detailing. On the shower floor, traditional tiles in white and greige with a diamond edge add to the delicate feel of the space. Further, because both floors feature diamonds, the design appears cohesive throughout.