The Sunny Garden Feature That Will Automatically Boost Your Home's Value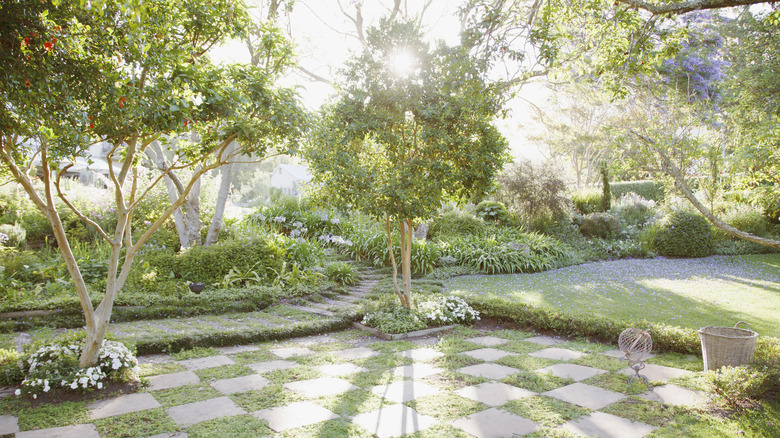 Tom Merton/Getty Images
Do you live on the sunny side of the street? It's about more than a positive outlook. And for homeowners, it goes beyond even a statement of aesthetics or attitude: As far as your garden is concerned, a sunny (dis)position signifies a premier plot.
A 2020 survey by Rightmove U.K. shows that homes will sell faster and buyers will pay a significant amount more if properties feature south-facing gardens that bask in all-day sunshine. This location is so attractive, at least in the Northern Hemisphere, because of the tilt of the Earth's axis, HowStuffWorks explains; the way the planet spins at an angle means that if you live north of the Tropic of Cancer, sunlight arrives from the south, bathing the corresponding building faces in light for longer throughout the day.
To orient yourself and your garden without breaking out the compass, consider Google Maps. Search for your address, click on satellite view, and zoom in. If you have a south-facing garden or a good place to plant one, it will be at the bottom of the screen. It's just as easy to determine your plant hardiness zone using this USDA tool and thereby narrow down what grows best in your ZIP code, and with this information, you can start planning ways to emphasize that sought-after space. From plants to seating, lights to containers, there are so many options to highlight this area, enjoy your good location fortune, and increase your home's value.
Pick plants that can take the heat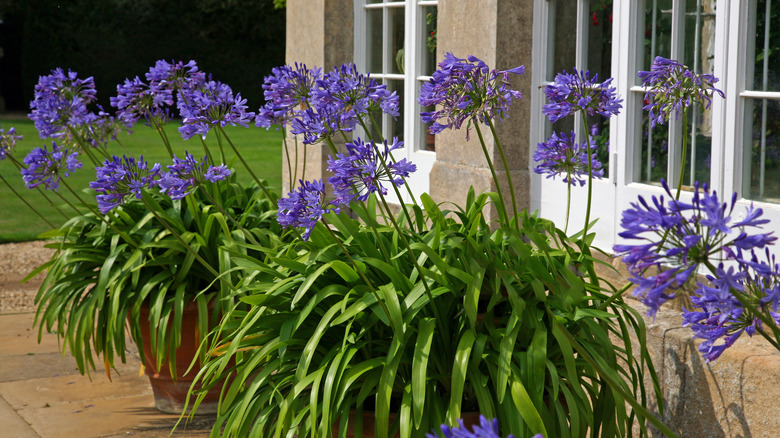 Shelli Jensen/Shutterstock
First, the facts. Your south-facing garden needs to be able to handle full sun at least six hours a day, says Summer Winds Nursery. Make sure you choose plants that can take the heat. Your local garden center or home improvement store is a great source for answers. You can also look to online retailers like Spring Hill Nursery or Gardener's Supply Company and search specifically for items such as full-sun perennials that won't scald. Or try scanning for more drought-tolerant options to minimize the effects of watering forgetfulness that might be exacerbated by the extra light and heat.
Whether you purchase online or from your local nursery, these sites offer a great way to play with color and height choices before committing. You can also seek advice on mixing perennials and annuals to take advantage of the optimal light and maximize your color and blooms to keep your garden fresh year-round. And when it comes time to plant them, containers are another way to add texture and height to your garden. Using the same or similar color of container throughout the space can elevate the overall look while keeping the spotlight on the sun-drenched flowers and foliage.
Take a south-facing seat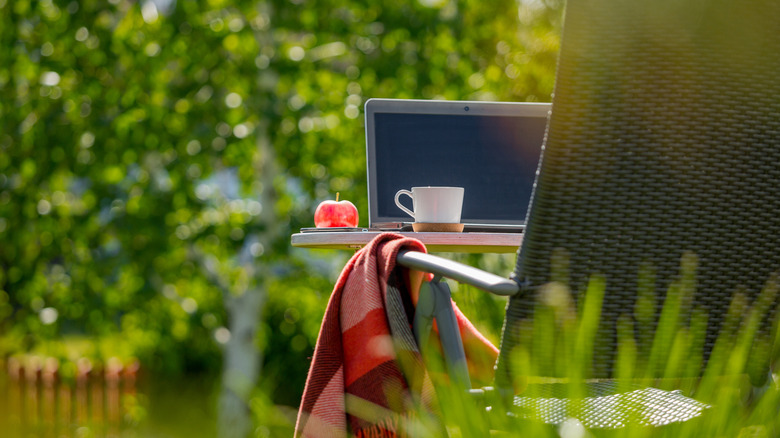 PEPPERSMINT/Shutterstock
You may measure your south-facing garden in acres, square feet, or even inches; it may bloom in your large backyard or simply a cozy nook by the front door. Regardless, you can make a statement by adding a single chair, bench, or even a full outdoor dining table, depending on the space available. This can be a quick and easy way to create a focal point and allow potential buyers to truly imagine themselves spending time in the space. Consider how your seat or bench will look from various locations and whether these spots are practical for use throughout a sunny day.
Once you've nailed down a sitting area, welcome garden gazers with softened-up seating layered with comfortable cushions and blankets. Without sacrificing that comfort, choose materials that can withstand adverse weather conditions. Consider ways to compliment your fabric choices with what's growing in your garden and vice versa.
To really up the visual appeal, add lights and experiment with incorporating some reflection: Gazing balls, mercury glass, mosaic tiles, and even mirrors can go a long way toward making your yard feel bigger and more inviting, especially when they're constantly glittering in the sun's rays. These touches can pull your outdoor space together and make it a coveted retreat — one that buyers will pay a premium for.