How To Replicate The Menus As Kitchen Decor Tiktok Trend (Respectfully, Of Course)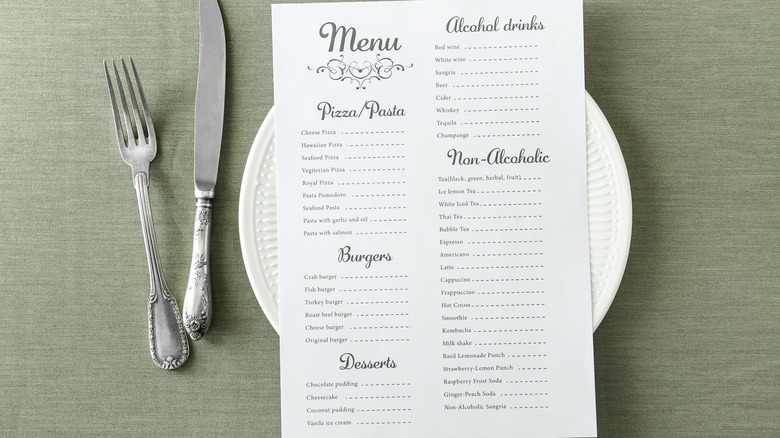 Sergey Kirsanov/Getty Images
We may receive a commission on purchases made from links.
The stolen menu TikTok trend is going viral, and while we love the concept of adorning your kitchen with unique keepsakes, we do not love the practice. Beautiful menus from your favorite restaurants are a great way to decorate your home, but let's talk about how to copy this practice respectfully.
Menus are more than just a way to discover your meal choices. They can be a tribute to your favorite restaurant or a lasting memory of an important event, such as a first date or marriage proposal. Perhaps they are simply exceptional works of art that you need in your life. Takeout menus are a unique way to display tokens of travel abroad. Of course, how you display these keepsakes also dramatically impacts the quality of art, so let's steer clear of thumbtacks and poster putty. Whatever your reason for displaying menus in your home, it's best to take the high road and acquire them without channeling your inner Butch Cassidy and dashing out of your favorite dining spot with stolen loot.
Collecting menus
There's no need to be super sneaky to collect your favorite menus. Many upscale restaurants create and print a new one daily, so taking home one from that special occasion may be as simple as asking your server if you can keep it as a memento. If that's not possible, it never hurts to ask if you can purchase a copy. You might get some strange looks, but the waitstaff likely receives all sorts of interesting requests, so it may not be as odd as you think. Of course, free takeout menus are certainly easy enough to bring home to display.
Many restaurants also make their menus available online. Look for PDF, PNG, or JPG files for the best quality, as these tend to be printer-friendly. While there would be questionable legality about printing and selling these copies, there should be no problem with printing them at home for your personal use. After all, maybe you simply want to see your favorite restaurant's menu in an 18 by 32-inch frame in your kitchen.
Make your displays classy
The key to transitioning a paper menu into a work of art is how you frame it. In the viral TikTok video by lilafitzgerald, all her exquisite menus are in frames. Most (if not all) of her interesting collection appears to have been professionally framed with mat board, which adds to the display's quality. However, you don't need to dish out big bucks for professional framing to make your menus look fabulous. Instead, purchase and cut your own mat board to create an attractive background for your display, or use a frame that perfectly fits the menu.
To add variety and interest to your menus, poster hangers like this set on Amazon are an attractive and inexpensive way to display larger menus. A gallery wall of frames and hangers in different colors and textures can turn a bunch of pieces of free paper into a dynamic wall of memories.