A TikTok Viral Micro-Apartment Shows What You Can Get In NYC For $1100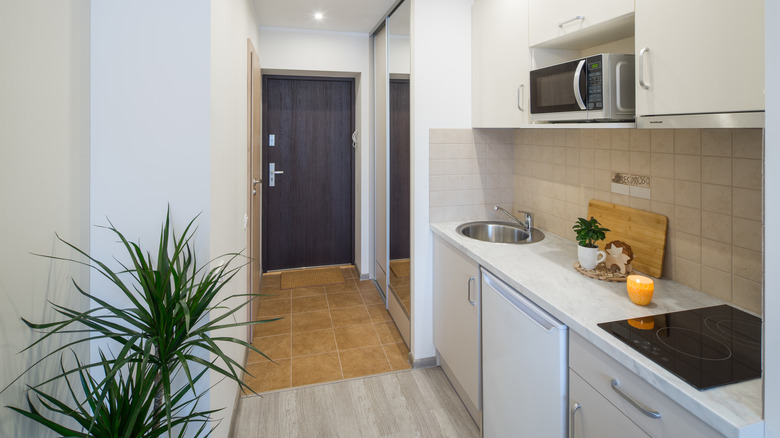 Aleksandr_kendenkov/Getty Images
Most people who live in apartments in East Village, Manhattan NYC spend about $3,400 on rent each month. However, if you're on a budget, you could find a place for $1,100 including utilities — you'll just have to sacrifice a couple of things, like a stove and a private bathroom. NYC Real Estate Agent Skye_Ki showcases a micro-apartment in one of her TikToks, which only comes with a lofted bed frame, a sink, a mini fridge, and a microwave. There's no closet, and the bathroom has to be shared with the other residents who live in the complex.
Some think that this is an outrageous place to live. "This should be genuinely illegal," one person commented on the TikTok video. Others said things like "So micro apartments are just a cute way to say adult dorm room," "This is a prison cell," and "This should be $200." However, those who need to save money and want to live in a popular area may think this is a great solution — even if it is cramped. 
Making this small space work
Because this apartment is so tiny, it would be challenging for the average person to live here. Of course, you'd need to follow a minimalist lifestyle, and you probably wouldn't be able to have guests over. You'd also need to consider where to store your clothes and other items, since this space doesn't have a closet. You could either place all your clothes inside a dresser, hang them underneath the loft, or place them on a rack. 
Since your bed is lifted, this will save you some floor space where you could place a small table and a chair or maybe a tiny loveseat and television. The minimal amount of shelving in the kitchen would probably need to be reserved for food storage and dishes, and the small cabinet underneath the sink could house cleaning supplies and toiletries. You could also use your walls to your advantage by adding open shelving, creating more opportunities for storage. To make the apartment homey, you could add potted plants or decorations to the window sills. 
Reasons why some may want a micro-apartment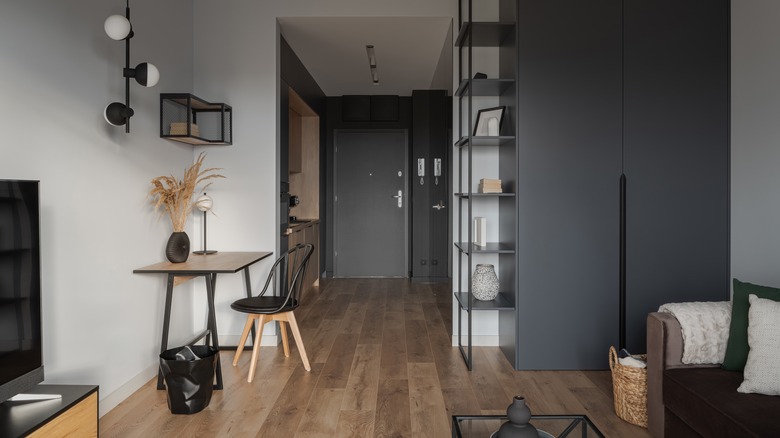 Dariusz Jarzabek/Shutterstock
While living in a micro-apartment isn't for everyone, it could work in certain situations. For instance, those who are often away from their apartment for most of the day, either because they're working or socializing, may not mind such tiny living quarters. Further, for many, the location of their apartment is more important than the size of the space. Alex Verhaeg, who lives in a 95-square-foot apartment that's also located in East Village, Manhattan, told CNBC, "It was a little bit of a shock when I saw how small it was, but I really wanted to try living in this area. Any space can be made into a home, no matter how big or how small that space is. You just gotta put some love into it."
Further, while living in a micro-apartment would undoubtedly be an adjustment, Verhaeg says that it could actually be beneficial. "The main benefit of living in such a small space is that it makes you appreciate your things and be a minimalist. You really can't just go out and buy random things because you don't have the space to store them."