The Hotel Room Convenience You Should Really Be Adding To Your Bedroom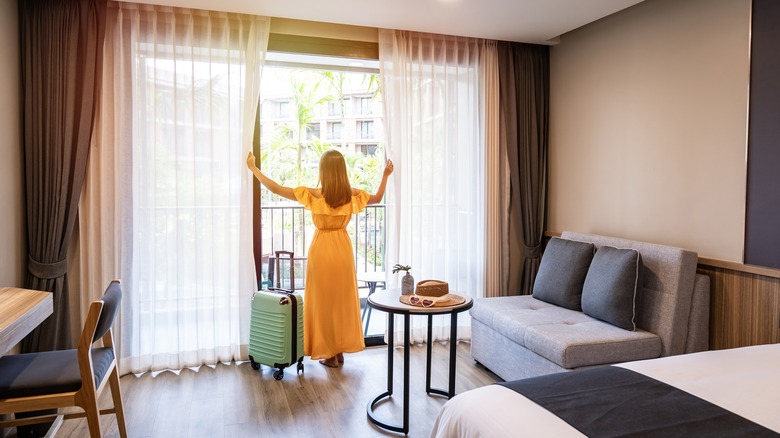 kitzcorner/Shutterstock
Who doesn't love that feeling of walking into a hotel and just knowing that no matter what, all of your needs will be taken care of with a minimal amount of effort on your part? There's something special about that sense of total relaxation and comfort. While you might not be able to ever fully capture that feeling in your home — because, let's be honest, most tasks in your home are probably not going to be completed without you taking an active role in them — there are a few simple ways you can mimic that feeling of hotel room convenience and luxury in one of your house's most essential spaces: your bedroom.
Here's what you can incorporate into your bedroom to transform it from a functional sleeping space to an area where you can fool yourself into thinking you are on a fancy vacation and your only responsibility is figuring out what you want to order from the room service menu.
Nightstand necessities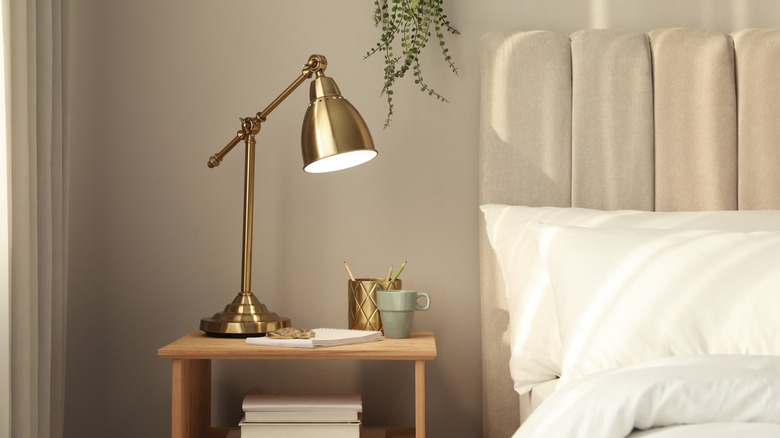 New Africa/Shutterstock
The thing about hotel rooms is that they contain everything you could ever need or want in one all-encompassing space. They do this by prioritizing convenience in every component of the room design. You can replicate this focus without a ton of effort on your part.
The main question to ask yourself in this process is, how can I anticipate my own needs the way a hotel staff does? For example, you could say goodbye to the days of carrying your phone charger with you from your nightstand to your home office to the living room — invest in a charging station so that you can keep all of your electronics fully charged and in one handy location. You could guarantee you always have a glass of water on your nightstand so you don't have to stumble down to the kitchen when you wake up thirsty. And you could look at how your room's lighting affects its functionality as well as its aesthetics. Understanding the difference between the three key types of lighting — task, ambient, and accent — could have a significant impact when it comes to making your room work for you.
Incorporate small luxuries
New Africa/Shutterstock
You don't need to break the bank to feel like you are staying in a fancy hotel when you go to sleep at night. You just need to make sure you are spending money on what matters: the little aspects of your bedroom that will make a huge difference, namely bedding and ambiance.
One of the quickest ways to feel like you are indulging yourself on a luxury trip is by upgrading your bed situation. Many hotels have soft-top or pillow-top mattresses that are at least 12 inches thick, so you can float on away to dreamland. Bringing one of these mattresses into your bedroom and decorating it with pretty blankets, throws, and decorative pillows can be one of the fastest ways to make your room seem like the Ritz. You also want to make sure you are investing in the nicest sheets you can afford.
Finally, one of the most subtle ways hotels help you feel as though you're escaping away is through scent. These days, some hotels have such recognizable aromas that the scents have become part of the hotel's brand, and the hotel has even monetized its scent by selling candles. But don't worry; you don't need to buy branded candles to make your bedroom your own little escape. Just make sure you pick a scent that works for you and thoughtfully incorporate candles into your space to ensure the scent is always subtly permeating.