Silver Carpet Is The Durable Grass Alternative You Can Cover Your Lawn With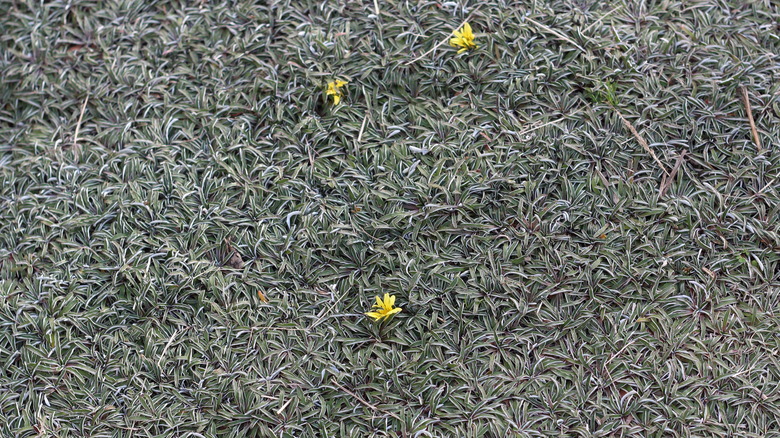 Kwanbenz/Shutterstock
With the woes of climate change and the uptick in yard watering regulations, you might be tempted to replace your grass with a low maintenance, drought-resistant ground cover. This is where silver carpet comes in. Also known as dymondia from its botanical name Dymondia margaretae, silver carpet offers an alternative to grass especially if you're on the fence about xeriscaping your yard. This ground cover plant originally comes from South Africa where the climate is warm and sunny year-round, which is why this choice would thrive in a similar climate in other regions where it can be exposed to full sun.
While it takes a spell to spread out, each silver carpet plant eventually covers about 1 to 2 feet of ground. Measure the area that you're planning to cover to get a good idea of how many flats to purchase. Another option, if you already have silver carpet established elsewhere on your property, is to transplant it into the area where you need the ground cover.
How to landscape with silver carpet
Once you have obtained some flats or some cuttings for propagating, you'll need to keep certain factors in mind as you figure out where you want the silver carpet to grow. This ground cover is quite the hardy plant, but it's not meant for rolling around in. Likewise, silver carpet won't thrive if it's being constantly stepped on. Thus, you might consider installing a walkway made of gravel, concrete, flagstone paving, or any other material of your choice prior to planting. This could serve as a way to save wear and tear on the silver carpet and provide an appealing addition to your landscaping. The silvery edges of the leaves pair well with the earthy shades of just about any paving material.
Yet another decorative perk includes the yellow flowers that eventually bloom and add specks of color. Also, consider incorporating other durable, flowering bushes or shrubs, like lavender and veronica, for a variety of hues. One other factor to remember as you plant your silver carpet is to add mulch in the bare spots around the flats. This helps retain moisture from watering, keeps weeds at bay, and even adds more color and texture to your landscaping.
Is silver carpet hard to maintain?
When you first plant silver carpet, you will need to water it every day until the roots deepen and the plants start to spread, but make sure your soil allows for proper drainage. Silver carpet thrives best in sandy, loamy, or clay soil with a neutral pH level. As months pass, you might notice that the silver carpet doesn't require as much watering which makes it simpler to maintain. The sure sign to watch for, however, is the curling of the leaves telling you that it's time to water.
You won't have to fertilize this plant, although adding some compost shortly after planting won't hurt. Ideally, planting should take place between late February and early May. Another tip to remember is that once your plant spreads, if necessary, you can take cuttings and propagate them in other spots in your yard to flush it out (or consider giving a neighbor the gift of a fledgling ground cover). Once you have a well-established silver carpet, you won't have to worry about mowing or trimming which is another trait that makes this ground cover plant easy to care for.