Terrace Vs Balcony: Which Is More Practical For Your Home?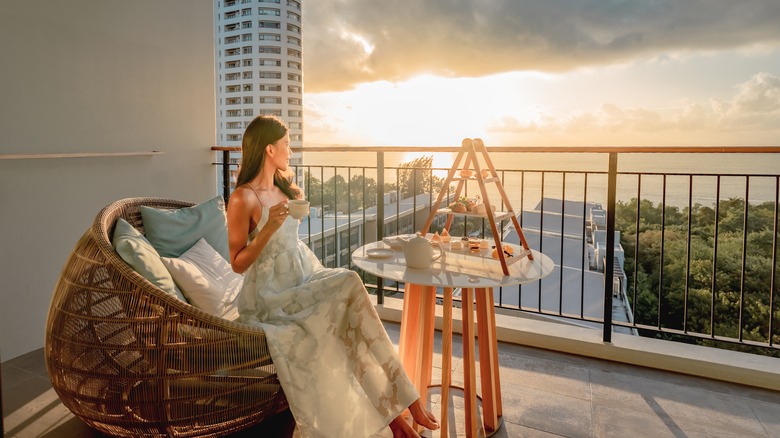 NavinTar/Shutterstock
Scientists have long studied the benefits of enjoying fresh air and sunshine. Spending time outside has been shown to boost moods, lower heart rates, and increase energy levels. And while taking in some nature by visiting a park or walking around the neighborhood is excellent, you don't always have to go far to reap these benefits. Having some outdoor living space right outside your home can be exactly what you need. Plus, extending your home's functional space can increase its value when it becomes time to sell.
But what's better than an outdoor space with a view? Adding a balcony or terrace to your home can allow you to enjoy time outside with a little elevation. While the two terms may be used interchangeably by some homeowners, there is a distinction between the two since the architectural definitions differ regarding location and construction. This also means one may be a better option than the other for your home. Understanding the characteristics of terraces and balconies will help you determine which is preferable for your unique property.
Terraces are detached from the main structure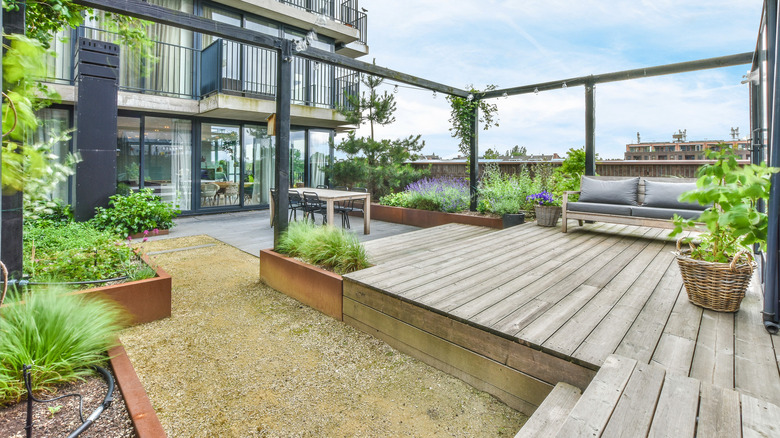 Procreators/Shutterstock
The main distinction between a terrace and a balcony is how they're constructed in relation to a building. Terraces can be free-standing structures or be situated on a flat rooftop. While they are often confused for patios, the difference between the two structures is that terraces are raised while patios are constructed on the ground. Access to a terrace can come from inside or outside the house. Because of this, they are often used as communal outdoor spaces constructed in condos or apartment buildings. But that doesn't mean private designs aren't possible as well, such as ones constructed on the roof of a home.
Another difference between the two architectural features is that terraces are often larger than balconies. When built on top of a building, it can span the size of the rooftop, creating plenty of space for entertaining, relaxing, or a garden. With their ample size, these structures can include outdoor kitchens, fire pits, and multiple seating areas. Rooftop terraces are often preferred in city apartments or rowhomes for an oasis separated from street-level noise and movement. Also, since they are more spacious, they're often the preferred option if you like to entertain. Choose a terrace for your home if you're looking for ample outdoor space where you can have room for a variety of outdoor activities.
Balconies offer more privacy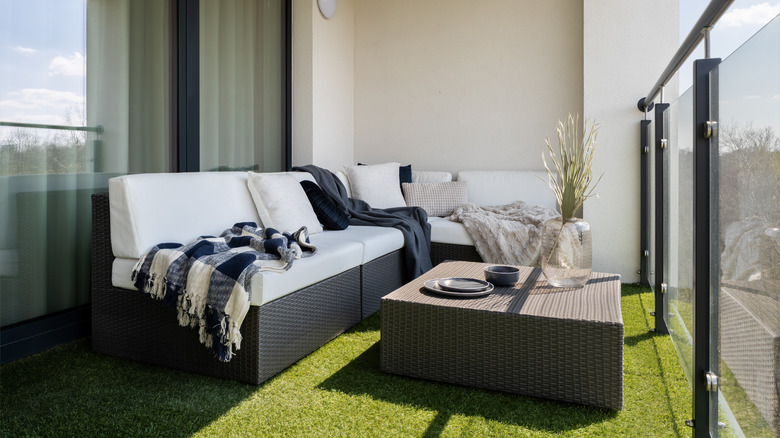 Dariusz Jarzabek/Shutterstock
Balconies tend to be smaller and connected to the side of a building rather than its own freestanding structure. Joints are fastened to the building's structural beams that support the balcony's weight and anything on it. Also, they tend to be built narrow and long, running only a short length of a building's exterior.
Unlike terraces, which can be accessed outdoors in some cases, balconies can only be reached through an interior room. This offers much more privacy in both homes and apartment buildings. For example, a primary suite may have a balcony entrance, affording the homeowners ample privacy. And in an apartment building, only one unit will have access to its respective outdoor space.
However, balconies are much smaller, so there isn't as much room for outdoor entertaining or activities. You may be able to place a small bistro table to enjoy a drink or read a book in the fresh air, but you won't be able to entertain more than a few people comfortably at once. There are also Juliet balconies that are much smaller and may only be large enough to step outside for a breath of fresh air.