HGTV's Home Town Ends Its Season Customizing An Old Ranch Home For A New American Transplant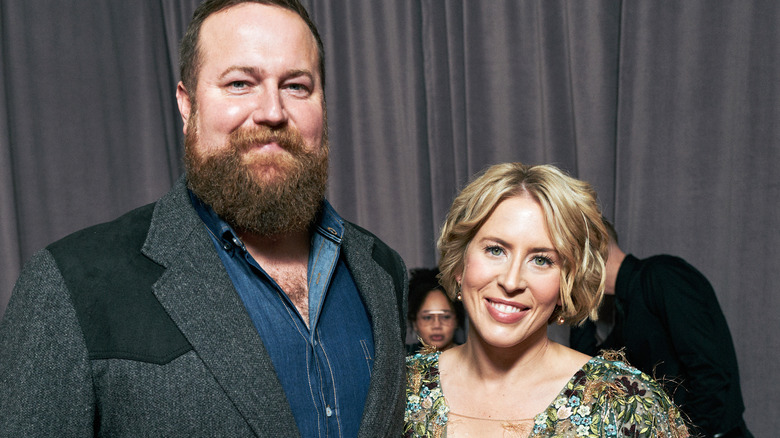 John Shearer/Getty Images
To end Season 7 of HGTV's "Home Town" with a bang, Erin and Ben Napier turn an old ranch into a colorful cottage for new US citizen Jack and his partner, Iris. Because Iris loves bold colors and loud patterns, the Napiers go all out in designing a maximalist space that feels extra cozy and comfortable. Although the 1935 ranch only cost the couple $110,000, they put another $110,000 into the design to ensure it was in line with their unique style. 
"This house is really fun. It's whimsical, it's storybook, and it ought to be," Erin says of the budget-friendly property (via Realtor.com). They start working on the exterior of the home, which requires added warmth and color to match the couple's style. To inject a dose of warmth, they include cedar shakes in the gable and wooden flower boxes underneath the windows. For color, they paint the shutters light green and include a baby blue front door. However, these elements are pretty tame compared to what's inside the home. 
Patterns and colors galore
Because Iris loves being creative, she insists on dedicating an entire room to her arts and crafts studio. To create the space of her dreams, Erin paints built-in bookshelves mustard yellow and includes butterfly wallpaper on the back paneling. She pairs this piece with patterned yellow, blue, and white floor tiles for a cohesive design. In the bathroom, she also installs attractive tiles in the shower, which offer a tropical leaf pattern. However, while Erin wanted to cover the entire shower with these tiles, some broke while shipping, so she only included them on the center of the back wall for a bespoke look. 
The kitchen is equally bold, featuring red cabinets and a highly unexpected dog-patterned backsplash tile (yes, you read that right). Erin explains (via Realtor.com) after pairing together these two unusual elements, "[Jack and Iris] will specifically love something so bold." Erin then adds white countertops and a simplistic floor to ground these quirky features.
What fans had to say about the home
Because this home's style is so vibrant and uncommon, some voiced their negative opinions of it on Erin Napier's Instagram post. One person writes, "I didn't like this one. First time." On the other hand, some only had a problem with one room: the kitchen. "The color scheme of that kitchen looks Christmasy to me. I am all for bold colors, but I don't think I could live with that year-round." Someone else adds, "Loved everything but the kitchen cabinets."
However, others thought the design was perfect, especially when considering the preferences of the homeowners. "People, Erin is part of the trendsetters in this country. Get on board. The gray and white has had its day. Let the red, teal, mustard, and green all have their moments. Enjoy the choices for their clients." Another commenter says, "I continue to love the show because you design a house specifically for the owners rather than choosing the same colors and layout of most of the design shows. This episode was so enjoyable, and your homeowners have a unique, beautiful home."