How Much It Will Cost To Repair Your Dyson Vacuum Cleaner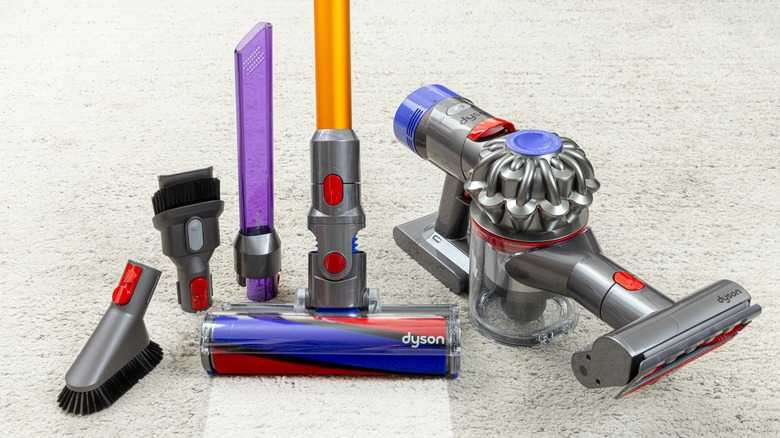 TSV-art/Shutterstock
Taking care of your Dyson vacuum cleaner is essential in order to ensure it continues to work in optimal condition. Additionally, proper maintenance is beneficial for avoiding expensive repairs. How much you'll pay to get your vacuum repaired depends on the type of service you need. For example, a simple brush replacement can cost up to $45. If you're looking for a complete rebuild, you can expect to pay $100 or more.
However, you may be able to get your Dyson repaired for free if the service is covered by the product's warranty. According to Dyson, cordless vacuums have a two-year warranty while corded models have a five-year warranty. To take advantage of Dyson's repair services, the product must have been used as intended. Damages due to normal wear and tear and negligence aren't covered. If your vacuum isn't covered by Dyson's warranty, you can still contact the company for support or take it to the nearest repair shop.
Is repairing a Dyson vacuum worth it?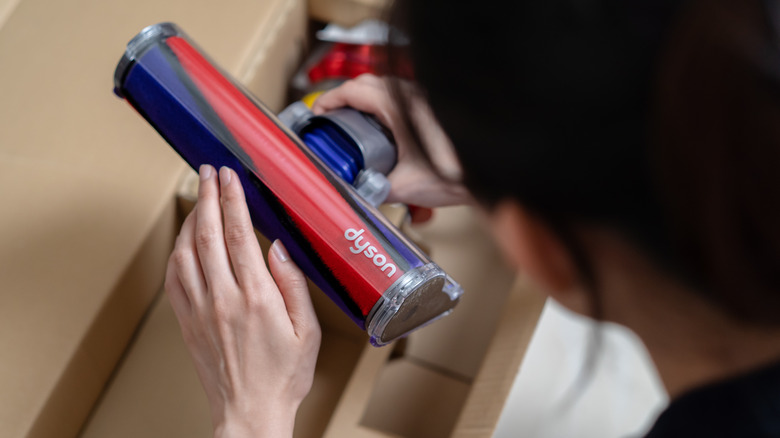 mokjc/Shutterstock
While Dyson vacuums offer some of the latest technology and are sold at a somewhat hefty price, they can sometimes break down just like any other type of appliance. A vacuum should last roughly eight years depending on how often it gets used — so wear, tear, and replacement parts are expected. Common issues you may run into include clogged filters, battery issues, overheating, broken belts, damaged canister clips, and loud noises, just to name a few.
So, you may wonder whether paying for repair services is worth the money or effort. While fixing a broken vacuum is a great idea in some cases, other times you may be better off purchasing a whole new appliance. For example, a Dyson V11 vacuum battery replacement costs $149.99 and the high torque cleaner head is $111.99; eventually, these expenses can slowly add up. You also have to take into account service fees if you're getting your appliance repaired by a professional.
How to prevent repairing a Dyson vacuum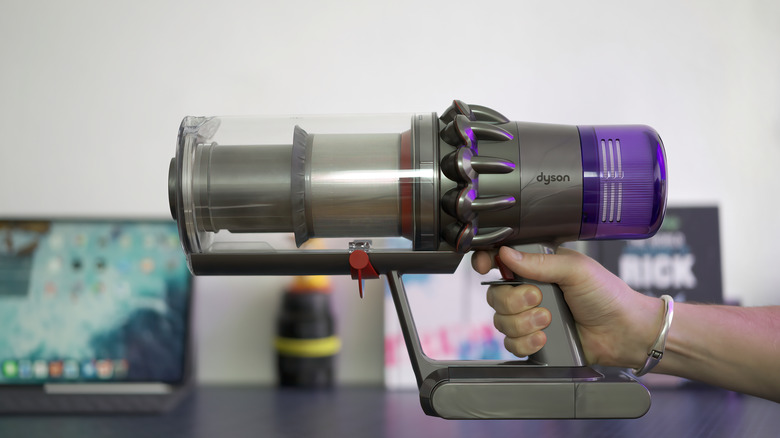 Mr.Mikla/Shutterstock
Avoiding repairs on your Dyson vacuum can help save you money and time. In order to prevent malfunctions, proper maintenance is required. Dyson suggests washing the filter once a month to maintain powerful suction. The company also recommends you use auto or normal power modes rather than max or boost to minimize battery degradation. It's also a good idea to let the device cool down after use before charging and storing it at room temperature.
A few other tips that can increase the lifespan of your Dyson and keep it in tip-top shape include following the manufacturer's instructions, emptying the bin when full, cleaning it regularly, and replacing certain parts when necessary. If you must repair your appliance, consider fixing the issue yourself before contacting a professional to save money. Doing so can help you avoid service fees and additional expenses that may increase the total cost, which can range from $45 to $85 an hour.