How Much It Costs To Repair Your Damaged Gutters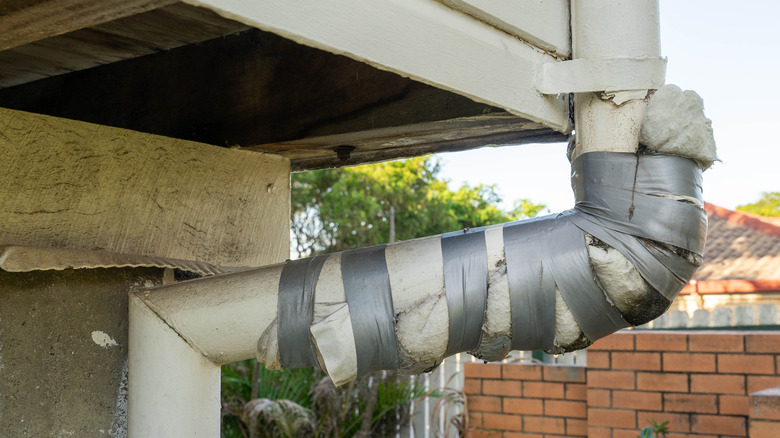 tkatasila/Shutterstock
Gutters are an important part of your home's infrastructure, helping keep your roof clean of leaves and other debris that can cause moisture damage. In winter, heavy wet snow or ice dams can cause gutters to sag or break. Cracked or leaking gutters may eventually lead to water damage, including wood rot, mold, or mildew, all of which can be costly and difficult to fix. The cost of gutter repairs can vary widely based on materials, but the national average cost of gutter repair is between $150 and $650.
Gutters protect your foundation and/or basement from potential water damage, which can weaken your home's structure. So keeping them in good repair is an important part of home maintenance. For a small leak in vinyl or metal gutters, you can try fixing it yourself with roofing cement or silicone caulking. This can save a lot of money if you have the tools and skills for a small repair. Larger holes or leaks should be patched with the same material as the gutter. However, patching is a temporary fix, and you may eventually need to replace all or part of your gutters. 
Before hiring a professional, determine the scope of the repair needed. While some minor problems can be repaired easily, there will be times when you want to hire a professional to repair or replace your gutters. Try to find a reliable company with good reviews in your area that is skilled at all aspects of gutter installation and repair.
Pricing for materials affects repair costs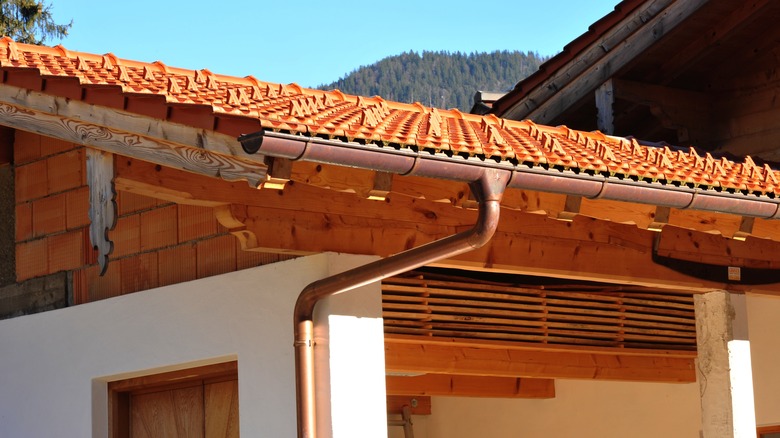 klikkipetra/Shutterstock
Different types of materials used to make gutters include vinyl, PVC, wood, aluminum, steel, and copper. Repair costs are directly affected by the costs of materials, and these costs may vary depending on availability or fluctuation in pricing. For example, it may cost under $100 to repair some vinyl sections but over $1000 for high-end copper. Wood is the most expensive material due to the complexity of installation required. Wood gutters are often seen on traditional bungalow homes. You may want to consider the architectural integrity and aesthetic look of your gutters when repairing or replacing them.
Vinyl and PVC gutters are more easily damaged than metal gutters. If you're planning to own your home for a long time, consider upgrading your vinyl or PVC gutters to a more durable material (like aluminum, steel, or copper). Copper gutters are much more costly to repair or replace than vinyl gutters, but the durability of copper is considered worth this extra cost. Copper gutters can last up to four times longer than vinyl with proper care. Repair costs for vinyl gutters usually run between $7 and $10 per linear foot, including parts and labor; for copper, the cost is closer to $30 or more per linear foot.
Sectional gutters are more easily repaired than seamless gutters. Sectional gutter repair will cost, on average, $120 and $220, whereas seamless gutter repair will be more in the range of $150 and $300.
Regular cleaning is important for gutter maintenance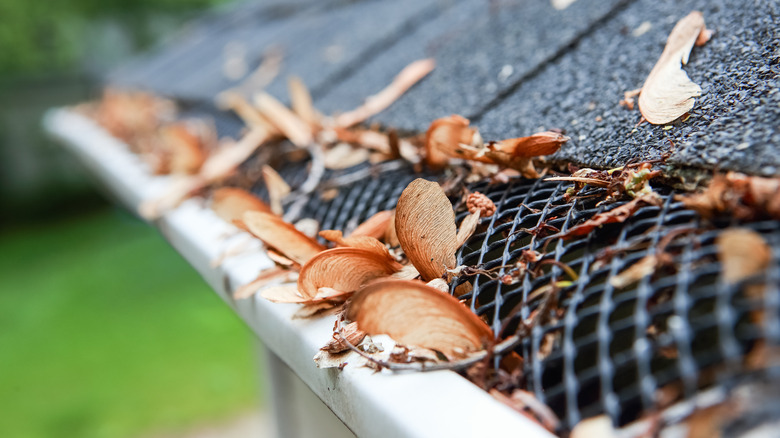 Suzanne Tucker/Shutterstock
Cleaning your gutters regularly helps keep them functioning properly, and installing gutter guards (also known as leaf filters) can prevent the accumulation of heavy wet debris. Any company that offers gutter installation can advise on and install gutter guards.
Some gutter professionals offer seasonal gutter cleaning specials, with pricing for one-story, two-story, or taller houses. Normally you can expect to pay between $70 and $120 per 200 square feet on a one-story house, whereas a two-story home might be closer to $95 to $200 per 200 square feet. Location is also a factor in pricing. Gutter cleaning costs are higher in California, Texas, and Florida than in Illinois, New York, and Massachusetts. The size of your home will also affect repair costs. The average cost of gutter repair for a one-story home is $170, for a two-story home, $300, and upwards of $500 or more for a three-story home.
The best time to clean gutters is late autumn after the leaves have finished falling, to get them clean before winter. It's a good idea to check them again in late spring, especially if you have trees that drop spring litter like maple buds or beech catkins.