How To Enhance Your Home's Front Porch, According To Home Town's Ben And Erin Napier
Jason Kempin/Getty Images
Ben and Erin Napier of HGTV's "Home Town" believe that if you're lucky enough to have a front porch, you should decorate it correctly. To do so, add bright paint colors, warm elements, and comfortable furniture, making your entire home feel more welcoming. The Napiers typically add color to the shutters, warmth with wooden features, and furniture such as rocking chairs, a small table, or a full outdoor set. However, perhaps the best way to enhance a front porch is with a porch swing. Typically, wooden swings add warmth, but they could also increase the amount of color in the space if painted a bright shade. 
While a hanging bench could be added to any home, it's typically seen in the South, as spending time on the front porch with a glass of iced tea or another drink is sometimes referred to as a Southern tradition. In Season 4, Episode 10, when revealing a home with a wraparound porch, Erin Napier tells the homeowners (via HGTV on YouTube), "I think when people think of what it's like to live in the South, this is the picture they see in their mind," and adding a swing can enhance this even further.
How to build a porch swing like Ben Napier
As showcased in an Instagram post, Ben Napier built and installed a porch swing that he connected to the ceiling with four ropes. According to him,  " ... it's one of the best pieces I've ever designed." To create the same look, start by making the base with two 2-by-4 foot boards and adding a frame for the backing. You'll also need to add arms and a riser on the front of the piece. Across the baseboards, add 1-inch thick boards to create a place to sit, upon which you can layer a comfortable cushion and throw pillows. To finish the piece, frame the top of the backing with boards cut into 45-degree angles. A huge benefit of this backing is that it provides just the right amount of space to hold a glass of iced tea or lemonade. 
However, some may not have enough experience to build something like this. If this is the case for you, an easier DIY project is turning a bench into a swing. To begin, remove the legs either by unscrewing them or cutting them off at their intersection with the bottom of the seat. You'll also need to drill holes in the front and back of the arms. These are where the chains or ropes will be installed, from which the bench will hang from the ceiling. 
Personalizing your porch swing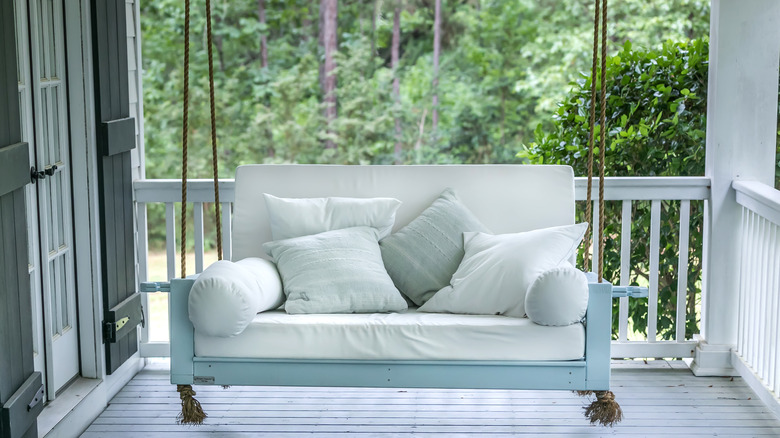 Ursula Page/Shutterstock
To make sure your swing is ready for whatever weather may come its way, cover it with an outdoor spar varnish, which you could purchase from Home Depot. In Season 3, Episode 12 of "Home Town," Erin does this to a client's late grandmother's swing, and the result brings the new homeowner to tears. If you're completely upcycling an old swing, perhaps one that's been passed down through the generations, start by sanding it down, cover it with the varnish, and then attach new chains or ropes (or chains wrapped in rope). As Erin says (per HGTV on YouTube), it's personal pieces like a passed-down porch swing that "make a house a home." 
On the other hand, those with porches that are lacking some color could paint the hanging bench a bright shade. When upgrading another client's front porch in Season 7, Episode 14, Erin covers a wooden swing with Valspar's Sky Space, a beautiful, medium blue shade. She also uses the exact same paint on the front door, which gives the home a cohesive appearance.