The Greek Garden Trend That Will Be Everywhere In Spring 2023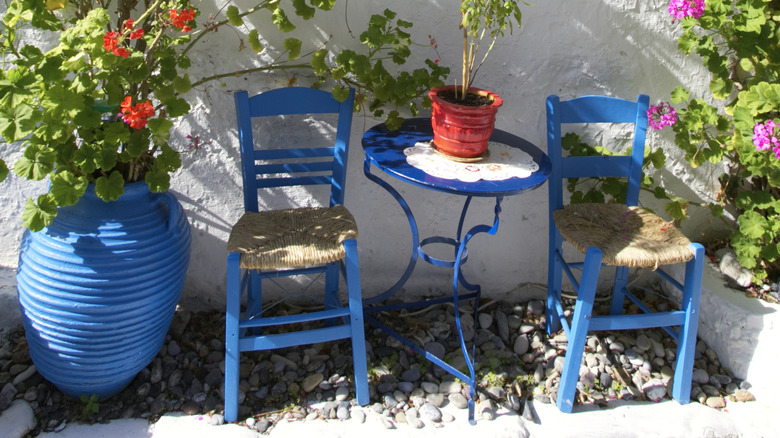 Lars L Baron/Getty Images
Now that warmer weather is setting in, it's time to spend more time outside. Stepping out your backdoor and enjoying the beauty right outside your home can make you feel like you have your own little oasis. But if your garden and outdoor space aren't exactly how you want it, now is the time to do a little planting and remodeling so that you can relax through the summer months. One of the latest trends is drawing inspiration from Greek gardens. 
Landscape designers have been taking inspiration from Greek gardens for years, but now it's becoming more of a trend as more people adopt aspects of the serene Mediterranean country in their own space. The stunning blooming flowers and crisp white buildings of seaside Greek towns have been the travel inspiration for many people for years. But since hopping on a plane to Greece to relax in the fresh air isn't always possible, garden designers are bringing some of the beauty of Greece into the backyards of our homes. No matter how large of a yard you have, you can recreate Greece's dreamy and romantic location in your own outdoor space.
Romantic Greecian beauty
Greek gardens are known for their romantic and dreamy setting, and that's what this trend is trying to capture. These gardens are known for how they mix greenery into natural stone structures. Light-colored natural stone is stacked to create a retaining wall or a wall feature that intermingles with trailing vines. You can also use pale stones as pavers to walk through the garden. For a larger project, stone archways will also add that romantic Greecian feeling.
Cyprus trees, olive trees, and rosemary hedges are all common in Greek gardens. You can use these along the edges of your garden or to create a frame around other features. Along with this greenery, lots of colorful wildflowers create a dreamy landscape that feels out of this world. Dining out in the fresh air is also common in the Mediterranean region, so creating a dedicated area will bring a little bit of Greece to your home. Add a pergola over the eating space to provide some shade from the spring and summer sun. Let climbing plants or flowers like bougainvillea, popular in Greece, grow on the structure to create a romantic and rustic space.