The Best Lighting Trends We've Loved So Far In 2023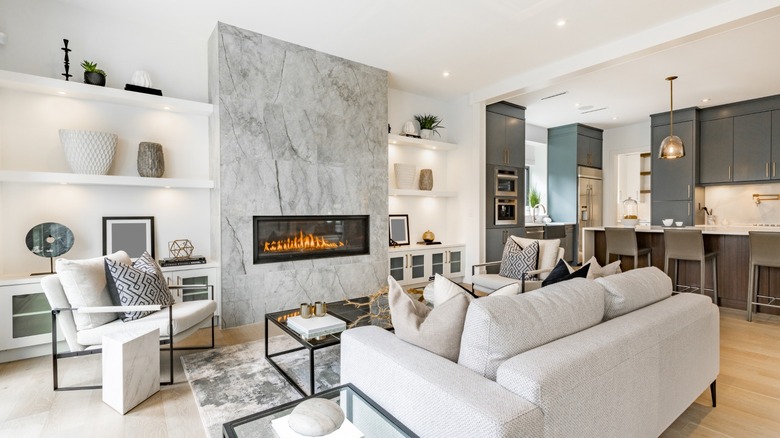 Sheila Say/Shutterstock
The lighting in our homes is such an important aspect of its interior design, able to effectively transform any room. Some rooms require plenty of light including as much natural sunlight as possible, like kitchens and bathrooms. When looking at lighting choices, the first thing to take note of is the purpose of the space. For instance, if you're designing a home gym, you'll want bright light and open space to promote energy and motivation. If you're updating the living room, you might want a cozier, warmer environment. There are so many different types of lighting rules and choices it's hard to know where to begin!
Beyond all the many kinds of fixtures to choose from, there's also the type of bulbs to consider and even the color and intensity of the light itself. Bright, white light promotes energy and wakefulness and is said to intensify emotions. Yellow light is also associated with increased productivity with a bit of warmth added to the mix. Blue light is said to be calming but mentally stimulating, and green light can be soothing or healing. Just as important is the intensity of the light. When someone enters your home, the lighting plays an extremely important part in their first impression. Since it's such a critical element of any upgrade, we thought we'd put together a list of some of the best lighting trends we've loved so far in 2023 to help you out.
Play with pendant lights and wall paint color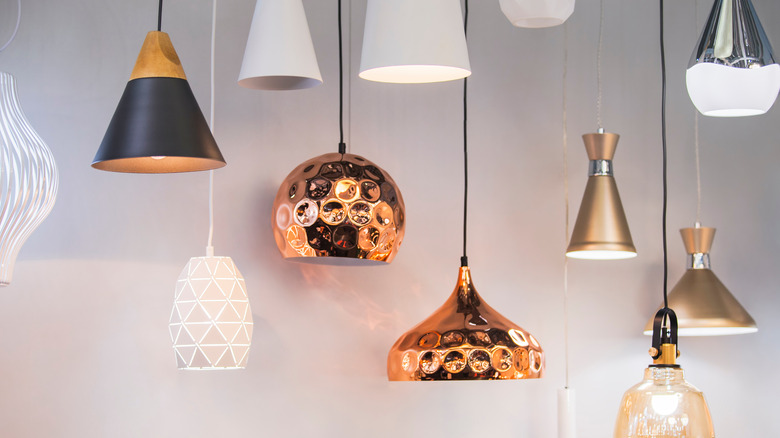 Olga Prava/Shutterstock
The first type we're going to talk about is pendant lights, which have been trending for a while now and are still in vogue. Some designers are stepping this design trend up a notch by matching the color of the fixtures with the color of the paint on the walls. If you're painting a fresh new color on the walls, why not add this simple touch and paint the shades on your pendant lights to match?
Another idea is to paint the shades in a contrasting but complimentary accent color so they stand out against the wall and really pop. It's amazing what a difference something so seemingly small can make in bringing a room together. Pendant lights are a terrific choice for lighting and are often used in kitchens and dining rooms. Another place to consider putting them is in the bedroom above the headboard. Hanging three or four at different heights in this space adds a unique casual-chic vibe.
Natural materials for sustainability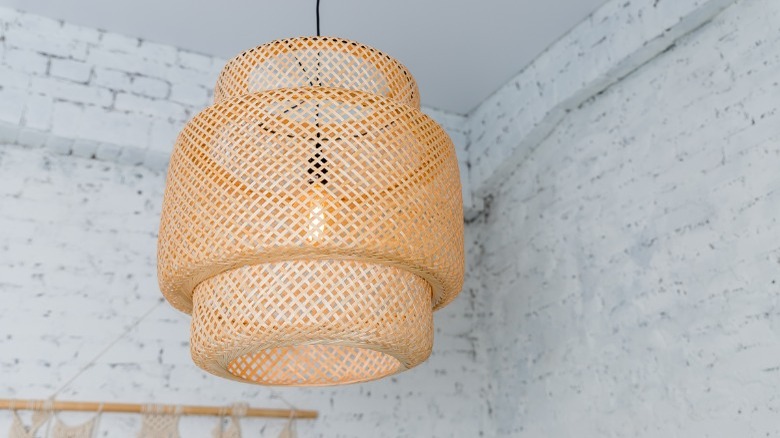 Undefined Undefined/Getty
If the environment is important to the purchases you make, lighting made from sustainable materials is available and trending in 2023. Rattan or wicker shades are especially popular and filter light through them to add a multifaceted appeal. These materials make perfect light covers because they spill out so much brightness compared to other lampshades. If you have a dark room or corner you need to brighten up, choose lighting with shades made from natural materials.
A room with lots of houseplants or other natural elements is an ideal location for lighting like this. Choose a wicker chandelier in a room where you have bamboo shades or wood shutters to give the space a bohemian vibe. Check out rattan pendant lights, as well as all the many kinds of hanging lights made of wicker and rattan or other sustainable materials. They are popular lighting choices in 2023 and are considered part of making more environmentally responsible choices moving forward.
Layer your lighting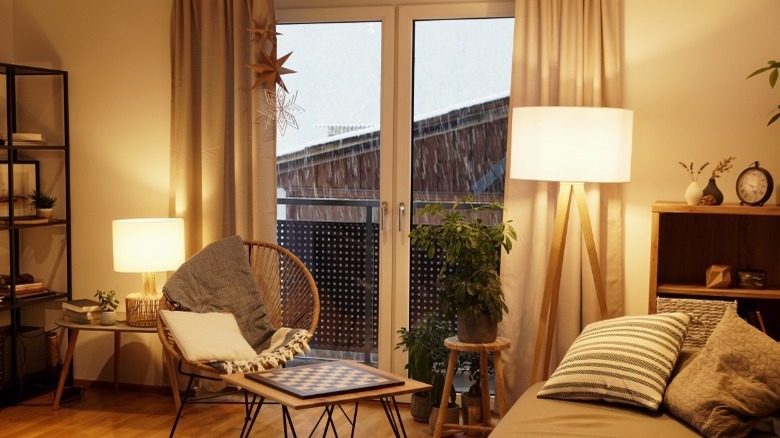 Tg23/Getty
Nearly everyone has used more than one type of lighting in a room before. But did you know that there's actually a way to style that? Layered lighting is a current trend that opens up a whole world of endless possibilities. By putting your love for atmosphere lighting and artistic design together, you can create the overall experience you're after. Layer your lighting like a pro to achieve the depth and balance the room needs. All you have to do is learn a few simple tricks involving ambient, accent, and task lighting.
Ambient light is the primary source of overall light in a room, usually whatever you have hooked up to the main light switch. In a living room, this might be a ceiling fixture. Then you have task lighting, such as a reading lamp next to a recliner. Accent lighting could involve some hidden LED lights around a prized antique display, or a spotlight on a piece of wall art or painting. Combining the three in an aesthetically pleasing way results in a harmonious and three-dimensional balance. Create an atmosphere of intrigue and delight by layering your lighting.
Mirrored brass and mixing metals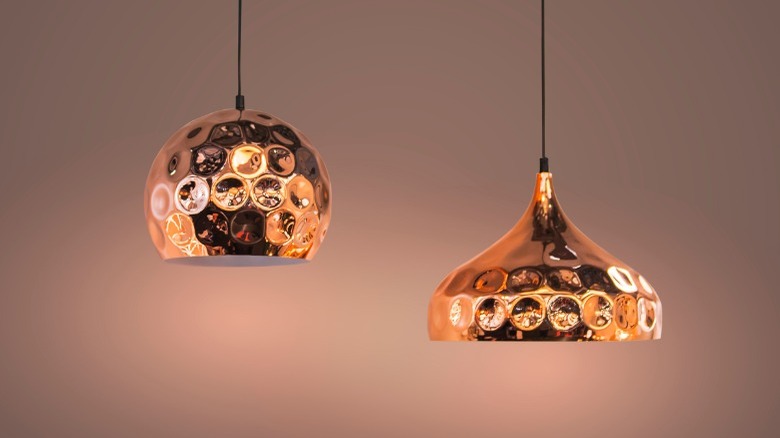 Olga Prava/Shutterstock
While mixing metal finishes used to be a definite no, in 2023 it's a design trend we're starting to love. It's not always the right choice, but if you have a love for metals and a knack for design, it can add just the right bit of character. There are actually a few specific metal finishes that are big this year. For example, mirrored brass is a terrific choice and works perfectly with a modern glam or art deco style decor.
Another trending metal finish is burnt steel, with a unique design that has a remarkable rainbow effect when the light heats up the shade. This look is great in industrial-style kitchens or in the dining room. Metal and marble floor lamps are another lighting trend we love, with an elegant and stylish look ideal for living rooms, family rooms, and bedrooms. Take your pick of one or all of these metal and mixed metal finishes in your next lighting update.
Large chandeliers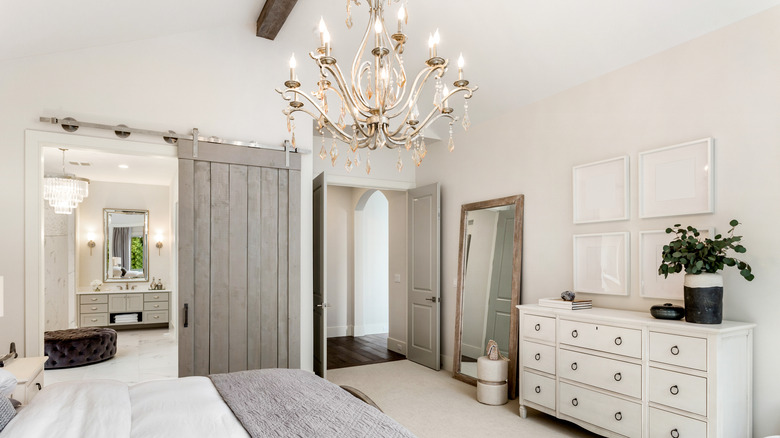 Justin_Krug/Shutterstock
Chandeliers of all styles remain popular in 2023, even large over-scaled versions. If you already love them and want a dramatic effect, try choosing a large chandelier as a focal piece in just the right spot. There are many different types of chandeliers to choose from no matter what style home you have. They save space and are beautiful and can add an elegant touch to any room. You can put a chandelier in nearly any room in the house. But it's easy to choose the wrong size, either too big or too small, and you don't want to make a design mistake like that. Lucky for you, we're here to help you figure that out!
The first step is to measure the length and width of the room you want to hang it in. Then add the two numbers together for the proper diameter in inches. For example, a 12' X 14' room ideally needs a chandelier 26" inches in diameter. For the height, measure the room from floor to ceiling and multiply by three. These two simple measurements will give you the approximate height and diameter (or width) of the appropriate size chandelier. If you're hanging the chandelier above a table, it should be hung approximately 30 inches from the bottom of one of the pendants to the surface of the table. Now all you have left is to find the perfect chandelier!
Sculpture or artistic lighting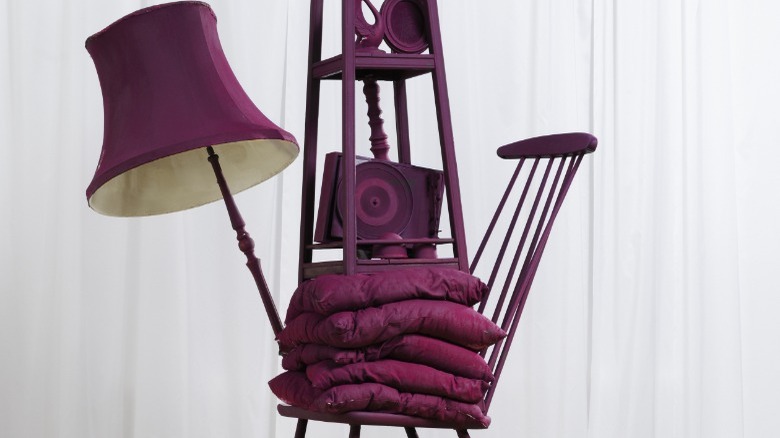 Justin Case/Getty
Sculpture lights or artistic forms of lighting are big this year, and it would seem the more unusual the better. If you love choosing exquisite pieces that express your personality, this is your time to shine! Distinctive, quirky styles are in. This can be accomplished with all types of lighting including lamps, chandeliers, hanging lights, and beyond. Luckily, there's no shortage of creativity in designs out there.
For example, kitchen lighting with an artistic flair is currently trending. Modern fixtures that are more like sculptures are being seen here more often, as well as dining rooms. What better way to have interesting dinner conversations, after all? One popular material is blown or smoked glass in one-of-a-kind or specialty designs. Combine art and lighting in one with a modern sculpture statement piece for illumination. Lighting up your home has never been so much fun, so go ahead and dare to be different!
Cordless floor lamps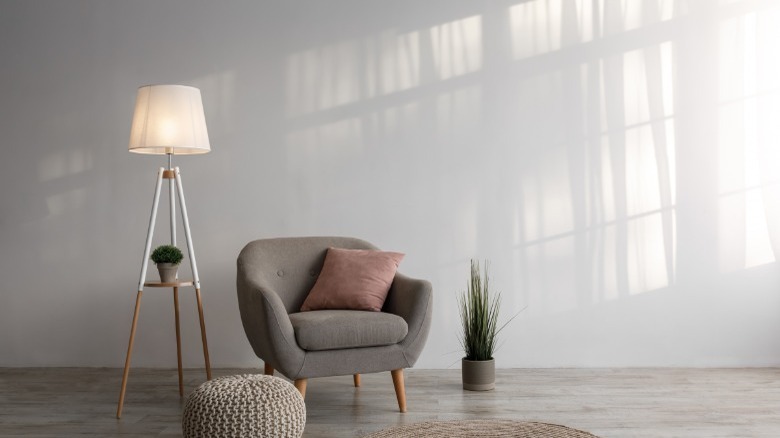 Prostock-studio/Shutterstock
Another popular style this year has been cordless floor lamps. Floor lamps in particular are fun to decorate with and can be so versatile and stylish. The cordless variety is no different, and is perfect for illuminating dark corners or for task lighting. Many of these styles are rechargeable and offer versatility and portability to boot. You can also opt for rechargeable light bulbs instead, which don't require electricity to power. They're a terrific way to brighten up areas without an outlet or just for more energy efficiency.
Standing lamps with a curve are a hit with homeowners, cordless or otherwise. Another idea is bringing table lamps into the kitchen, and with a cordless version, you won't have to worry about the cord getting in the way. Reading lamps are another popular cordless variety, and touch lamps are stylish. Whether you choose batteries or the rechargeable kind, it's incredibly handy to be able to move them around and change up a room's appearance on a whim.
Recessed LED and smart lighting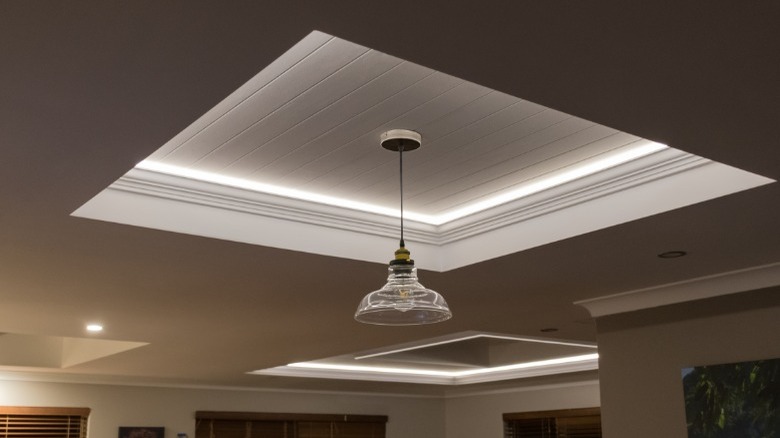 Ric Jacyno/Shutterstock
Recessed LED or track lights are still trending, not surprising due to their versatility and energy efficiency. Many people have already taken advantage of LEDs by switching over to LED bulbs around the house. Track lighting is also commonly used as either ambient or accent lighting in a layered lighting scheme. There are many different ways to use this contemporary and innovative lighting technology that enables you to replace ceiling fixtures in any room and keep the light source hidden. It can also be used as accent lighting such as in a display case or for wall art. There is a multitude of possibilities for LED recessed lighting in your home, and it's currently experiencing a surge in popularity.
Since we're talking about advancing technology, it's also important to mention smart lights. Trending in a big way, this option offers energy savings and modern technology in one. LED lights are often used together with smart technology, enabling people to operate them with an app on a smartphone. This option offers the ability to dim or brighten lights as well as adjust their colors to change the ambiance anytime. Designers are integrating this type of lighting in modern homes everywhere. 
Save space with wall sconces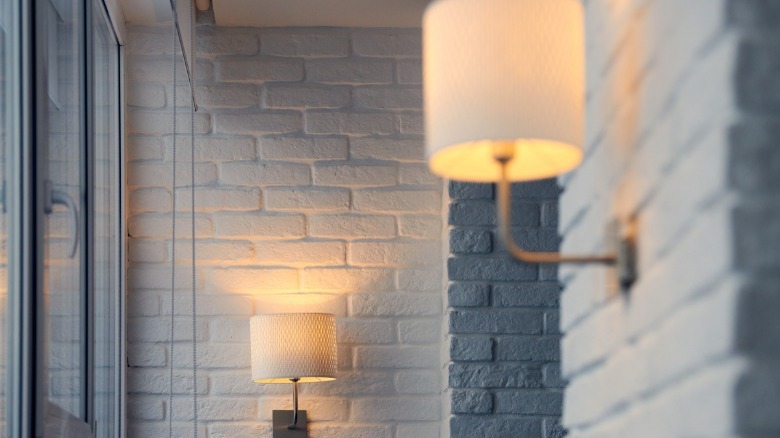 travelarium.ph/Shutterstock
Wall sconces are trending in 2023 and can provide task lighting without taking up any additional space. This choice offers versatility with the ideal task or accent lighting for any room. Wall sconces can be used in place of pendant lights, and many people love the difference in ambiance they provide. They can also be used in layered lighting techniques and can add an element of romantic charm to the space with Victorian and Colonial styles. 
Sconces are traditionally used in hallways and bedrooms, but they're also perfect for living rooms, family rooms, home offices, and libraries. Wall sconces look particularly ideal in pairs, like on either side of the bed for task lighting. Or perhaps flanking a piece of wall art for accent lighting. Plus, many modern sconces have flexible heads so they can be moved for adjustable illumination. They can also work in place of table lamps without taking up the same space. It may be time to consider wall sconces as a way to give your room a whole new atmospheric feel.
Use downlights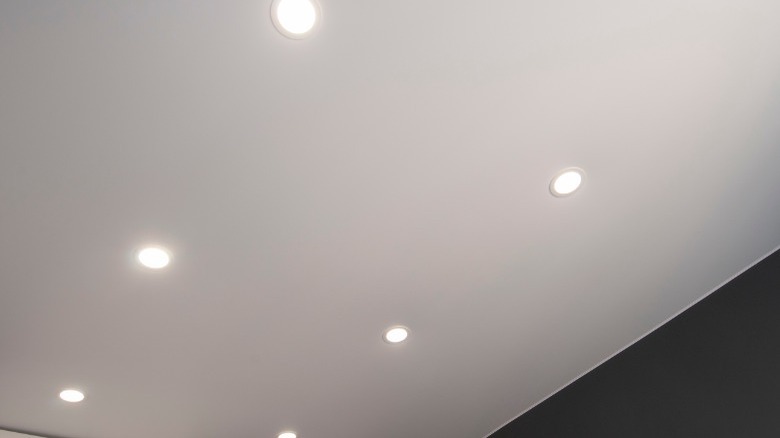 Mare_di_mare/Shutterstock
A form of recessed lighting, downlights can help spotlight architectural features and are on trend in 2023. If you aren't exactly sure what downlights are, they are recessed spotlights illuminating downward that use LED lights. Some people use them in rooms with strategic placement for ambient light. It's a modern lighting design trend gaining popularity fast. If you're interested in downlights, you might want to know how many to use for your space.
The first step is to measure the square footage of the room, then multiply it by 1.5. This gives you the number representative of the wattage needed to light the room. Then you choose the bulb with the wattage you desire and divide that into the total. This gives you the number of downlights needed for the space to achieve adequate ambient light. Of course, you can also just use them as accent lighting for a particular purpose. Whatever your project, downlights are something to consider this year.
Earthy light fixtures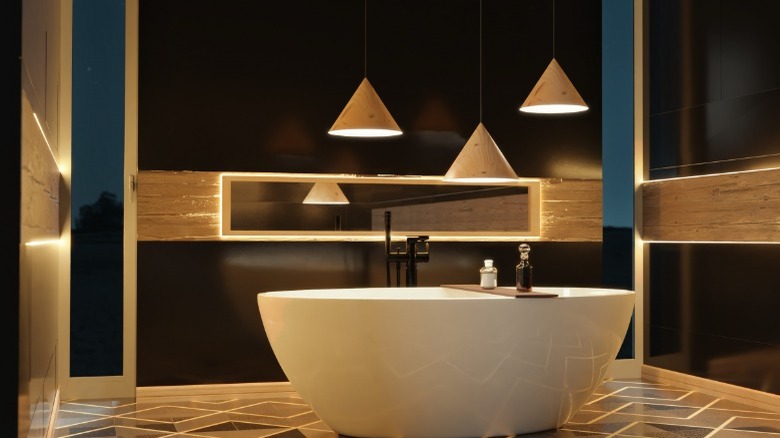 Brillianteye/Getty
Clay and other earthy materials are stylish fixtures to consider. One of these is plaster lighting for its versatility in design. They're made from sustainable materials and are a chalk-white color that goes with nearly any design. Other materials like clay can also provide the same environmentally friendly results many people are after in 2023. If you prefer a bohemian vibe, these types of fixtures will fit right in. And, if a clean, linear design is more your style, they're perfect for these spaces as well.
The fact is, sustainable materials in lighting are one of the biggest trends for this year. Natural looks and styles are more popular than ever. Whatever type of lighting you choose, keep in mind it sets the mood for the entire room. Being able to dim the brightness and playing with color can also change the vibe considerably. 2023 seems to be representative of bigger, brighter design schemes and daring to be bold and different. So take the bull by the horns and embrace what you love best!