Here's What Kind Of Merchandise Is Really Sold At Pottery Barn Outlet
Dee Dalasio/Shutterstock
Pottery Barn is known for its high-end, minimalistic style, along with popular aesthetics like contemporary chic and traditional farmhouse. While the home decor brand's designs are trendy and well-loved by customers, affording the store's lofty prices may be out of the question for home decor enthusiasts on a budget. Is it possible for homemakers to stock up on Pottery Barn exclusives without paying full price? It is — thanks to the existence of Pottery Barn Outlet. Here consumers can find an array of out-of-season sale items and returns originally sourced from Pottery Barn stores.
The brand's chain of outlets sells merchandise from the original stores at regularly-discounted prices, including furniture, decor pieces, and linens. These items can be purchased anywhere from 30-70% of the original cost. However, a trip to a Pottery Barn Outlet might be inconvenient for many homeowners, as there are only 19 locations nationwide. But, if there's a Pottery Barn Outlet close to where you live, here's a breakdown of the type of merchandise you can expect to find.
Returned items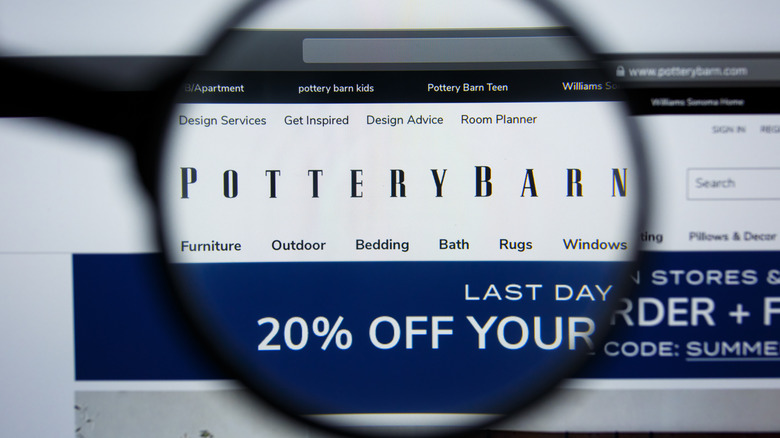 II.studio/Shutterstock
If you've ever returned a Pottery Barn product after ordering it online or purchasing it in-store, there's a strong chance that it was shipped to an outlet location. Customers bring their orders back for a multitude of reasons — broken pieces, wrong size, a sudden change of heart when decorating. As a result, the company began an initiative in 2020 to refurbish returned items as a way to practice sustainability while cutting back on wasteful textile production. Pottery Barn typically allows customers to return an item within 30 days of purchasing it.
Upon receiving the returned merchandise, Pottery Barn cleans and repairs the products, before making them available to the general public once again for purchase. Customers can then peruse the hundreds of available return items listed under the website's Open Box Deals page, or check their local outlet store for new arrivals. However, it's important to note that merchandise purchased at Pottery Barn Outlet cannot be brought back in exchange for money or other items, as the brand upholds a final sale policy over its 19 outlet locations.
Out-of-season merchandise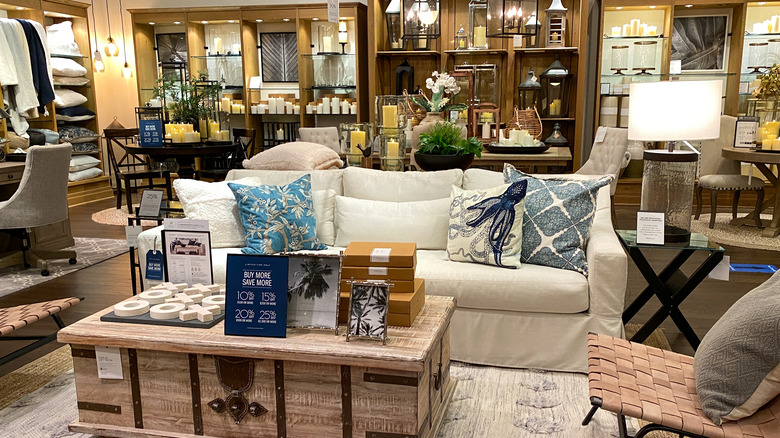 Joni Hanebutt/Shutterstock
Out-of-season merchandise also finds its way to the Pottery Barn Outlet stores. Pottery Barn employees typically clear old items lining the shelves of its regular stores in preparation for the next holiday or season. While regular Pottery Barn stores hold onto a small selection of holiday merchandise to appease post-holiday shoppers, much of it is transported to outlet stores, where it is then sold at a hefty discount.
The brand also tends to schedule its largest sales of the year after major holidays, like Labor Day or Christmas, or amid seasonal transitions, like summer to fall. In fact, Pottery Barn Outlet has slashed the prices of their entire in-store stock by 50% in previous years for certain holidays and seasons. Customers can get a head start on sales by subscribing to Pottery Barn Outlet's email list where they can receive details about official promotions and information regarding upcoming discounts on selected merchandise.