Galey Alix From HGTV's Home In A Heartbeat On How To Mix Metal Finishes Like A Pro - Exclusive
Galey Alix's entrance into interior design was more of a twist of fate than a planned career move. She works full time as a Wall Street executive but posted videos on social media of herself renovating the home she planned to share with a former fiancé. "The videos were less about the design or showing it off and more about trying to have fun, editing fun clips and cool transitions and things," Galey Alix explains in an exclusive interview with House Digest. She took a break from social media, and upon her return, found that the videos had gone viral. Many people asked if she could transform their homes, and she ended up spending her weekends doing total renovations in less than 72 hours.
But how she got her start in design isn't the only unconventional thing about her. She believes that not staying up to date on the ever-changing home trends allows her to provide an authentic Galey Alix design. "I fear that if I watch other designers or look at magazines or follow their accounts, I fear that I'll subconsciously steal their ideas. Then it won't be an authentic, custom Galey Alix design when I create something, because I've seen it now and I might pull from it without realizing it," she says. Many of the spaces she's been creating on HGTV's "Home in a Heartbeat" have featured mixed metal finishes, and she has an easy tip for mixing finishes like a pro.
Mixing metals creates a customized home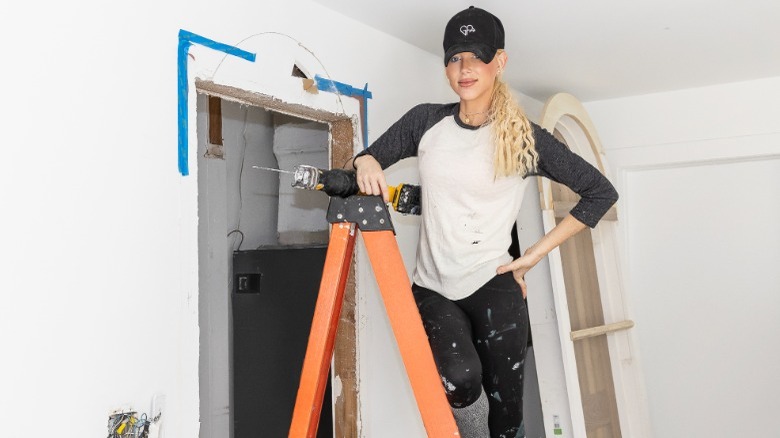 HGTV
When designing and decorating a space, many people tend to stick to one finish. Galey Alix explains, "Traditionally, people think, 'Okay, if all the hardware in your kitchen is bronze, then everything needs to be bronze,' from the sconces to the fridge handles to the door pulls. But if you can mix metals in a sophisticated way, you create a very custom-feeling space." 
While having the same metal finishes allows everything to match, it can make a room feel a little standard. But mixing metals feels well-thought-out and customized, rather than everything being chosen in a set. "I'm all about mixing metals and taking some risks there, because too many people find one metal and do it in the entire house, and it doesn't feel very custom," she says.
Galey's solution? A sister piece. "I'll mix brass and bronze all throughout a room ... as long as each piece has a sister piece," she explains. "What I mean by that is if you have a bronze sconce and a bronze door pull, but you want to introduce brass — you can make the faucet on the sink brass, but you have to have a sister piece to tie it in. Maybe I'll have a brass candle sitting on the island. As long as there's at least one other piece that can tie in and you have a sister piece, then you can mix metals and nothing feels out of place."
"Home in a Heartbeat" airs on HGTV on Wednesdays at 9 p.m. ET/PT and is available to stream the same day on discovery+.