What You Need To Build A Garden Arbor That Doesn't Break The Bank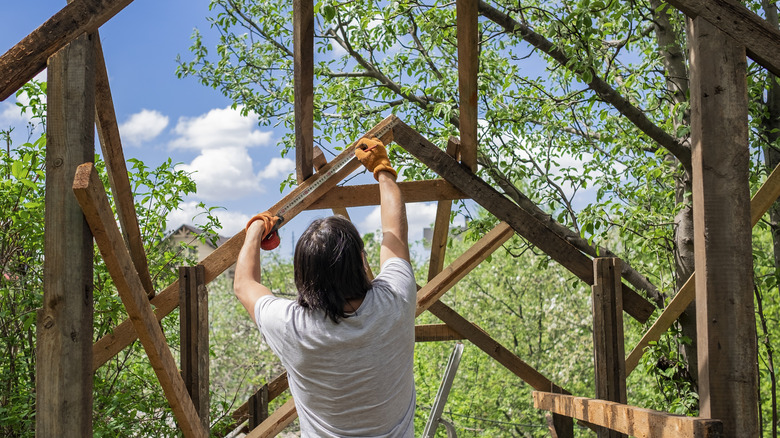 Taniche/Getty Images
A garden arbor can be an attractive feature that defines the space in your garden and provides structure for climbing plants such as roses, clematis vines, or grapevines. You can buy ready-made arbors (usually made of wood, metal, or plastic), or you can hire someone to build one for you. But with some effort and creativity, you can save a lot of money by building your own. The possibilities are nearly endless in terms of what materials can be used to create an arbor for your garden. The first thing to do is to determine what kind of look you want. Rustic? Classic? Modern? Your aesthetic preferences can help guide your decisions.
Arbor is a term sometimes used interchangeably with arch, trellis, pergola, or gazebo, though these structures are all slightly different. The word is believed to derive from the Latin word for "tree," and arbors are often used to support fruit trees. Like trees, arbors can be useful structures to provide shade when they are covered with vines and climbing plants. It can be small, like an archway that supports a climbing rose, or large, like the size of a seating area or small patio. The size of your finished structure and the type of materials you use will determine the amount of money you'll need to spend.
If you're handy with tools and have basic carpentry skills, you can try building an arbor using standard lumber. Or, you may prefer to create a structure using salvaged materials.
Best materials for making an arbor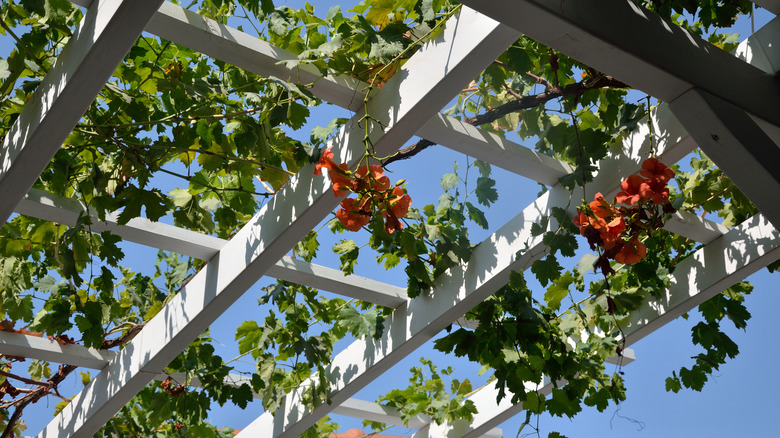 Banepx/Getty Images
To make an arbor that can support plants with strong vines like grapevines, climbing hydrangea, or wisteria, you will want a sturdy structure, and that means support beams. These need deep holes and possibly concrete to keep them in place over the long term. But if you don't wish to use concrete, you can secure the support beams with gravel or filling in with dirt. If you're handy with woodworking tools, building an arbor from purchased wood is fairly straightforward. 
For a square arbor, you'll need, at a minimum, four support beams, some two-by-fours or two-by-sixes for framing, and some lattice work for tops and or/wides. Wood costs vary depending on type and availability, but you should try to get something that is moisture-resistant. Treated pine is fairly inexpensive, whereas cedar or teak are considerably more expensive. To save costs, you can purchase lumber for the framing and attach inexpensive lattice materials for the sides or top. Willow or bamboo fencing is suitable for lighter-weight plants: think climbing roses or clematis. When tacked or stapled to a wood frame, this type of material is a good option and can be easily removed and replaced as needed. 
You can also use metal, plastic, or vinyl lattice materials. Metal is sturdy but can be costly. For the greatest durability and lowest cost, vinyl lattice is longer lasting than wood.
Creating an arbor with salvaged materials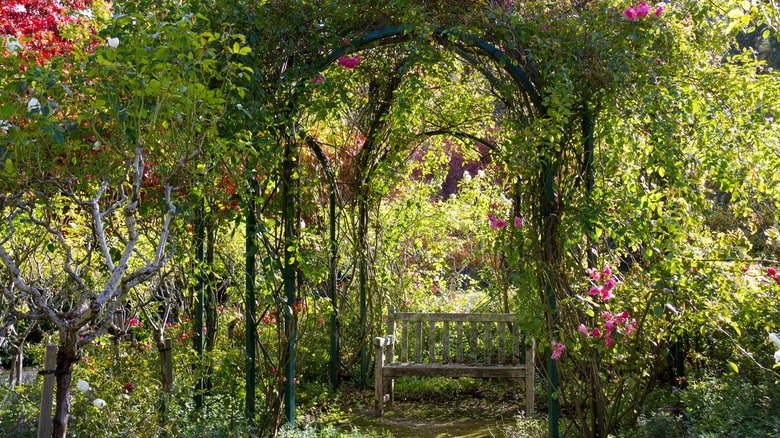 Gayle Knight/Shutterstock
Using salvaged materials is one of the best ways to save money building an arbor or other garden structure. Have a look around and see what materials you might already have that can be repurposed. Maybe you can find some materials for free or cheap in your community. Check social media for mutual aid or gardener groups, and be sure to ask around. Maybe a neighbor is replacing their old wooden fence and discarding the wood. You can also find perfectly good materials in the trash that can be repurposed, like old wooden ladders, metal bedframes, wooden pallets, and any number of items. You can attach salvaged materials to wood posts or install them in the ground to create support structures.
For thin but densely-growing vines that will cover an arbor completely, such as clematis or sweet peas, consider using chicken wire or other wire to create a trellis. This will definitely hold vines in place and can cost a lot less than using wood for the sides or top of your arbor. Old wooden window frames or wooden screen doors can make a charming repurposed trellis also, as can old pieces of wooden fencing, picture frames, or even old furniture made of wood, wicker, or rattan. You can also use tree limbs and twist or tie them together. Part of the fun of using salvaged materials is that you're only limited by your imagination, not your budget!