The Color Inspiration Erin Napier Drew From Downton Abbey's Charming Kitchen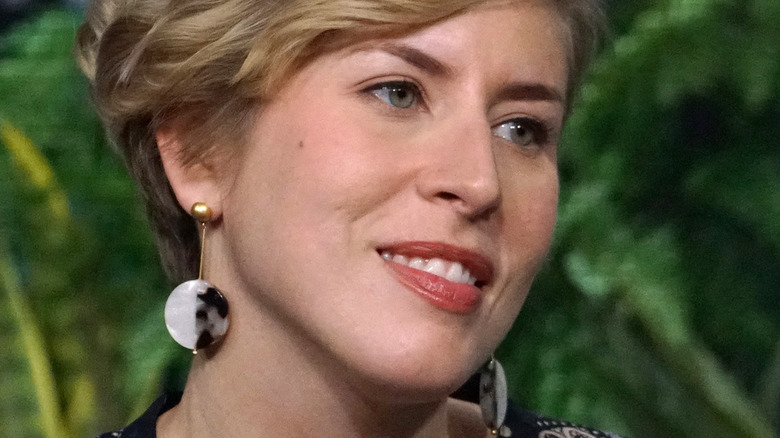 Manny Carabel/Getty Images
HGTV's Erin Napier is an expert at giving all things old a second life by reimagining them in a way that feels fresh while still remaining authentic. As lovers of historic homes, in particular, Erin and her woodworker husband, Ben, work to renovate and restore old homes in their Mississippi small town as featured on the hit show "Home Town" — and on the road with the spinoff series "Home Town Takeover." In addition to designing for others, Erin has also been busy revamping her own historical home — a charming 1930s brick Tudor that she and Ben bought and have been renovating.
In between designing her own home, operating a business with her husband in their hometown, parenting two children, and filming for HGTV, Erin still somehow has enough time to squeeze in binge-watching "Downton Abbey." In fact, she says the show's kitchen was the inspiration behind the color chosen for the kitchen in her own Tudor-style home.
Southern comfort meets Downton Abbey
Though the Napier home is in the Mississippi countryside, you'd never be able to guess the location just by looking at the exterior of the Tudor-style house. "One reason we had to get this house was its very British look," explained Erin Napier in an interview with Southern Living. "It feels as though you've crossed the ocean and you're not in Mississippi anymore. It's like a vacation for us."
Napier's love of the home's Tudor style prompted her to take inspiration from the period drama "Downton Abbey" and use it to play up that style in the kitchen, in particular. In a recent Instagram post, Napier shared snapshots of some of her favorite parts of the house, making sure to mention the swoon-worthy, English-inspired kitchen first — specifically, the color. "I was so inspired by Ms. Patmore's kitchen from 'Downton Abbey' and tried to match that buttery worn golden cream color of the cabinets," she wrote in the caption.
Amid a flood of follow-up questions, Napier shared in the comments that the exact color she used for her "Downton Abbey" kitchen was Sherwin Williams' Netsuke. Speaking more on the kitchen with Southern Living, Napier said, "The kitchen is all new, but I wanted it to feel like it was 1930. I wanted it to be like the downstairs from 'Downton Abbey' — a classic and casual English style that's utilitarian but kind of elegant."