How To Use Tile To Elevate Your Above-Ground Pool Oasis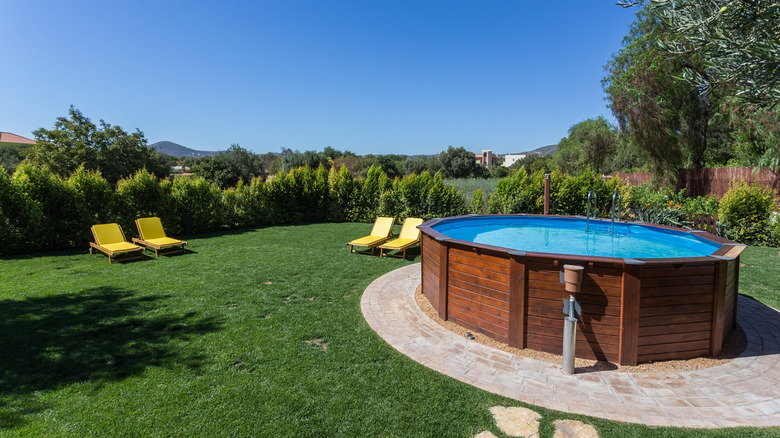 Serhiy Stakhnyk/Shutterstock
In terms of cooling off, above-ground pools are an economical solution to beating the summer heat, but they don't necessarily look that great from the outside. That's where tile comes in handy since it can be utilized both in and outside your new outdoor oasis. Tile can create a calming, sophisticated backyard space instead of a yard full of screaming children that seems reminiscent of the chaos of a water park on the first day of summer. While decorating the inside or disguising the outside of your pool can help tie everything together, it's also important to consider adding other elements to the surrounding area that bring you joy and boost the overall aesthetic.
When choosing the type of tile you'd like to beautify your swimming hole; you'll want to figure out what material you'll use and how. Considering the location is important because too much sun can impact whatever tile you install. Lastly, when you imagine your perfectly coiffed pool, what additions do you see yourself enjoying? A lounge area with a pathway lined with flowers and a portable fire pit? It's your pool, so dream big.
Tile can transform your pool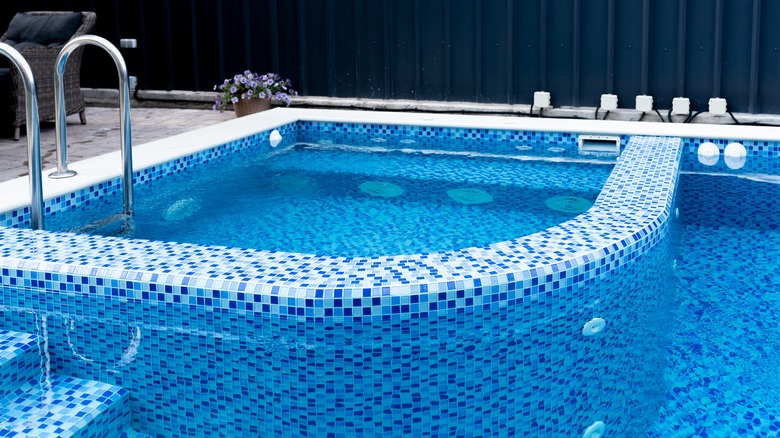 Ivan Gran/Shutterstock
Not all tile is created equal; your chosen type will depend on where and how you use it. While porcelain, ceramic, glass, and stone are suitable options for beautifying your above-ground pool, their durability is considered the best for lining the inside. Stone tile can surround the outside of your pool, giving it a rustic and natural appearance, while glass comes in many different colors, shapes, and patterns and can add more artistic visual appeal.
Color also plays a large role in making your pool more inviting. Updating an otherwise dismal fiberglass or cement exterior with a colorful mosaic tile makes your above-ground pool the yard's focus. It can also be a good conversation piece. On the opposite side of the spectrum, incorporating dark or black tile inside your pool might make it a little murky and foreboding. But adding it to a platform around your pool can give it a sophisticated and modern appearance. Remember that if you're laying a tile foundation around your above-ground pool, dark colors paired with the sun's hot rays have the potential to cook your toesies.
Boost the outdoor aesthetic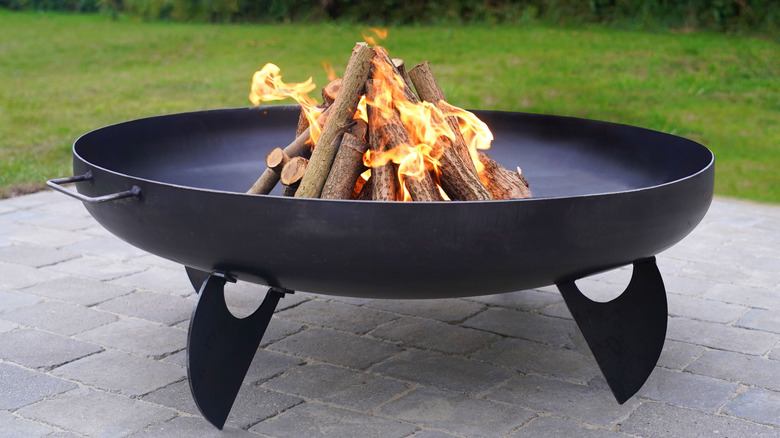 Hayati Kayhan/Shutterstock
No pool is complete without its little lounge section. It doesn't have to be anything extravagant, either. Converting part of your grassy backyard into a tiled space for entertaining means less greenery to maintain and fewer bugs to repel. Little additions like properly installed outdoor tiled flooring, unique pool decks, and even a cute fire pit all boost your home's resale value. Plus, who doesn't want to hang out by the fire after quickly dipping in the pool?
Creating an outdoor sanctuary means something different to everyone. But making it your own by adding loungers, a hanging umbrella for shade, an outdoor pergola shower, or even a fire surrounded by Adirondack chairs makes or breaks a backyard hangout space. Taking these steps will make your above-ground pool look professionally put together and inviting. If the surrounding area looks welcoming and has ample places to hang out, you can expect it will get more use, which also pays off in personal satisfaction.