The Chic Sofa Trend Chrissy Teigen Has Fully Embraced (And HGTV's Breegan Jane Approves)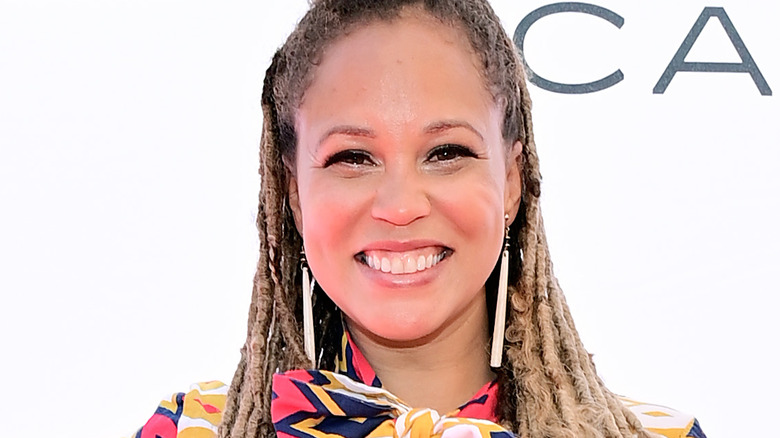 Stefanie Keenan/Getty Images
We may receive a commission on purchases made from links.
If you follow celebrity Chrissy Teigen on social media, you may have seen her plush, curved sofa in some of her posts. This piece of furniture has a wooden bottom and is covered in a textured, nubby upholstery called "bouclé." Comprised of many small loops, this woven fabric looks like it's covered in lots of tiny balls of threads. Traditionally made from heavy materials like wool, modern bouclé fabrics are now manufactured out of many different materials, such as linen, silk, and cotton.
While these sofas are extremely popular among regular homeowners and celebrities alike, they're also loved by many interior designers, including HGTV star Breegan Jane. When talking about Teigen's couch with Homes & Gardens, Jane says, "I think the kidney bean shape and organic edges are really big, and I'm here for it." She continues, "I [am] seeing softer and rounded shapes in our home design, and I really like it. It's less of a harsh edge — and it's nicer to the eye."
Why are curved bouclé sofas so popular?
According to Breegan Jane, these sofas are all the rage not only because they're pleasant to look at but also because of their connotations with nature. "It ... lends itself to more organic shapes we see in nature — there's no hard right corner on the beach or in the mountains; everything is kind of flowing into the next... It's a nice nod to a stone or a pebble you might pick up on your walk around the block" (via Homes & Gardens). Further, because bouclé has a lot of texture, it's more visually interesting than a smooth fabric like linen.
Another huge benefit of a sofa in this material is that the fabric is pretty durable. While it could get stained by a spill, it shouldn't ever fade, shed, or get matted, which could happen to other similar fabrics like sherpa. In fact, HGTV star Emily Henderson used to hate bouclé, saying that it looked dated and didn't have any significant benefits. Now, however, she says, "I'm finding myself extremely attracted to this nubby, textural fabric and I'm considering it for our next sofa because it looks pretty cozy and supposedly decently durable," per Style By Emily Henderson.
Where to find a sofa like Chrissy Teigens
Chrissy Teigen's sofa is quite unique, as it has a kidney bean shape, a wooden bottom, and a soft bouclé top. However, there are plenty of couches that have similar rounded edges and are also covered in a cream bouclé fabric. For instance, at Castlery, you could purchase a sofa for about $1,800 with armrests and legs that are all covered in the textured fabric. Another option is CB2's couch, which has the added detail of plush tufting, and this one currently costs around $2,000. 
If you're new to this trend, you could dip your toe in the water with just an armchair, such as one from CB2 that currently costs about $700. With curved sides and an extra sleek design, this piece will add a comfortable feel to your home. Or, if you're really concerned about stains, look for a bouclé chair in a darker color like black. One by Meridian Furniture is sold on Amazon for about $290 and has an ultra-modern appearance.