What Is A Monumental Coffee Table And How To Incorporate It Into Your Living Room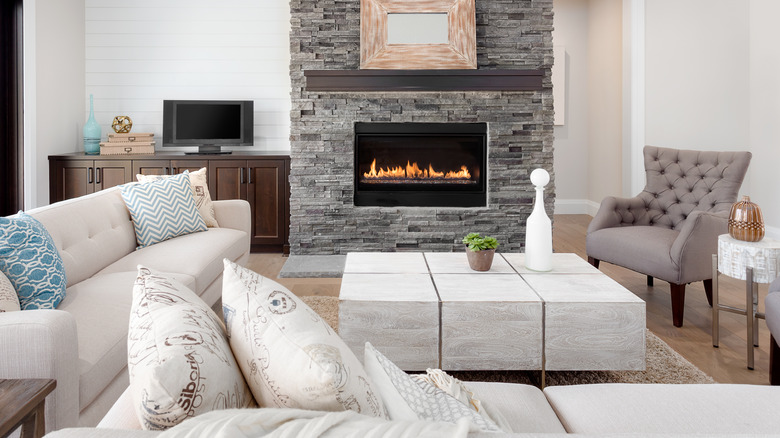 Hikesterson/Getty Images
When choosing the right coffee table for your living room, you'll need to decide upon the right size. Most designers will tell you that this piece of furniture should be around ⅔ the length of your sofa and never less than ½ the length. However, if your room can accommodate a larger size than normal, you may want to decide upon a monumental, or an oversized, coffee table. Before purchasing, make sure it will fit in the space without covering any walkways or causing you to bruise your shins by either measuring the area or laying down painter's tape. 
To incorporate this piece into your living room, you'll need to purchase other oversized furniture pieces as well, so it doesn't look out of place. Your couch, chairs, side tables, plants, and even throw pillows should be slightly larger than average. The most important piece is your area rug, as it needs to be able to accommodate the coffee table comfortably without appearing too small. Additionally, to make the piece of furniture look purposeful, decorate it properly with large enough decorations, so they don't get lost in the design. 
Benefits of a monumental coffee table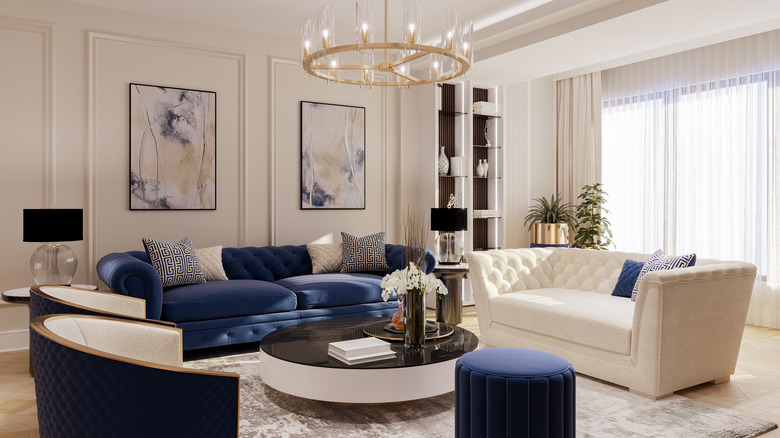 Vlajs/Getty Images
The first benefit of an oversized coffee table is that it will look better than a smaller one when styled with a large couch and chairs. The monumental piece will ground the seating area and make the rest of the furniture appear as if it belongs. Further, those with a spacious room may benefit from a larger coffee table, as it will make it feel less empty. And, if your home has vaulted ceilings, it will create a cozier and more intimate atmosphere by filling more of the room.
Practically, a monumental coffee table also has more surface area for things like magazines, TV remotes, and beverages. It could be extremely beneficial for those who like to entertain or those who have a large family, as there will be enough room for everyone to place down their drinks and snacks or to put their feet up. A larger piece may also have more storage space as well, as some types have an area where you could keep bins and baskets or rolled-up blankets.
Different types of monumental coffee tables
Just like with average-sized coffee tables, there are plenty of styles, colors, materials, and shapes of monumental types on the market. When choosing the right shape, the main consideration should be your couch. Those with a wraparound sofa may want to choose a square option or a rounded type. Further, if you're worried about hitting your shins on the coffee table, choose an upholstered or leather ottoman instead and place a tray on top to hold decorations and beverages. These typically have a top that can open up for storage, like this one from Pottery Barn.
However, if you have a regular sofa, a rectangular or oval coffee table may make the most sense, as it will mimic the length of your sofa. Or, if you fall in love with a smaller coffee table, you could choose to add two identical or similar pieces next to one another, which would have the same effect as a single, monumental one. This is sometimes done with two tables of varying heights, so one can be slightly tucked underneath the other, which is how two pieces are displayed on West Elm.