The Magnetic Bar Soap Hack That Keeps Your Bathroom Sink Mess-Free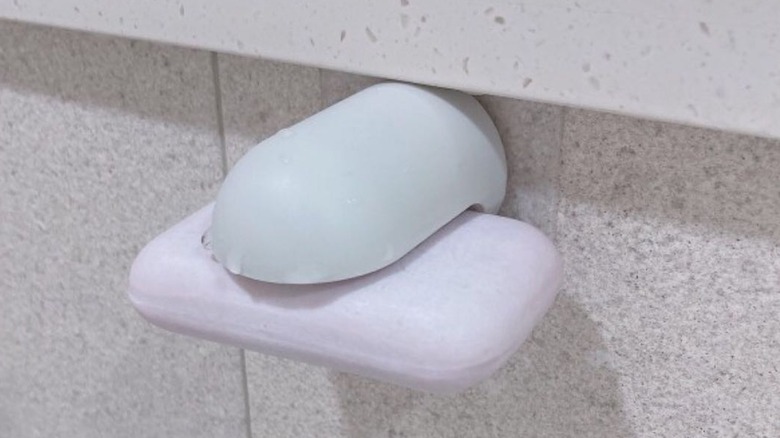 All for you friend/Shutterstock
We may receive a commission on purchases made from links.
How many times have you gone to wash your hands and glanced down to see gross residue forming on the countertop of your bathroom vanity? This is caused by a mixture of soap, mineral buildup, and bodily debris. What's worse, this mixture attracts mold and mildew, and who wants to freshen up in a bathroom full of sludge? Australian-based company Moss and Pear has a solution. In a recent TikTok post, the brand showcases a magnetic soap holder that has undoubtedly left many homeowners asking, "Why didn't I think of that?"
The video shows someone sticking an adhesive-backed contraption to the wall above a bathroom sink. They then press a bottle cap into a bar of soap and attach it to the magnet on the holder. Voila, a mess-free sink! Some users chimed in on this clever hack in the comment section. "Old trick; my grandparents used to have this device in their bathroom," wrote one user. "I love this idea," said another. 
Need a magnetic soap holder? You've got options.
Moss and Pear's design is pretty sleek, but the idea is far from novel. As such, you can find a magnetic soap holder in nearly any material and style that you desire. For instance, if saving space in your small bathroom or kitchen is a priority, this low-profile soap holder two-pack is a convenient option that features a modern stainless steel finish that may go well with your kitchen appliances. Or, for those who value simplicity, this nondescript white soap holder would look great in a minimalist bathroom where function and style go hand in hand.
When looking to incorporate a natural element that will enhance the rest of your room, a wood or bamboo magnetic soap holder is a great option for bringing the outdoors in. The lighter tone of bamboo complements darker wood tones well and may provide a nice contrast for bathrooms with bold paint colors. Finally, this curvy stainless steel design would look exceptional in an industrial or modern-style bathroom with mixed metal finishes. Black stainless steel looks especially striking when paired with chrome shower fixtures and faucets. 
Make your own magnetic soap bar holder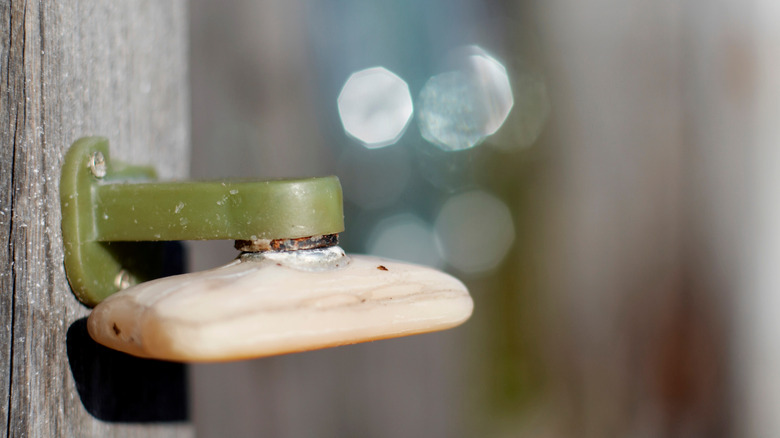 Victor Sea/Shutterstock
If you're a craftsperson who passed your woodshop class with flying colors, you'll be happy to know that you can customize your own DIY soap holder. All you need are the following tools: a metal saw, a 3-millimeter drill bit, a center punch, files, strong adhesive, sandpaper, a hammer, and a small nail. First, position your bar of soap on the sink at the exact distance you want to hang it from the wall. Next, measure from the wall to the middle of your bar and add 1 centimeter for wiggle room. You can then use the brass sheet to track your length; from there, you will create your blueprint. Once you've laid out where your pieces will go, cut the sheet, screw your holes, fit the magnet, and begin sanding for a sleek finish.
Also, consider the less hands-on kit from Green Picks, which doesn't require drilling but offers some nice options in terms of customization. After hammering the magnet into the pre-drilled hole, stick the adhesive to the holder. The company also recommends oiling the wood to prevent moisture damage. For even less fuss, a couple of beer or soda caps can be used to raise soap off your bathroom countertop.