How To Give Your Home That Hamptons Look With Ornate Ginger Jars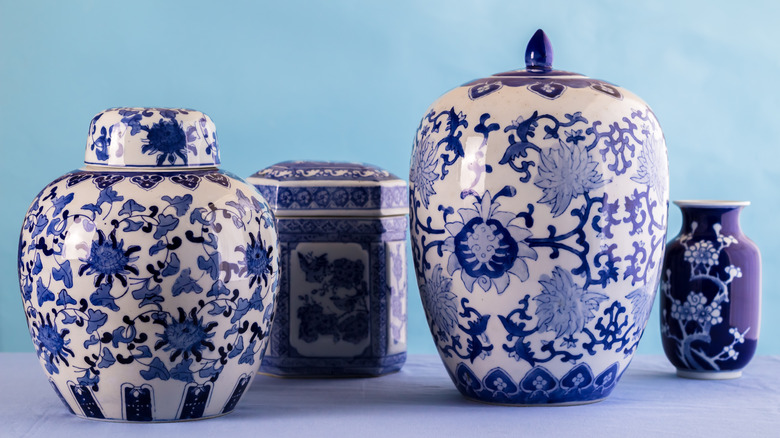 WichitS/Shutterstock
While it originated on Long Island, New York, the Hamptons style is now used in homes all around the United States and even the world. This type of interior design is characterized by feeling coastal but never cheesy. Instead, it has a refined look that perfectly mixes comfort and luxury. One of the staples of this style is ornate ginger jars, which originated in China and were traditionally blue and white. These decorative pieces with unique shapes and lids can be used to bring character and color to your home. 
The most popular way to decorate with ginger jars is by styling them in a vignette on a coffee table, entryway table, or bookcase. A huge benefit of these jars is that they will add height to your arrangement, so it appears more varied. Further, many collect these items and display them together in groups of two or more. If you want to ground them in the space, place them on a tray; woven trays may be best, as they'll emphasize the Hampton style of your residence. 
Unique ways to decorate with ginger jars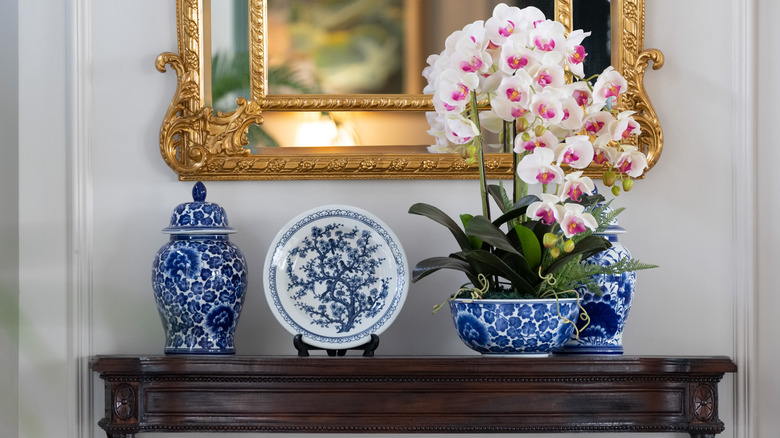 Toscawhi/Getty Images
There are also a number of other ways to use ginger jars around your home to make your Hamptons design more unexpected. Some homeowners use them as vases by arranging either real or faux greenery and florals inside, and hydrangeas in either blue or white look especially chic. Then, place the lid next to the vase, as an extra decorative element. When using the jar as a vase, create a large centerpiece by placing it in the middle of your dining room table or kitchen island.
Another unique way to display ginger jars is by placing two identical ones next to one another, which will add a symmetrical look to your space. You could also place them on either side of something like the sink or the stove in the kitchen. If you want to make them more useful, use them as bookends on a bookshelf. Other items to display with them include candles, plants, decorative objects, woven baskets, frames, or seaside-inspired elements like driftwood. 
Where to buy ginger jars
Ginger jars used to be utilized for storing and transporting spices in China, some styles dating back to the 1300s. These authentic, collectible items have been found at places like yard sales and thrift stores. However, to make sure that your finds are actually antiques and not modern replicas, you'll need to look for a couple of things. The first is any signs of aging, such as fading or an imperfect glaze, as one that looks too perfect was probably made more recently. Second, every authentic piece has a reign mark of four to six Chinese characters that tell which emperor was reigning when it was made and can typically be found at the base of the piece.
However, if you don't care about authenticity and just want to add a Hamptons feel to your home, there are plenty of modern pieces on the market as well. For instance, you could buy one at Pottery Barn with a floral design for about $50. If you want pieces that are really inexpensive, Walmart sells a pack of two identical jars for under $50, which would be ideal for someone who wants to create a symmetrical display.