Here's Why Nate Berkus Loves A Forest Wallpaper In The Bedroom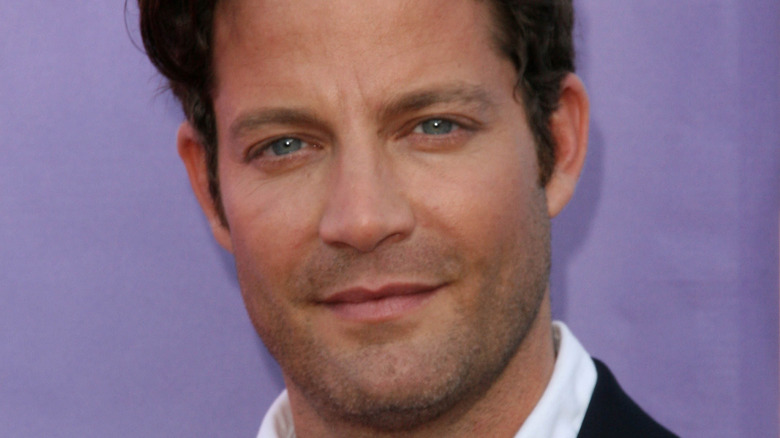 s_bukley/Shutterstock
When Nate Berkus and his husband, Jeremiah Brent, aren't renovating for clients on hit shows like "Nate and Jeremiah: Save My House" and "The Nate and Jeremiah Home Project," they're tackling projects in their own homes. The couple has lived in Los Angeles, New York City, and Montauk, New York. And in an interview with Architectural Digest, they show off the Greenwich Village home they used to live in from 2013 to 2016 and recently moved back into after relocating from the West Coast. The home features charming traditional features with a few modern updates, including forest-printed wallpaper in the main bedroom.
While wallpaper has had a surge in popularity in recent years, traditional floral prints and modern graphic lines have been the go-to. Moody, mural-like prints aren't always a first choice. But Nate Berkus explains why he and Brent chose a wallpaper that envelops their room in the trees.
Personal retreat
Living in the city has plenty of benefits, close proximity to your favorite shops, restaurants, and entertainment being one. But the hustle and bustle of the city don't always do much to promote a feeling of calm. That was important for Berkus and Brent when creating their bedroom. "To live in the city and open your eyes first thing in the morning and be in, sort of, this moody, cool forest feels really right," Berkus explains in the Architectural Digest video. Nature has long been a source of inspiration and a way to bring calm into a space, so it makes sense to recreate that environment in the middle of the city.
Brent further explains that the wallpaper would read traditional to most people, but the pair added modern furnishings to make the space align more with their style. A contemporary chandelier and sleek furniture juxtapose the otherwise traditional interior. The couple also notes a major change when they renovated their former-turned-current home is more inclusion of color. While the interior remains muted, the forest wallpaper adds toned-down shades of green that bring the bedroom to life.