These Are The Best Dining Room Table Colors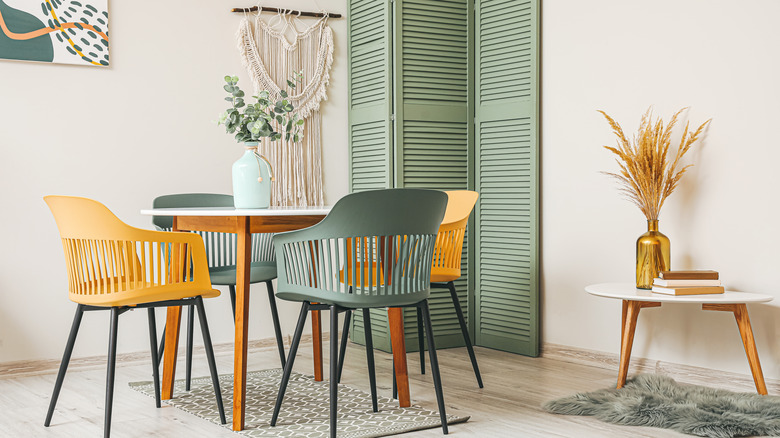 Pixel-Shot/Shutterstock
Sprucing up your kitchen cabinets with paint can give your kitchen a new look and feel. But what about the dining room? While it may be true that the dining room is not used as often for eating as it was 20 years ago, it's still a central hub for dining and hospitality. Also, many households have a table in the kitchen where they eat meals regularly. If you have an open floor plan, changing up the color of your dining area might make mealtime more pleasant or interesting, and it's simple to do.
If you're thinking of painting your dining table, this is a relatively inexpensive option. Or maybe you scored a great vintage wooden table that needs some fixing up and are trying to decide between refinishing the wood or painting it. You can also change the color scheme of your dining area by focusing on accessories. Don't be afraid to try bold colors: As a savvy decorator will tell you, there's always a way to make almost any color work. 
Deciding on a color scheme may seem daunting, but remember, this is not a major or permanent change. Grab some color swatches from the hardware store, and look at them in your home to see what inspires you. Remember, color is a personal choice that reflects your personality.
Best colors for the dining area
Scyther5/Getty Images
Neutral colors like gray, beige, and off-white have been very popular in recent years, but we're starting to see a trend for adding more vibrant colors to home décor. It doesn't matter what colors you choose: What matters is, can you live with these colors and will you enjoy them? Keep in mind that colors can affect our moods. Bright saturated colors are visually dramatic, while colors with gray undertones tend to be more neutral than brights or pastels.
If you have a wooden table that hasn't yet been painted, determine if you want to keep the natural wood tone. Some woods are naturally light in color (such as pine, ash, or white oak), while some are dark (mahogany or walnut), and others have a reddish brown color (such as cherry or rosewood). Darker woods are often highly-prized and expensive, while cheaper woods like pine are often painted or stained a different color. Most wood stains come in a range of finishes, in oil or water-based formulas, and will usually darken the color.
Paint colors offer many choices. For the dining room table, greens give a vibe of nature and harmony. Try forest green, teal, or avocado. Orange is associated with family and hospitality. As a warm color, it also gives an uplifting feeling. Consider a pale terracotta orange, a rich deep pumpkin color, or a bright persimmon orange with pink tones. 
How to do it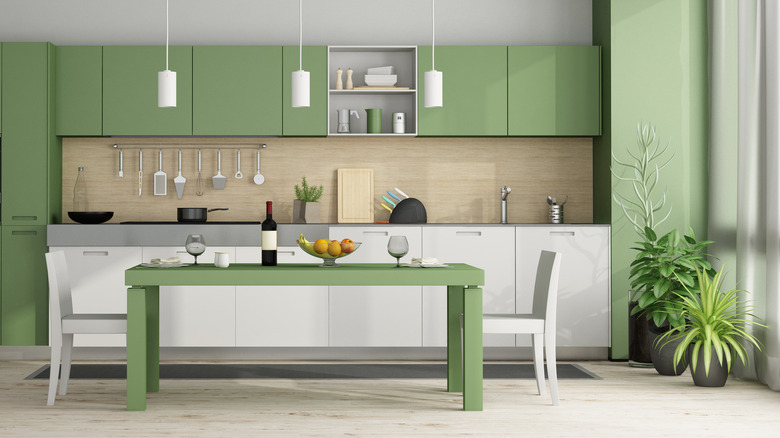 Archideaphoto/Getty Images
Changing the color of your table is easy if you have a wooden table: Just paint it! You will need to prep the surface with sandpaper and choose the right type of paint and finish for the look you want. A paint finish with a bit of gloss (like semi-gloss or satin) looks nice and is easier to keep clean than flat or eggshell finish paints. You can add a polyurethane coating to seal the paint and create an easy-to-clean surface.
If you're in the mood for a new table, there are many choices in a variety of materials. Or you could try your luck at thrift shops, antique shops, or estate sales for an old wooden table that could use a fresh coat of paint. Instead of repainting the whole table, try creating a distressed look.
You can also switch up the colors with accessories. Tablecloths, cloth napkins, and chair cushions are easy ways to add color and can be changed out whenever you want. Another way to add color to your dining area is to buy new chairs or paint your wooden chairs. From periwinkle blue to forest green, from dusty rose to rusty orange, your dining area can take on a new fresh feeling just by adding a bit of color.