The Best Bar Stool Color To Pair With A White Kitchen Island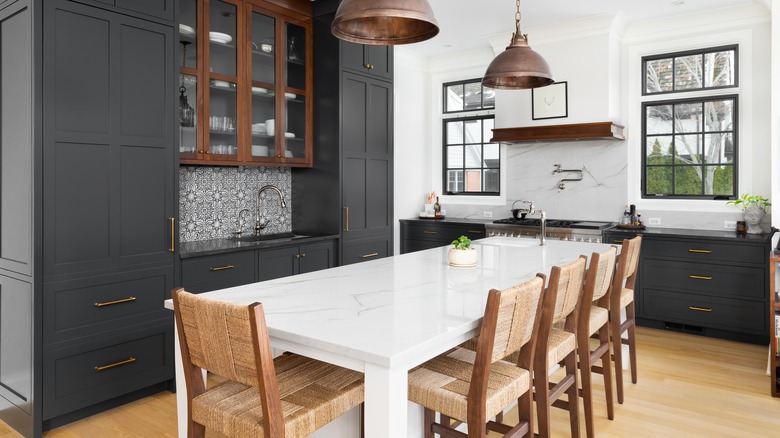 Hendrickson Photography/Shutterstock
A white kitchen island is a classic choice, and because it's neutral, it can work with any interior design style. The main benefits of choosing this color are that it makes your space appear clean and bright. Another benefit? Just about any stool could pair with it beautifully. However, though this is the case, one stool color is typically better than the rest: brown/tan.
Because the kitchen island is light, this darker tone creates contrast and makes the seating stand out. Furthermore, brown and tan stools are so versatile; no matter your style, color palette, or kitchen design, this color will most likely match and look great. If you love a cozy atmosphere, this is definitely the way to go, but even those who want to keep their kitchen mostly cool-toned and industrial can benefit from stools in this color. And since brown is such a common shade, there are a number of materials to choose from, including wood, leather, and rattan. 
Different types of brown/tan stools
The beauty of using brown or tan kitchen island stools is that there are so many options to choose from, each providing your home with a different vibe. For instance, if you like a modern or industrial look, dark brown leather stools with metal legs may work, which you could purchase from Poly & Bark. They also provide warmer tan options, which would feel slightly cozier. If you wanted a shorter back but the same look, check out Pottery Barn's option. 
On the other hand, those with a traditional style or perhaps a cabin may want wooden stools, which will feel more earthy. If so, check out Poly & Bark's dark brown piece with vertical posts on the back, which has an old-school feel. Those with a coastal or bohemian home should choose a woven rattan stool with wooden legs, which can be bought at Serena & Lily. Finally, for a classic farmhouse look, use seating with a criss-cross design on the back and metal accents, such as this item from World Market.
Choosing the right brown/tan shade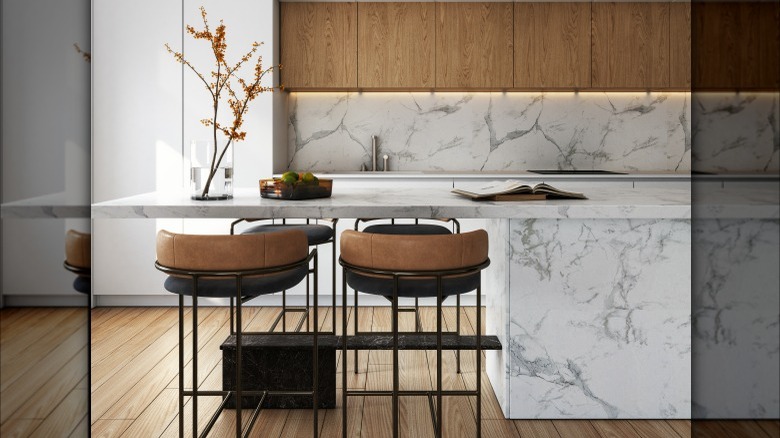 Creativastudio/Getty Images
When deciding what brown/tan shade is right for your kitchen island stools, take into consideration the other brown elements in the room. For instance, if you have wooden or laminate floors, ensure your chair shade doesn't blend in but creates contrast. Therefore, those with dark floors should choose light seating, and vice versa. When it comes to things like wooden cabinets and countertops, your kitchen island stools should always have the same undertones, which could be cool, neutral, or warm. For instance, if your cabinets are a warm, dark wood, either warm-dark or warm-light-toned seating would look like it belongs in the space. 
On the other hand, homeowners with no brown features in their kitchen should consider the room's color palette when deciding which brown/tan undertone to choose. For instance, if your space is filled with cool-toned blues and grays, a cool-toned brown/tan will look the best. Those with a kitchen that mixes warm and cool colors have every option at their disposal, as just about any brown/tan will match.