The Sophisticated Open-Shelving Concept That's Trending In 2023
Open shelving is a useful decorative piece among designers, with many citing that it's a stylish way to show off small works of art and whimsical plates. They're often seen as space-saving storage options in smaller kitchens, making them feel more open when used as an alternative to bulky cabinetry. And throughout the rest of the home, open shelving is a great way to display small vases filled with stunning florals in the home office and family photos in the living room.
However, open shelving can be a decorative statement on its own. As a result of its popularity, open shelving now comes in a variety of styles, from rustic wood finishes to sleek clear acrylic. For those looking for elevated and sophisticated detailing for their shelving, gallery rails — a hot 2023 trend — add a unique feature to this simple storage solution. These rails sit around the edge of the shelf and act as a decorative detail, creating a subtle addition that makes a huge impact on the room's overall style.
The functionality of gallery rails
When people say, "it's all in the details," this is what they mean. Gallery rails installed around the edges of open shelving aren't necessarily a major statement, but this small detail can do so much to elevate a simple shelf. Traditionally, the metal rods and posts act as a guardrail to prevent items from sliding off. 
The sophisticated rails can be sleek and straight or detailed — evoking an antique-like design. Gold and brass are popular when it comes to choosing finishes, as both are considered timeless and chic. But there are also matte black options for those who prefer something more modern and silver for a more traditional look.
In the kitchen, open shelving with a gallery rail can be a great way to keep your most-used spices off the countertop and hovering by the stove instead. The rail will also help prevent spices from falling if accidentally bumped or knocked into. Similarly, you can use this style of open shelving to hold cocktail glasses, herbs, mugs, or other items you want to display without worry.
You can DIY them too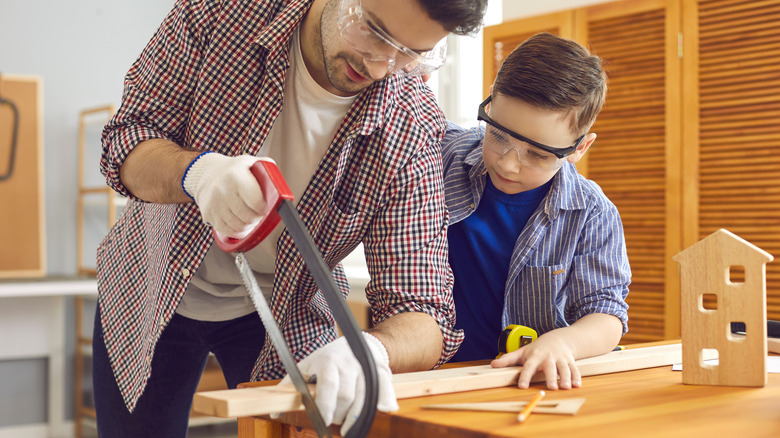 Studio Romantic/Shutterstock
While you can always purchase a shelf with gallery rails already attached, the look can also be DIYed by separately obtaining a shelf and gallery rails and attaching them yourself. While this is a great way to get a completely customized piece, it tends to be the more expensive DIY option. The rails themselves can cost $21 to $45 per piece and more for longer shelves. 
But don't fret; there is a way to get the look for less. Instead of purchasing metal rails, you can DIY them from inexpensive wood found at any hardware store. With wooden dowels and pegs spray painted gold or black, you can recreate the look of elevated gallery rails for a fraction of the price. You'll need a drill to create holes in the pegs for the dowels to go through before securely attaching the combined parts to the shelf. You can also get creative, like Instagram user Made by Carli, who used chess pieces as pegs to add character to her shelving project (via Instagram). These DIY options are great for adding gallery rails to multiple shelves without breaking the bank.