The Clever IKEA Hack That Makes Your Living Room Curtains Glow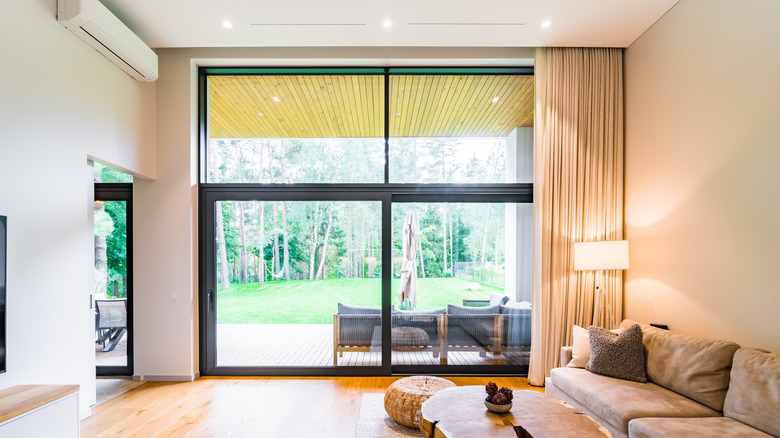 Itchysan/Getty Images
We may receive a commission on purchases made from links.
There are a few ways to draw attention to your living room curtains, which include hanging them higher, selecting shiny hardware, or deciding upon an eye-catching fabric. Another way to attract interest is by illuminating the curtains with a light source. While this could be done by hanging string lights from the ceiling, this method often creates a childish appearance. If you want to make your curtains glow in a sophisticated way, try using ceiling-mounted puck lights.
According to TikTok user everythingeryn, this hack is extremely easy to execute. First, you'll need to purchase the right lights — they recommend using the LED spotlight from IKEA, which is typically purchased with their DIRIGERA smart hub. Next, grab some double-sided tape and stick a puck light onto the ceiling above each fabric panel, firmly pressing it onto the surface long enough to adhere. Then, when you want your drapery to glow, simply flip on the switches.
Benefits of this hack
Practically, this hack will obviously add more light and brightness to your space, which will be beneficial during the dark hours of the night. However, there are also a number of other benefits that come with illuminating your curtains. For starters, this trick will give your home an expensive look at a very affordable price, as the IKEA LED spotlights are only about $15 each. Another benefit is that even those who are renting can participate in this hack, as they adhere with tape, for easy and damage-free installation and removal.
Further, while TikTok user everythingeryn creates a modern look by using black hardware and white curtains, any style home with any color palette could utilize this hack because of the puck light's simplistic design. For instance, a traditional home could use this trick to draw attention to loud patterned fabrics or intricate details, like tassels on their drapery. 
Tips on improving this hack
To make this hack look as luxurious as possible, hang your curtains near the ceiling and choose panels that reach the floor, as this will hide the cords. Before they're hung, measuring the window length would also be wise to ensure each light will be equally spaced out. Further, any type of tape may not work, as it needs to be strong enough to support the puck lights. In the comments of everythingeryn's TikTok, someone offers their advice. "Try Gorilla Mounting Tape Squares," they suggested. A pack of 24 can be bought from Walmart for $8.
You could also try using puck lights that are controlled by a remote. One person comments, "Or go to Home Depot and get the ones with batteries with no cords," to which the creator replies, "Been there done that. The light isn't bright enough." However, someone else adds, "Amazon has a wide variety of brighter light puck lights [with a] wireless remote control." You can find a set of six for about $20 from Amazon.