Here's How To Make Your Small Pool Look Like A Resort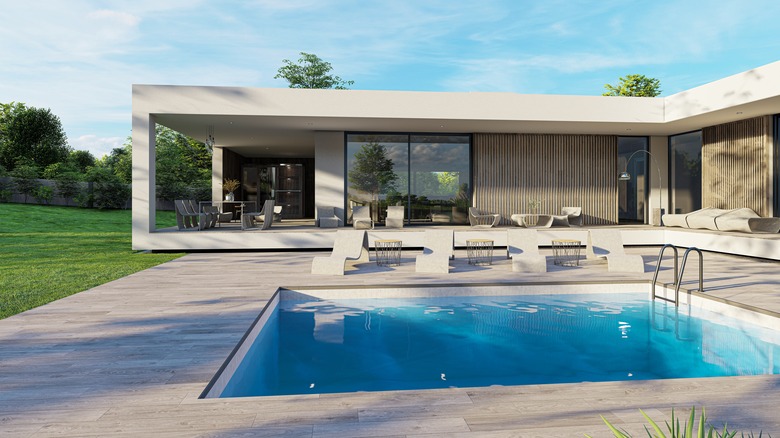 Visualization3D/Shutterstock
Those who have a small swimming pool may feel limited by their backyard's design, but this doesn't have to be the case. No matter how tiny your pool is, there are plenty of ways to make it feel more like your favorite resort destination. The first thing to consider is how to optimize your home's location. For instance, maybe you have a stunning beach view, but some trees block the line of sight, so removing these could benefit your space. Even something as simple as repainting the back of your home's exterior could benefit the feel of your backyard.
Also consider other stylistic elements that you could include to make it feel more like a resort. These can be personalized to what you most enjoy doing while relaxing by the pool. For instance, if you like watching movies or television, add an outdoor TV or a screen with a projector. On the other hand, if you enjoy mixed drinks, add a bar to your space. Below are five more small pool ideas on how to make your backyard feel more like a luxury resort.
Choose the right pool shape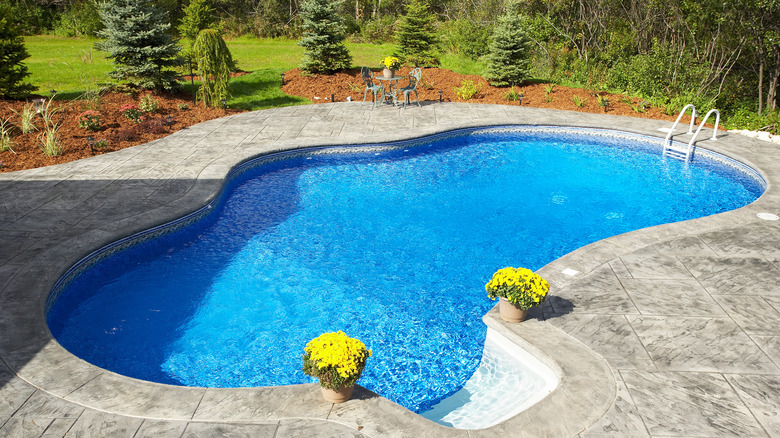 Jupiterimages/Getty Images
If you don't yet have a pool in your yard, then you'll need to decide upon the right shape, as certain types appear more impressive than others. Perhaps the best option for a small backyard is a kidney-shaped pool, as this shape is not only best used with tiny pools but it's also very aesthetically pleasing. Because it has no sharp angles and an organic look, this shape is often recommended by feng shui experts, as it creates a calming, resort-like appearance.
However, this may not work in every backyard; if it doesn't work in yours, consider a rectangular pool. A benefit of this type is that it's often slightly cheaper than kidney-shaped ones. While a rectangular pool insert typically costs $8,000 to $16,000, a kidney shape can be priced anywhere from $11,000 to $18,000. Finally, if you want your pool to be extremely functional, choose a long lap type, which would work best in a wide yard.
Include seating inside the pool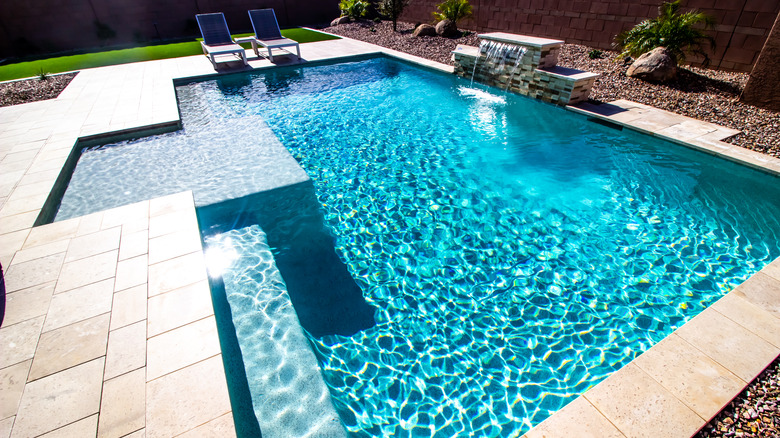 Thomas Bullock/Getty Images
Many resorts have seating inside the pool, which you could also add in your own backyard to create the same vibe. One option is to install a bench, which will cost around $1,500. If your backyard has a view, placing this bench across from it is the best choice, and adding steps below the bench will also make this seat a place to exit the pool in deeper water. Another option is to install a tanning ledge, which will allow you to soak in shallow water while also enjoying the warm sun's rays. 
You could also invest in lounge chairs and small tables that are built for inside the pool. These can really make your space feel like a resort, as they allow you to bask in the sun while surrounded by water, with your refreshing drink always right next to you. These are also great for those who often overheat in the sun, as you can easily take a quick dip or soak your feet in the cool water.
Add water features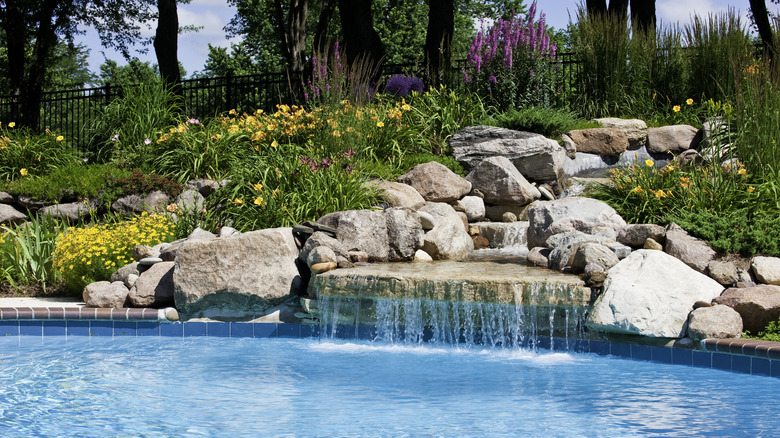 Timabramowitz/Getty Images
One of the best small pool ideas to make your space feel more luxurious is to add water features like a waterfall, which would come with a number of benefits. For starters, as the water cascades, it will create a peaceful sound that could drown out road noise or other noises that may take away from the calming atmosphere. Further, it will also keep the water in your pool moving, which may prevent algae buildup and act as a filtration system to remove debris. A waterfall can cost anywhere from $5,000 to $15,000. 
Other water features include bubblers, which are small fountains that shoot up from the shallow end of a pool and can also drown out unwanted noise, or deck jets, which can either arch over the pool or point into the landscaping. Each of these bubblers or jets can cost anywhere from $800 to $1,200. Finally, to make these features look even more luxe, add underwater lighting as well. 
Create interest with stone or tile details
Costamundo/Getty Images
To focus purely on aesthetics, include stone or tile details either around or inside the pool. Stones are a great feature to use in landscaping, as they're a low-maintenance way to make your space look more natural and luxe. Further, to give your pool more privacy, you could include stone walls around your backyard as well.
When adding tile to the space, ceramic or porcelain are great options; installing them around the perimeter of the pool will cost around $2,500 to $3,500. These materials are beautiful, easy to maintain, and can withstand chemicals for a long time, making them extremely long-lasting. They could also be added on the bottom or along the walls of the pool, but these jobs will cost more. Glass is another very popular tile choice, as it's durable and doesn't need much maintenance. Another benefit is that glass will reflect the sunlight onto the water, making it shine. However, it should only be used on the pool liner or outside the pool and not underfoot.
Surround the pool with lush landscaping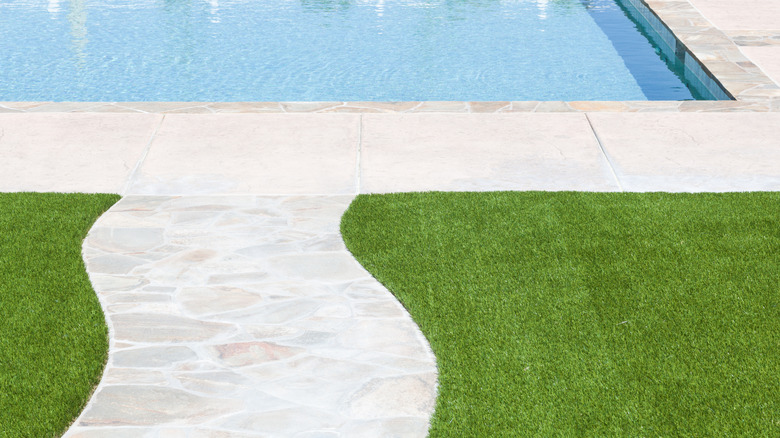 Feverpitched/Getty Images
To finish off your resort-style backyard, you'll need to choose the right landscaping. While concrete is a common choice, this material doesn't provide the best look. Instead, choose lush greenery, which could begin with including grass around your pool. Grass will feel soft and cool underfoot and is a safe option for kids who like to play. However, keep in mind that it often requires more maintenance than other materials, and the grass blades could easily dirty the pool. Another option that requires less maintenance is artificial grass, but this can fade over time and doesn't feel as soft.
Because most resorts are located in tropical places, adding plants that are often found in these areas can make your backyard feel more relaxing. For instance, palm trees are a great detail to include, which could cost anywhere from $600 to $2,000. While they typically need warmer and more humid weather, there are also types that grow in colder climates as well. Other tropical plants you could add to your landscaping include bamboo shoots, vines, ferns, and colorful flowers like birds of paradise.