HGTV's Jonathan Scott Explains How A Simple Ceiling Beam Can Elevate An Entire Room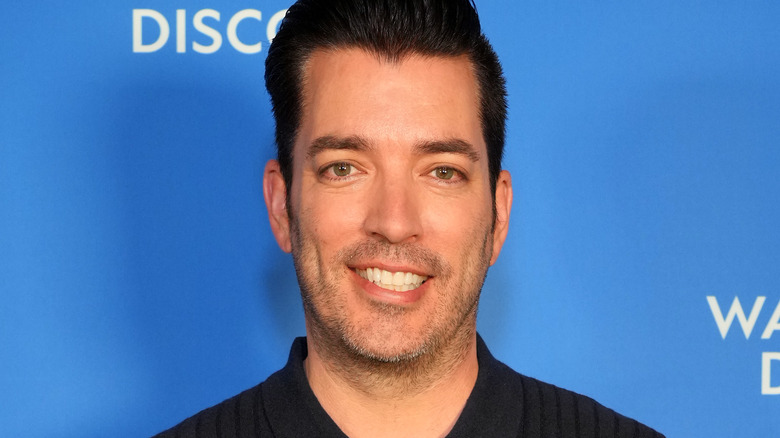 Kevin Mazur/Getty Images
According to HGTV's Jonathan Scott, you should never leave your tall ceilings bare. He says, "It always seems like such a missed opportunity when somebody has nice high ceilings or especially a vaulted ceiling and they don't put in beams," per Scott's Instagram post. What he's referring to are wooden ceiling beams that extend from one end to the other, which add lots of warmth, texture, and character.
Beams can be added to just about any room, including the bedroom, family room, kitchen, dining space, etc. This feature can be especially beneficial in an open floor plan, as it can help define the room and separate it from other areas of the home. Another benefit is that, according to Scott, "Exposed beams and wood cladding on a ceiling can be gorgeous and help elevate the eye line, giving height to a room," per a Twitter post. Further, they can also work in a number of styles, from traditional to modern and from industrial to farmhouse.
The specific beams Jonathan Scott uses
Jonathan Scott works with Barron Designs, a company that specializes in wood panels, wood beams, and stone columns. Their ceiling beams range in price from hundreds to thousands of dollars each, and the price will depend upon the material and size you choose. "They can do anything we want, any color beam, any size, any finish," explains Scott. Further, he adds that there are two different types you can choose from. "Some of their beams are faux, made out of foam, but they look real. Others are actual wood but they're hollow on the inside."
The benefit of using one that's hollow is that you can place it over an unsightly ceiling fixture. "We had a big chunky HVAC duct that we didn't know what to do with, so I had Barron Designs do a beam in real wood to cover the whole thing and it looks stunning," says Scott. "What would have been maybe drywall or something unattractive is now a gorgeous feature." Because Scott only adds one beam to the space, he draws attention to the wooden element by installing a chandelier in the center.