The Best Linen Color For Your Guest Room, According To Queer Eye's Bobby Berk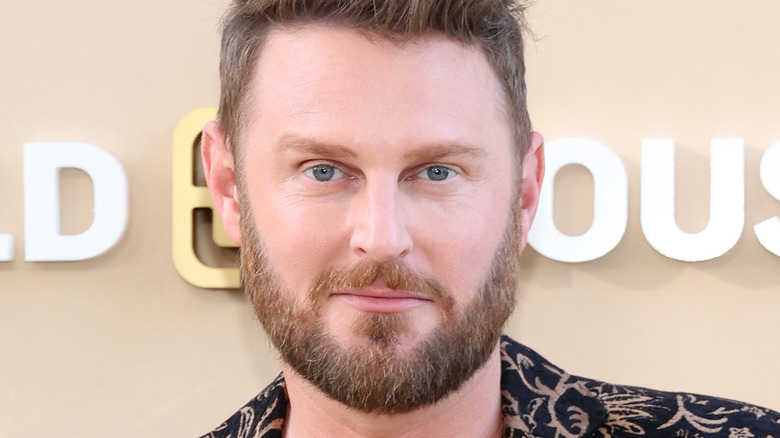 Monica Schipper/Getty Images
Having guests visit often causes a bit of chaos as you prepare for their stay, including a frenzy of cleaning and prepping the guest room. Although you may not have all the amenities of a five-star hotel, the comfort of your guests is still a top priority. With this in mind, it can be prudent to take some inspiration from those in the know when designing and styling your guest room.
In fact, Queer Eye's Bobby Berk suggests just that. Berk, an interior designer, partnered with Airbnb on a program that helps hosts create spaces that their future guests will love — but you don't have to be opening your home up to Airbnb guests to use Berk's advice. One tip the designer suggests is picking the right colors for linens. For Berk, white towels and sheets are always the right choice. The hotels you stay in for vacation always have white sheets on the bed and white towels in the bathroom. That's no accident, and it's a detail that Berk says will elevate the guest room of your own home.
Choose white linens for guests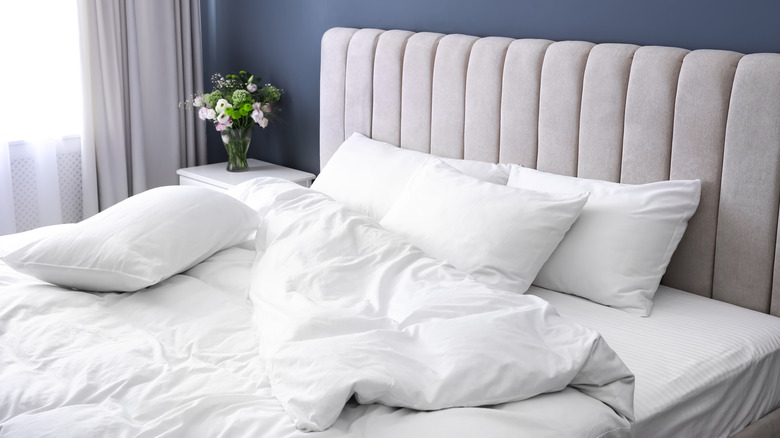 New Africa/Shutterstock
Many homeowners shy away from using white in their homes because it shows dirt and stains, which is particularly true when it comes to hardworking and often-used fabrics like bed sheets and towels. While you may be tempted to use dark-colored sheets and towels to hide any stains, designer Bobby Berk suggests you do the opposite — at least for your guests. "For me, you should always have white bedding and white towels," Berk says in an interview with The Spruce. "You never want anyone to question if this towel is clean, or are the sheets clean. Nice, crisp, white hotel bedding is super important."
White is associated with cleanliness, which is why hotels use them in their linens. Even though dark colors are better for hiding stains, there can be a question of whether or not they're clean, even if they are freshly washed. And since many homeowners already have separate guest sheets and towels, it's worth investing in a white set.
Material matters too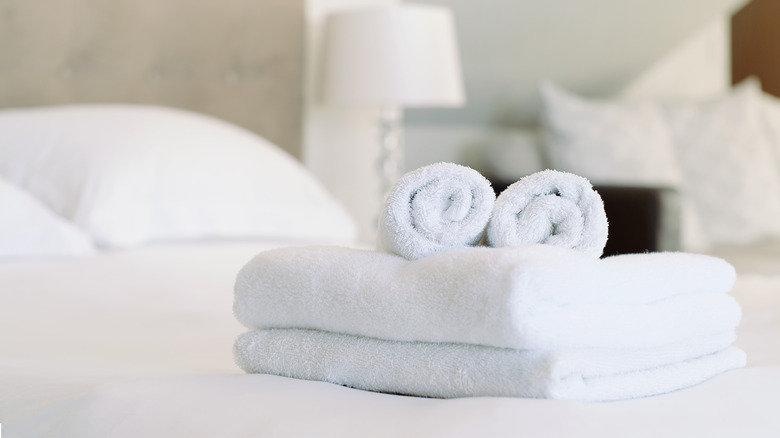 Sean Anthony Eddy/Getty Images
While white has the benefit of looking clean and fresh, maintaining that pristine color is a turnoff for many homeowners. Bobby Berk has a solution for that as well. When it comes to sheets, the material can affect how comfortable they are and how easy they are to maintain. Cotton and linen are favorites because they're breathable, natural fibers. But they're not Berk's first choice, he says "I do always recommend white, but not white cotton, not white linen. The sheets that we have in my Airbnb, they're actually polyester — which you might think, 'ugh.' But, I am blown away by the fact that every single guest loves them. Everyone is always like, 'Oh my god, what are these sheets? They feel amazing," per The Spruce.
Cotton and linen fibers are naturally hollow, which makes them breathable but also incredibly absorbent. So while cotton will keep you cool and comfortable, it will also absorb odors and things likely to leave a stain. This is why Berk suggests using polyester sheets, which are made from a synthetic material that's easier to keep clean and white. While polyester does have a reputation for being uncomfortable, you can find sheets that are soft and comfortable, mimicking the feeling of cotton or linen.